Gylfi Sigurdsson in the spotlight as Everton face former club Swansea
Last Updated: 18/12/17 6:29pm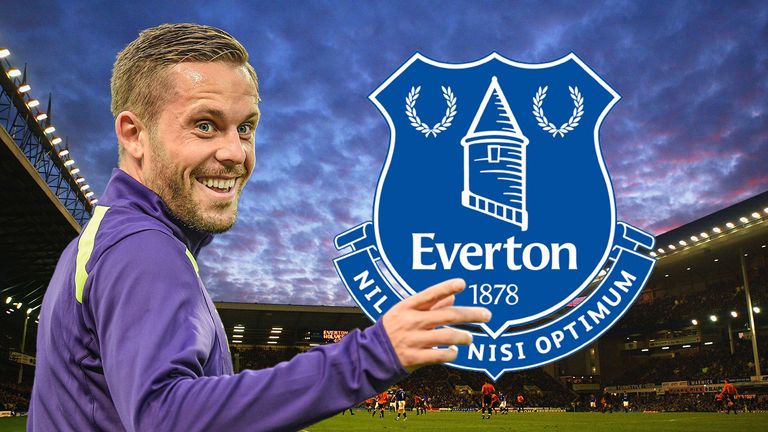 While Swansea are missing him badly, their Monday Night Football opponents Everton are still waiting for the real Gylfi Sigurdsson to emerge. Adam Bate examines the impact of his absence at his old club and why his new one have not yet seen the best from him.
"It is a big club," said Sam Allardyce when quizzed on Gylfi Sigurdsson's slow start to life at Everton following his £45m move in August. "No disrespect to Swansea," he added, "[but] you are playing on a bigger stage so you have to have a greater mentality to come out and produce because the demand is higher to play for Everton.
"Gylfi came so late because of the ongoing saga of 'How much will he be and will Swansea let him go? Will they or won't they?' In that time he was not really training with the first team and it wasn't happening for him in terms of a full pre-season. So he is on catch-up."
Sigurdsson has still had his moments. There was his outrageous strike against Hajduk Split in August and, more recently, he got the opening goal of Allardyce's reign in the win over Huddersfield. Even so, things have not gone as smoothly as hoped for player or club. And yet, those travails are nothing compared to the struggles of Sigurdsson's old club Swansea.
Monday's visitors to Goodison Park arrive as the Premier League's bottom club and it is acutely apparent how badly that last season's player of the year has been missed. Swansea are the lowest scorers in the Premier League with just nine goals. To put that into some sort of context, Sigurdsson alone had five goals and five assists at this stage of last season.
Given that Swansea have a better defensive record than more than half of the teams in the league, the problem is clear. Renato Sanches, ostensibly signed as Sigurdsson's replacement on deadline day, has found the advertising hoardings more times than the net and has not provided a single assist either. Jordan Ayew has not scored in his 13 starts since August.
Swansea's set-piece problem
If there is a specific aspect of the game that has undermined Swansea it is the loss of that threat from set-pieces. Paul Clement's side ranked in the top three for set-piece goals last season and that was no fluke - they also ranked fourth in the Premier League for chances created from those situations with Sigurdsson so often the architect.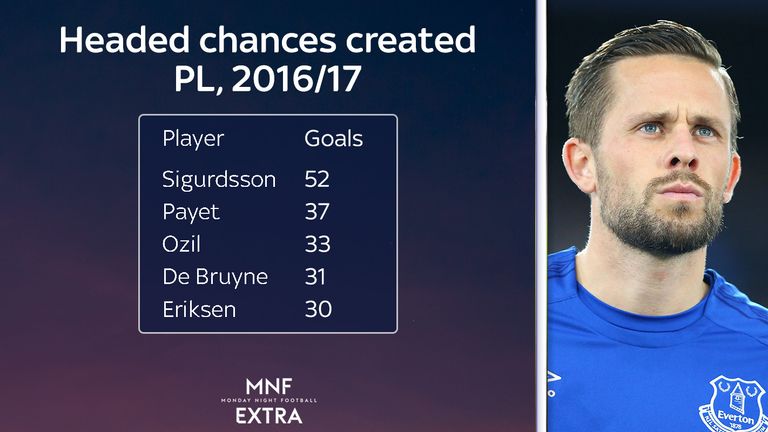 Set-pieces were responsible for 52 of the 80 openings he fashioned last season. Even if Sigurdsson had done precisely nothing other than take free-kicks and corners - being used as the sort of specialist more commonly associated with American Football - he would still have ranked among the 20 most creative players in the Premier League.
With his exit, as well as that of Fernando Llorente, the man on the end of 11 of the 38 chances that Sigurdsson created from corners, this weapon has all but disappeared. Swansea are now third bottom for chances created from set-pieces. They are bottom but one for total corners too so they are no longer even getting the chance to create chances.
The issue of Everton's style
The curiosity of Sigurdsson's switch is that while Swansea's subsequent decline was predictable, his arrival at Everton might have been expected to bring about an increase in their effectiveness from such situations. Instead, Everton have gone from third for chances created from set-pieces last season to third bottom this. No team has had fewer corners.
Indeed, Everton are averaging 3.3 corners per game this season, compared to the 5.2 corners per game that Swansea averaged last season. So while Sigurdsson has still been creating more chances than any other Everton player, this does explain in part why he is creating a set-piece chance every 108 minutes rather than every 64 minutes as last season.
He might not have a Llorente to aim for in the box, just as Everton no longer have a Romelu Lukaku, but there is some hope that Sigurdsson's greatest strength can become a key weapon again. That hope comes from the identity of his new manager - the man whom Sigurdsson has already said has brought "a little bit of spark" back to Goodison Park.
Allardyce is not a coach to ignore Sigurdsson's qualities. Set-pieces were a key aspect of his survival blueprint as revealed to Sky Sports earlier this season. "On average more than 30 per cent of Premier League goals come from set plays now," he said. "The players need to remember when you go out on the pitch that these are very important times in the game."
Sigurdsson is well aware of that. It would be typical of Swansea's season if Everton have figured it out just in time for the midfielder to punish his old club on Monday Night Football.