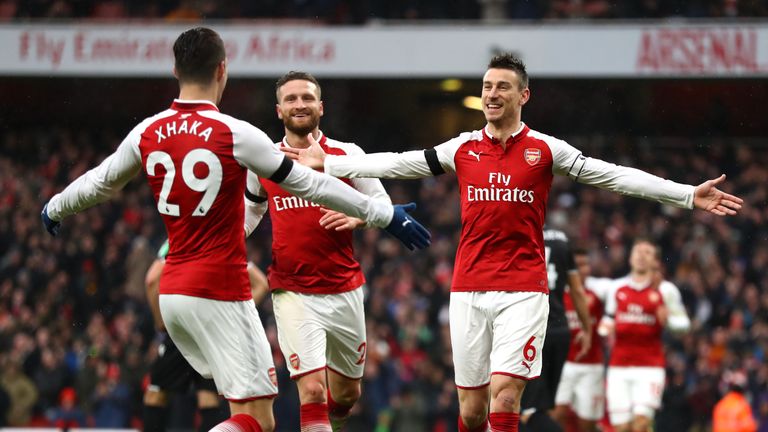 Who was top of the class at the weekend? And who needs to do more homework? Andy Walker runs through his Premier League grades.
Brighton 0-4 Chelsea
I think one or two people thought Chelsea would slip up after a couple of disappointing games, and Brighton have a decent record at home, but Chelsea completely blew them away.
Their movement, the build-up play, the goals were just great to watch. It's a difficult place to go and Chelsea handled it really well.
For Brighton, I think they're on the slide, along with Huddersfield, they could be sucked into the bottom three.
Brighton: D
Chelsea: A
West Ham 1-1 Bournemouth
Not really what either side want, but they didn't lose. It's important if you're not at your best, and you can't win, just don't lose. I think both will be satisfied, more so Bournemouth, but West Ham are still picking up points.
West Ham: C
Bournemouth: B
Everton 1-1 West Brom
There was a strange reaction when Sam Allardyce subbed off Cenk Tosun, the new signing, bringing on Oumar Niasse. The fans weren't happy, because they were 1-0 down, but it worked for Everton. West Brom are beginning to pick up points, and it's important to gather momentum, so after the win last week, they are beginning to give themselves a chance.
Everton: C
West Brom: B
Burnley 0-1 Man Utd
Burnley were resolute, organised, and considering their modest resources in comparison to Man Utd, it looked an even game to me. But of course Man Utd can come up with a magic moment, and they had one moment with Lukaku setting up Martial.
Apart from that, I was so disappointed with United, they are not entertaining to watch, but I understand sometimes there are games like this where you have to dig deep, and they got the job done.
Burnley: C
Man Utd: C
Leicester 2-0 Watford
Leicester won comfortably, and they're getting back to what we know they're capable of. They're well clear of danger, but not really challenging for anything above them.
Because of that middle-ground, it's difficult to focus, to have targets. Watford are also on the slide, but I do think they're going to have enough to get out of the mire.
Leicester: B
Watford: D
Stoke 2-0 Huddersfield
I fancied Stoke, just with the new manager bounce under Paul Lambert. You could see the attitude of the players and the way they were working, trying to impress a new manager.
I think Paul would realise that the players have underachieved in recent weeks, but they got the job done. Again, I think Huddersfield are another team on the slide, they've really lost their way.
Stoke: B
Huddersfield: C
Arsenal 4-1 Crystal Palace
Arsenal were terrific, 4-0 up at 22 minutes is brilliant. Fair enough to Palace for reducing the scoreline and getting a goal in the second half, because it could have been really embarrassing. But they didn't even give themselves a chance in the first 10 minutes.
Arsenal: A
Crystal Palace: D
Man City 3-1 Newcastle
Everyone was wondering how City would react after losing last week at Anfield. For Newcastle, they need to get some business done. I've done a few Newcastle games this season and there seems to be an air of depression around the place.
They always feel they're going to get sucked into the bottom three, it's a D for them.
Man City: B
Newcastle: D
Southampton 1-1 Tottenham
(Verdict by Kevin Campbell)
I thought Southampton did pretty well. Spurs went there with their tails high, having won the last few games, but Saints defended deep and hit them on the break, which is usually what Tottenham do to teams.
Obviously that man Harry Kane stepped up again, but Saints saw it out in the end. I think Spurs missed Christian Eriksen's creative spark.
Southampton: B
Tottenham: C