Which goalkeeper should be Gareth Southgate's first choice? We compare the seven leading candidates this season...
England face the Czech Republic in a Euro 2020 qualifier at Wembley this month - but should Jordan Pickford retain his starting place as England's No 1 after a run of poor form with Everton?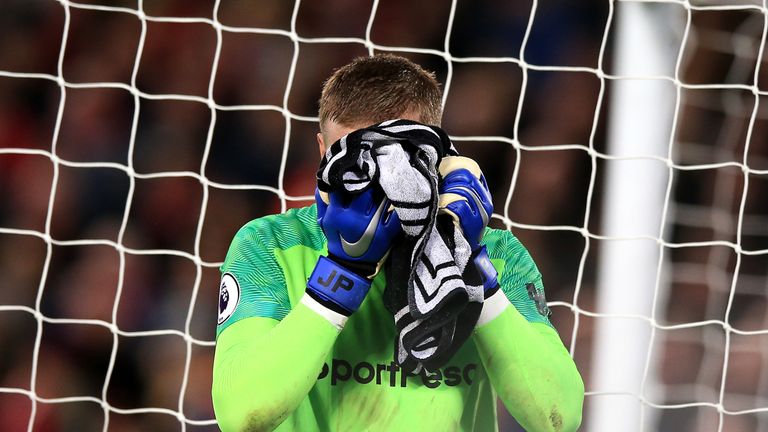 The candidates
Jordan Pickford - Everton
Tom Heaton - Burnley
Joe Hart - Burnley
Ben Foster (retired) - Watford
Marcus Bettinelli - Fulham
Alex McCarthy - Southampton
Angus Gunn - Southampton
Saves and goals conceded
Pickford has conceded more goals than any other top-flight English stopper with 54 shipped in all competitions, but has also made the most saves with 107 to date - so how do we evaluate his form effectively?
Live Renault Super Sunday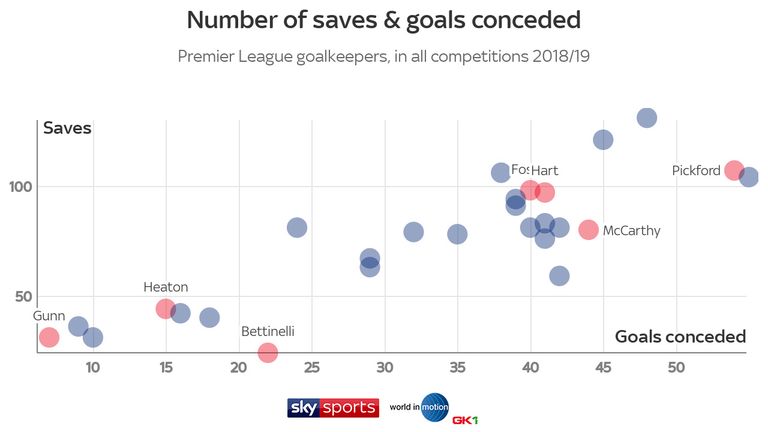 Football agency World in Motion has analysed every single goalkeeper action in all competitions this season to provide insight at an unprecedented level...
Shot-stopping
World in Motion's shot-stopping rating system takes into account shot location, power and direction, and factors whether the 'keeper is fully sighted, as well as assessing the type of save made.
Pickford ranks below the league average for shot-stopping by -0.7 per cent, with Liverpool stopper Alisson (+2.2 per cent) leading the chart ahead of David de Gea (+1.4 per cent) and Hugo Lloris (+1.4 per cent).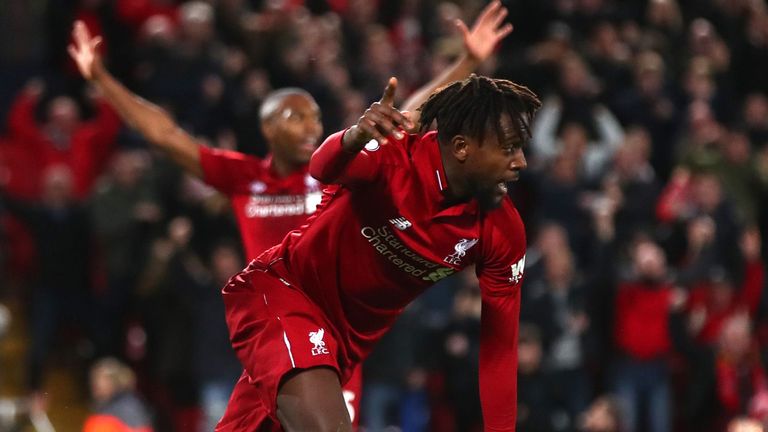 England's Tom Heaton (+1.0 per cent) ranks seventh behind that illustrious trio, with compatriots Angus Gunn (+0.5 per cent), Ben Foster (+0.1 per cent), and Joe Hart (+0.1 per cent) also recording above-average scores.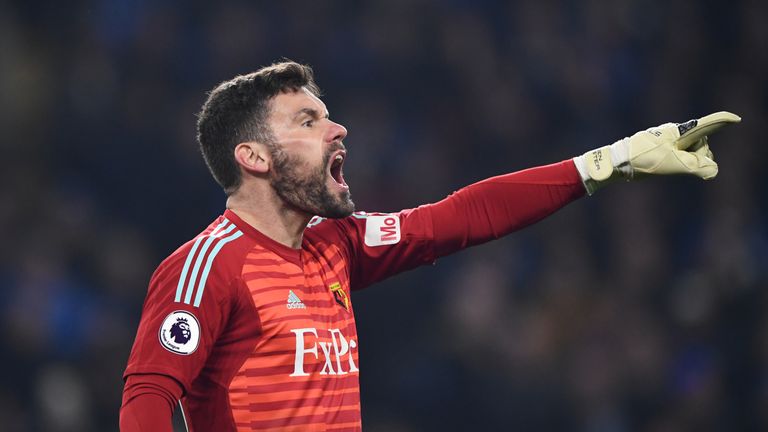 Southampton's Alex McCarthy got the nod ahead of Hart in England's recent squad, but ranks bottom out of English 'keepers for shot-stopping with -1.3 per cent, while Fulham's Marcus Bettinelli also records a low score (-1.1 per cent).
The detailed data reveals Pickford outperforms his rivals at shots to his bottom-left and top-right corners, but struggles more than other top-flight stoppers with shots to his top left and bottom right.
Distribution
World in Motion rate distribution quality by weighting the number of opponents bypassed against quality of accuracy and take pressure from the opposition into account.
The graphic below shows how all seven English stoppers have a direct style, typically bypassing more opponents by kicking the ball long - led by Foster, Hart and Heaton.
Bettinelli bypasses the fewest opponents per pass, while he and Pickford are the only English 'keepers to record above-average distribution quality.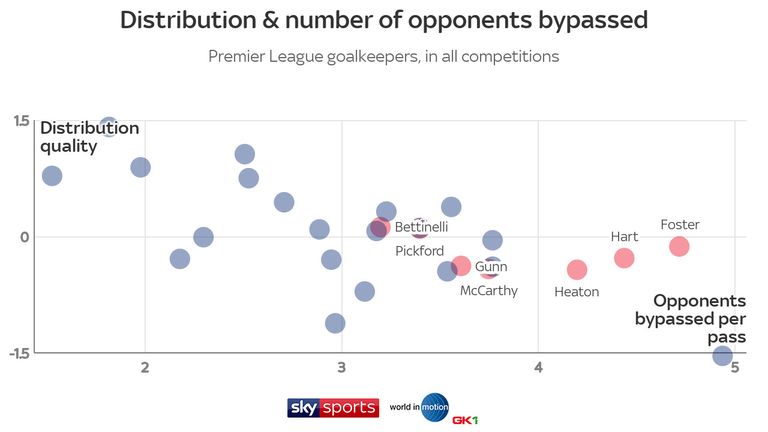 "England have generally tried to play a high possession out from the back under Southgate," says Sam Jackson, head of research at World in Motion. "That's a style familiar to a number of the world's leading club sides."
"English goalkeepers in the Premier League all play fairly directly - a combination of tactical orders and goalkeeper style - not one comes close to being in the Ederson, Leno or Alisson mould for the time being."
Sweeper keeper
Foster is the Premier League's most prolific sweeper keeper - in addition to having a sweeping quality rating bettered only by four other top-flight stoppers.
Hart is least likely to act as a sweep, while Pickford is prone to smashing the ball clear instead of seeking to control and retain possession - with England's current No 1 recording the lowest quality rating of all seven 'keepers.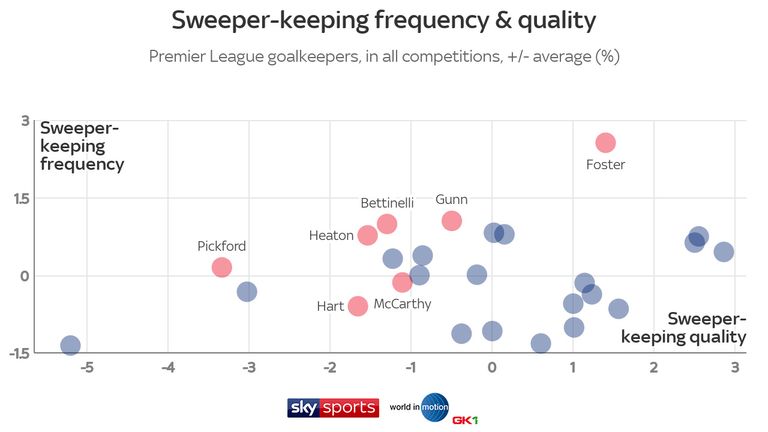 "Despite largely playing directly, English 'keepers are increasingly trying to defend space in front of them, with Gunn, Heaton, Foster, Pickford and Bettinelli all above average in how often they sweep up," adds Jackson.
"However, with the exception of Foster, there's a general disposition to clear rather than neatly playing around an opponent - so there is still, arguably, a lack of effectiveness."
Against crosses
The data also reveals Pickford and predecessor Hart are the least comfortable at dealing with crosses - both being far more likely to remain glued to their goal-line.
In contrast, Foster and McCarthy are the most likely to try and claim crosses - with Foster recording a slightly higher ratio of success.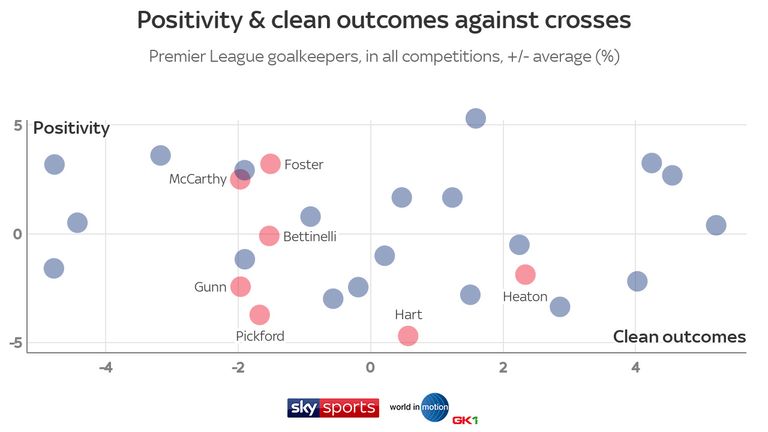 The graphic below reveals how Pickford and Foster compare at facing crosses against the league average - with the Everton stopper primarily struggling in his six-yard box, while Foster is far more aggressive in attempting to intervene.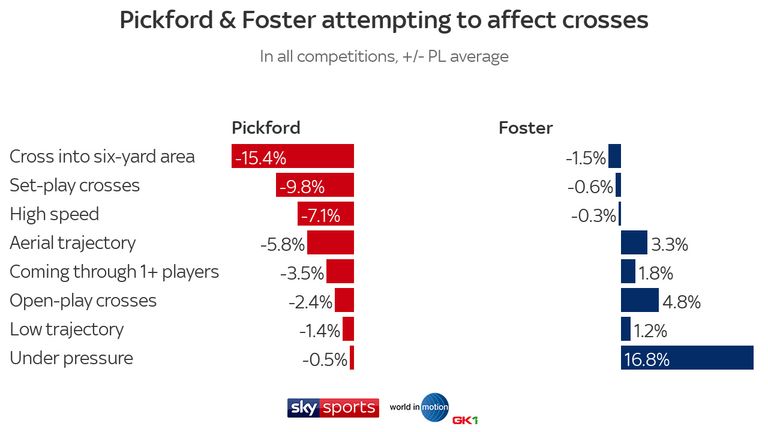 World in Motion data scientist Alex Wylie suggests: "Pickford's reluctance to come for crosses played into the six-yard area or from set-pieces could be easily exploited by weaker sides using route-one tactics."
Overall
Factoring shot-stopping, distribution and crossing, Heaton and Foster emerge as the most well-rounded candidates for England's No 1 jersey, ahead of Gunn, Hart, Bettinelli and McCarthy.
At the other end of the scale, Pickford ranks bottom out of the seven English stoppers - recording a negative shot-stopping score and being overly cautious when dealing with crosses.
"Foster and Heaton are ahead of the rest in terms of all-round quality this season," says Jackson. "But neither has the age profile Southgate prefers, with Foster officially retired, whilst both are used to direct distribution.
"So it's really interesting that there's currently no perfect fit for the way England want to play."
Will Southgate stick with his favoured stopper as the Three Lions embark on their Euro 2020 qualifying campaign and a Nations League finals this summer? The stats suggest there are capable candidates to step up if required.
If reading on skysports.com, comment below to get involved in the debate, but please adhere to our House Rules. If you wish to report any comment, simply click on the down arrow next to the offending comment and click 'Report'.