Pep Guardiola says Manchester City's defeat to Tottenham will 'hurt' for some time
Watch Man City vs Tottenham live on Sky Sports Premier League on Saturday from 11.30am; Kick-off at 12:30pm
Last Updated: 20/04/19 8:11am
Pep Guardiola has admitted Manchester City's dramatic Champions League defeat to Tottenham will "hurt" for some time.
City exited at the quarter-final stage on away goals to their Premier League rivals, and had a stoppage-time winner scored by Raheem Sterling ruled out by VAR due to offside.
Guardiola's side take on Spurs once again on Saturday, live on Sky Sports Premier League, but he admits their defeat against the same opponents on Wednesday will still be in their minds.
He said: "You believe it doesn't hurt or I've forgotten it? I would say no. I don't want the players to forget what they live. It will take time but they have to live with that. They have to play and want to compete with that feeling.
"What we lived last Wednesday in terms of emotion, or just simple life, was incredible. We are fortunate, lucky to live it. More than 65,000 people enjoying the most exciting moment, and then in one second everybody is devastated.
"It was incredible how well we played. But it's football, it's life. What's important is how you behave. You have to fight and it was incredible the way we reacted after going 2-1 down. We had to score three goals and we did that.
"We scored another but it was offside by inches. We have to live with these kinds of situations and accept it. Inside it hurts and it'll be in our minds but looking back is not going to help us to move forward.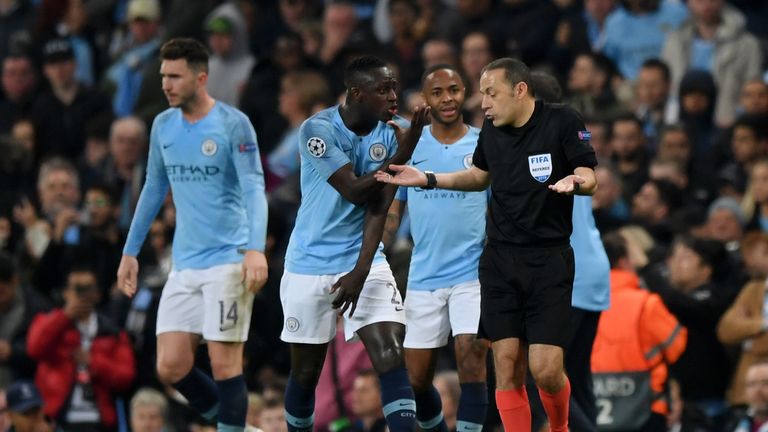 "It was a tough night but the day after we stand up and move forward. These players have another opportunity to show they're able to do that."
City were knocked out of the Champions League at the last-16 stage during Guardiola's first season at the club, before a quarter-final defeat to Liverpool ended their campaign 12 months ago.
Guardiola believes his players were unlucky to be defeated by Tottenham, but said: "These guys will get back what they deserve.
"I don't know if it will be this season, next season or in three or four years. One day maybe we'll be in the same position and be more fortunate, more precise to reach the next stage."