Jose Mourinho v Manchester United: The history of a rivalry in quotes
By Adam Bate
Last Updated: 16/04/15 2:17pm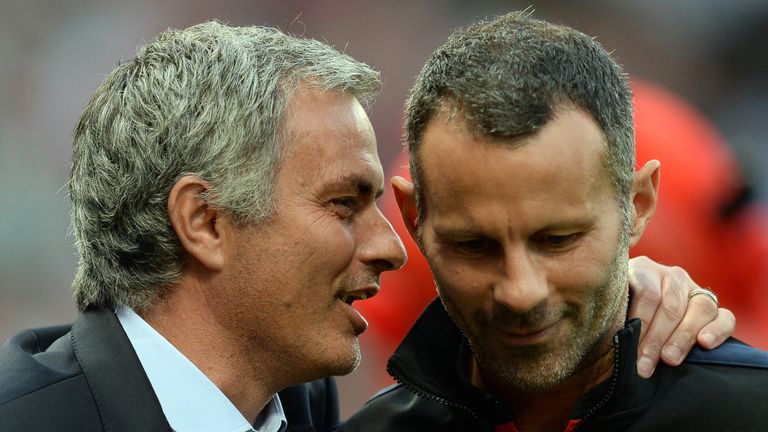 From Jose Mourinho's memorable visit to Old Trafford as Porto boss to his rivalry with Louis van Gaal's Manchester United, we look back at the Chelsea manager's run-ins with the Red Devils…
Glory with Porto
Jose Mourinho's first clash with Manchester United in his managerial career was a famous one as his Porto side upset Sir Alex Ferguson's men over two legs in the Champions League in 2004. It did not take long for the acrimony to begin. Ferguson was upset by Vitor Baia's part in Roy Keane's sending off as Porto won the first leg 2-1 in front of their own fans. Mourinho proceeded to mock his United counterpart…
"I understand why he is a bit emotional," said Mourinho of Ferguson. "He has some of the top players in the world and they should be doing a lot better than that. You would be sad if your team gets as clearly dominated by opponents who have been built on 10% of the budget."
United looked to have done enough in the return leg at Old Trafford and were set to go through on away goals only for Costinha to seize upon a Tim Howard error and turn the tie on its head in the dying moments… sending Mourinho running down the touchline and into Champions League history as Porto went on to win the trophy.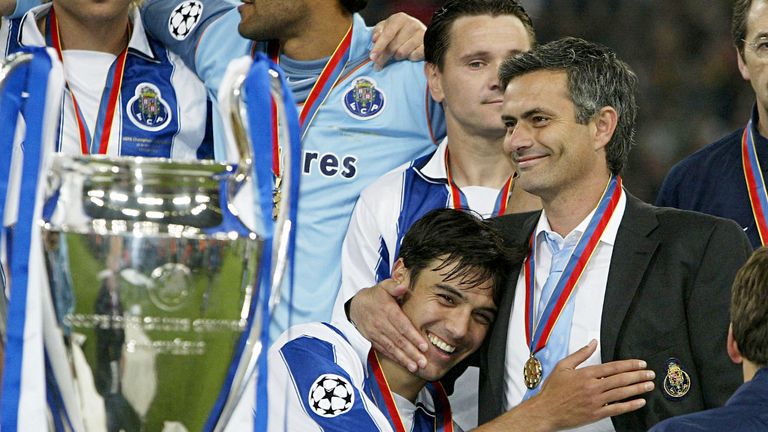 Arrival in England
Mourinho's move to Chelsea in 2004 soon saw a rematch against Manchester United – on the first weekend of the Premier League season, in fact – and it was the Portuguese who once again emerged victorious thanks to Eidur Gudjohnsen's early goal. This time he was rather more magnanimous. "I told Mr Ferguson that United didn't deserve to leave with nothing," said Mourinho afterwards.
Things didn't remain cordial for long though. When the two teams were drawn against each other in that season's League Cup semi-final, Mourinho was incensed by the tactics employed by Manchester United and was subsequently fined £5,000 for accusing his opponents of cheating.
"Sir Alex was very clever, if you can say that, at half-time by putting some pressure on the ref," said Mourinho. "In the second half it was whistle and whistle, fault and fault, cheat and cheat."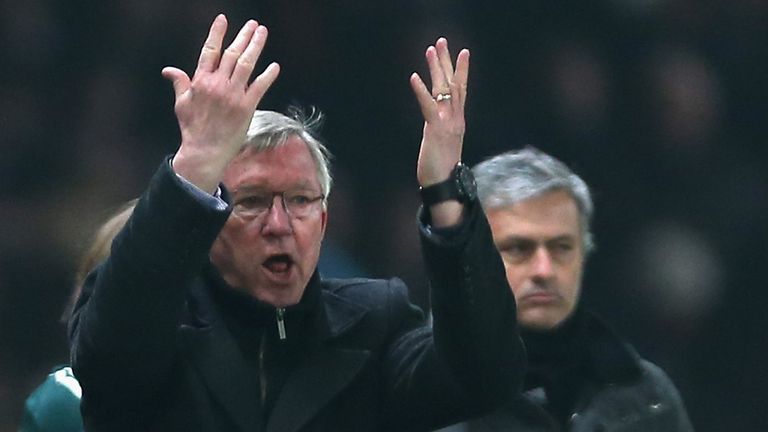 Mourinho went on to win the title in his first season with Chelsea and had the pleasure of beating United 3-1 at Old Trafford in May. The actions of the home side earned a dig. "I saw their players and manager go for a lap of honour after losing to us in their last home game," said Mourinho. "In Portugal if you do this, they throw bottles at you."
Although Mourinho won the Premier League title for a second successive season in 2005/06, Manchester United and Ferguson reclaimed the crown the following year. Mourinho's reaction? "After all that has happened this season – and that is a lot – I've reached the conclusion that I am a good loser."
There was at least an FA Cup triumph over United to prevent Ferguson's men doing the double. "I won't be throwing this one away," said Mourinho. "It means a lot, it's the FA Cup and it's the first one for me. It means we have won every title in English football in the three years I have been at the club."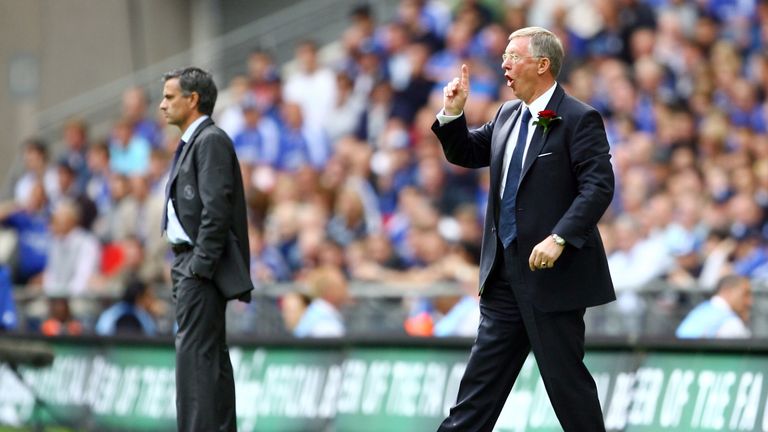 Returns with Inter Milan and Real Madrid
Mourinho left Chelsea in September 2007 but after returning to management with Italian giants Inter Milan the following year he was drawn against United in the first knockout round of the Champions League.
"My wish has been granted," said Mourinho. "It will be unforgettable to go back to Manchester. I want to face the best and United are a team of champions with a super coach in Alex Ferguson. Some say I have a good record against Alex. But the record isn't mine. It's Chelsea's."
United got the better of Mourinho on that occasion but that wasn't the case when he was drawn against them at the same stage of the competition in 2013.
By this point, he was in charge of Real Madrid and looked to be heading for defeat until Nani was controversially sent off in the second half. Real turned it around for yet another Mourinho victory at Old Trafford, but he was in conciliatory mood. "The best team lost," said Mourinho. "We didn't deserve to win but football is like this."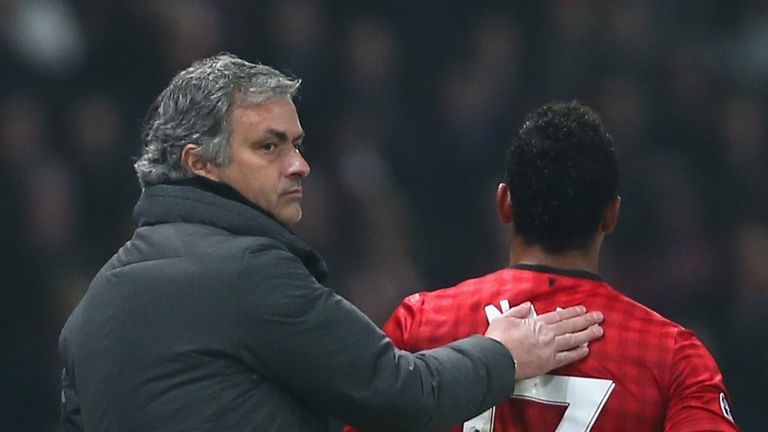 David Moyes and all that
Mourinho was heavily linked with a switch to Manchester United to replace Ferguson in the summer of 2013 but the job went to David Moyes and he returned to Chelsea instead.
Mourinho was insistent that this was his first-choice destination regardless of reports to the contrary. "I would have turned down every job in the world - the Manchester United job, every one - for Chelsea," he said.
He was soon antagonising United supporters when Chelsea expressed an interest in taking Wayne Rooney to Stamford Bridge with the England striker behind Robin van Persie in the pecking order at Old Trafford. Mourinho put the blame firmly at Moyes' door.
"They are against me? I didn't say [to Rooney] you will be a second choice for me. And they are against me? We are trying to get a player that a manager told 'You will be a second option' for him."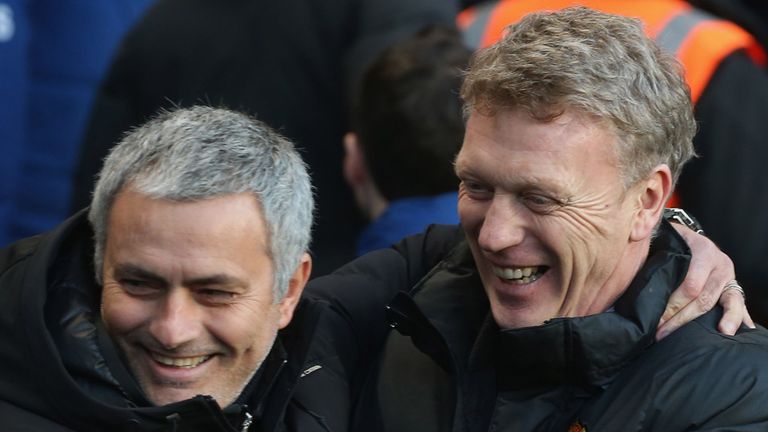 Mourinho's return to Old Trafford as Chelsea boss that August proved to be something of a damp squib as the visitors named no striker in their line-up with Andre Schurrle operating as a false nine.
"I want to try to win the game," claimed Mourinho beforehand. "I do not come with a defensive team despite not playing with one of my strikers." Nevertheless, the game finished goalless.
Chelsea did defeat United in the return fixture with a Samuel Eto'o hat-trick seeing off Moyes' men. Mourinho expressed some sympathy soon after. "I feel sorry for them, I never enjoy when somebody is having some problems like they have but United is United." Moyes was sacked in April 2014.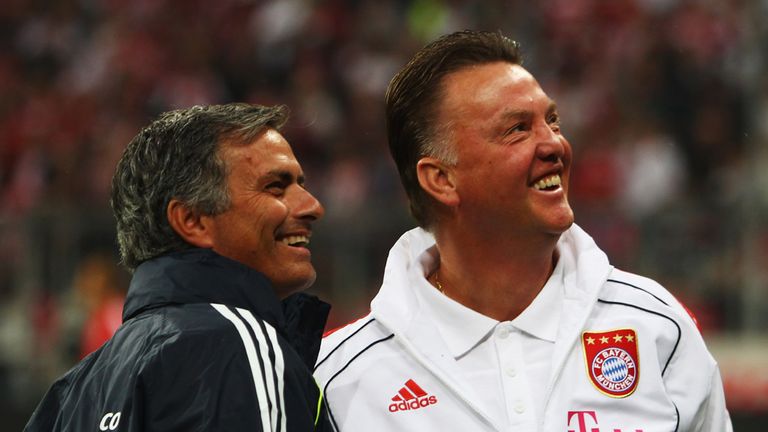 Now it's Louis van Gaal…
Moyes was replaced by Louis van Gaal, pitting Mourinho against an old adversary. The two men have a healthy respect for each other with Mourinho having assisted Van Gaal at Barcelona. Even so, their first clash still sparked some controversy when Chelsea's Branislav Ivanovic was denied a penalty before being sent off, with United scoring a late equaliser from the resulting free-kick.
"The red card, I could see it coming," said Mourinho. "If I have to speak about the second yellow I have to speak about lots of things - the penalty that Ivanovic should have been given, the accumulation of yellow cards, the throw-ins. I know I speak always with my heart and get in trouble."