Ahead of Sunday's meeting between the sides, Jon Holmes takes an in-depth look back at 'Pizzagate' - the famous Manchester United and Arsenal clash from 2004.
"Football is not a war," insisted Arsene Wenger to the gathered press corps, as he prepared to take his troops north to Old Trafford for the 10th game of the 2004/05 Premier League campaign.
"Since I have been in the game, it's always about war and fights - and football is not about that."


After a record 49 league matches without defeat, Wenger could have been forgiven for adopting a zen-like mentality towards the rough and tumble of domestic conflict. After the elation of his third English title triumph, achieved in a manner of total supremacy, the Frenchman had seen his sharp-shooting Gunners begin the new season looking equally imperious.
Top of the table with 29 goals scored, they were 11 points ahead of seventh-placed Manchester United and appeared to be marching already towards another title. A pretender to the crown called Jose Mourinho had also arrived on these shores but at this point in history, there could be little argument that Arsenal ruled the land.
Meanwhile, in the north, the Red Devils still carried scars - more wounded pride than physical traces - from the 'Battle of Old Trafford' the previous September. United and Arsenal had slugged out a bitter stalemate, which ended in Martin Keown goading Ruud van Nistelrooy after the latter failed from the penalty spot in the 90th minute, igniting a powderkeg of on-pitch confrontations.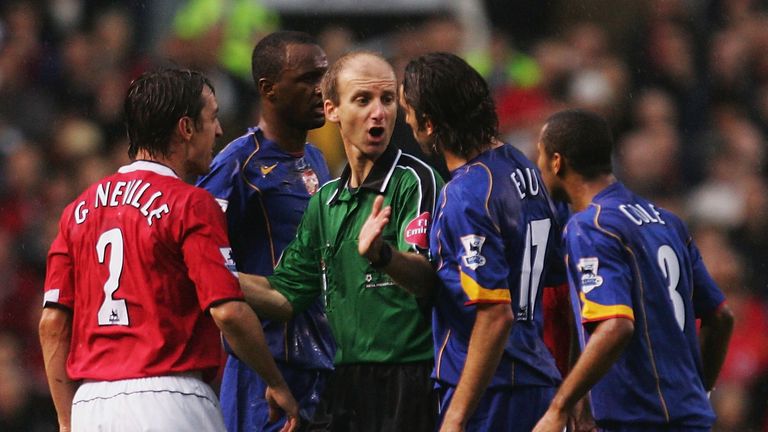 Even though the Gunners had four players banned for a total of nine matches and received a £175,000 fine (the largest ever handed down by the Football Association to a single club), there was no sense of shame. Instead, Wenger was proud of how his players had stood up to United and claimed their "five seconds" of bad behaviour was a rare character lapse from a team of great entertainers.
He had a point; Arsenal still finished top of the Fair Play league that season, despite the rap. Sir Alex Ferguson scowled, said the north Londoners had got off lightly and even accused them of cutting some sort of deal with the FA in advance of their disciplinary hearing. Surprisingly, the Scot was not charged himself for that comment; mind you, there would be more than enough run-ins between him and Soho Square in the years that followed.
"Of course, I'll be telling my players there can be no repeat of what happened last season," continued Wenger to the media. "We have a responsibility to keep things as much within football as possible."
They acted as though the rest of the world was meant to sit back and admire their beautiful football. Sorry, count me out.
That proved to be wishful thinking. Any inner serenity Wenger may have attained was about to be ended by a United side determined to usurp the 'upstarts' from down south. As Gary Neville noted in his autobiography: "They acted as though the rest of the world was meant to sit back and admire their beautiful football. Sorry, count me out. Some of us had a mission to stop them by all legitimate means."
Come matchday, the locals were revolting. The proposed takeover of United by Malcolm Glazer was drawing near; the American tycoon having taken his stake in the club to 28.1% by this stage. Over 1,000 fans marched on the United Megastore carrying a 'Not For $ale' banner, but they would not be able to prevent Glazer's full ownership being ratified by the following summer.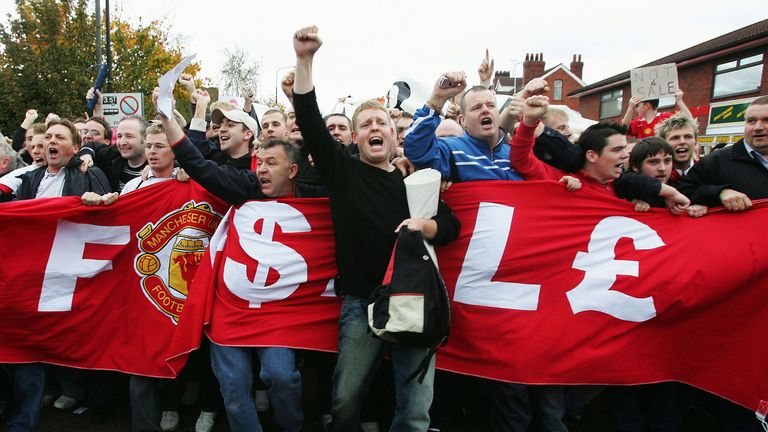 Steve Bennett had taken charge of the previous season's United v Arsenal clash, but it would be Mike Riley - England's Euro 2004 referee - who got the gig this time. Before the game, Riley's boss Keith Hackett described the Yorkshireman as "calm, takes firm action when necessary and doesn't over-react", before adding: "You want a referee to be like a good orchestra leader, baton in hand, controlling the tempo." Wenger would be asking for a refund on his concert ticket by the final whistle.
At least Riley would have been relieved to note the absence of firebrand Roy Keane from the United team-sheet due to a virus. Rio Ferdinand led out the hosts instead, but was hugely fortunate not to walk back down the tunnel after 19 minutes. Edu's excellent through-ball sent Freddie Ljungberg sprinting towards goal and he reached the pass before the United skipper, only to then be taken out. However, Riley - behind the play - chose not to call a foul.
Soon afterwards, Gary Neville made a poor, late tackle on Jose Antonio Reyes - but Riley kept his cards in his pocket. Wenger was already shaking his head in disbelief as persistent rain set in. An untidy coming together between Cristiano Ronaldo and Patrick Vieira saw Riley briefly surrounded. Then Van Nistelrooy's touch was just a little too heavy after Neville's throw-in down the right flank - Ashley Cole came back to intercept, and the Dutchman caught the left-back on his knee, sending him down in a crumpled heap. Barely 30 minutes had been played.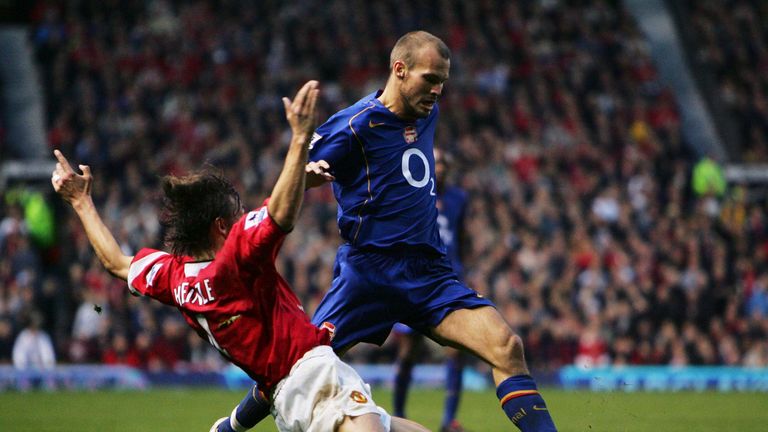 Fortunately Cole was soon back on his feet, but frustration got the better of him and a kick out at the escaping Wayne Rooney brought the game's first booking. Gary Neville had another snap at the heels of Reyes and his name was taken too, quickly followed by brother Phil for a foul on the same Arsenal player. The visitors had actually played fairly adventurously up until this point, but United were determined to unsettle their rhythm. The half ended with more handbags as Gabriel Heinze and Thierry Henry got tangled up in the corner.
After the break, neither goalkeeper was significantly troubled until Jens Lehmann had to hang onto Heinze's shot, after Edu had been grounded by what he felt was a hand-off. Fed up of getting kicked himself, Reyes had taken to getting some of his own back and went for Ronaldo before being replaced by Robert Pires on 70 minutes.
In his previous seven visits to Old Trafford, Riley had awarded United seven penalties. He maintained that ratio as Rooney, celebrating his 19th birthday, exchanged passes with Ryan Giggs on the right before going down in the box as Sol Campbell waved his left leg in the striker's path. Lehmann tried to put Van Nistelrooy off again, just like 13 months before, but the Dutchman stroked the ball home low and ran off roaring with delight, his demons thoroughly exorcised.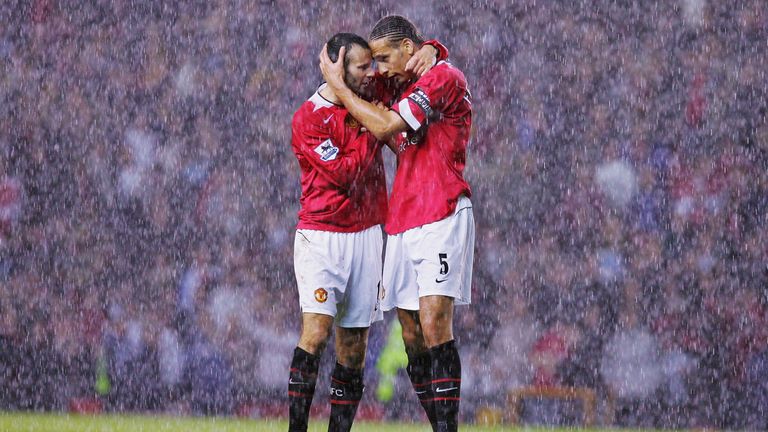 Now there was a tear in Arsenal's cloak of invincibility. Vieira and Edu clattered into Giggs and Scholes respectively and were booked. Pires set up Cole for a possible equaliser, but the defender's shot was always rising. The Gunners had to go for broke - and inevitably left themselves open to the decisive blow. In the 90th minute, Ronaldo played the ball forward for subs Louis Saha and Alan Smith to combine and the latter's low centre was side-footed home by Rooney. The teenager even gave Lehmann a cheeky slap in the face after the goalkeeper tried to wrestle the ball back from him.
After the final whistle, Campbell wouldn't shake Rooney's hand, while Henry harangued United keeper Roy Carroll all the way down the tunnel. But if the Arsenal players had lost their rags, Wenger was even worse. According to Ferguson's recent autobiography, the Gunners boss was letting fly with a few choice words at Van Nistelrooy as the two sides headed back to their dressing rooms.
"He [Wenger] was livid. His fists were clenched," said Ferguson. "I was in control, I knew it." There are often boxes of post-match pizza in dressing rooms, with players encouraged to load up quickly on lost carbohydrates. On this occasion, however, with tempers flaring in the tunnel, someone threw a slice in anger.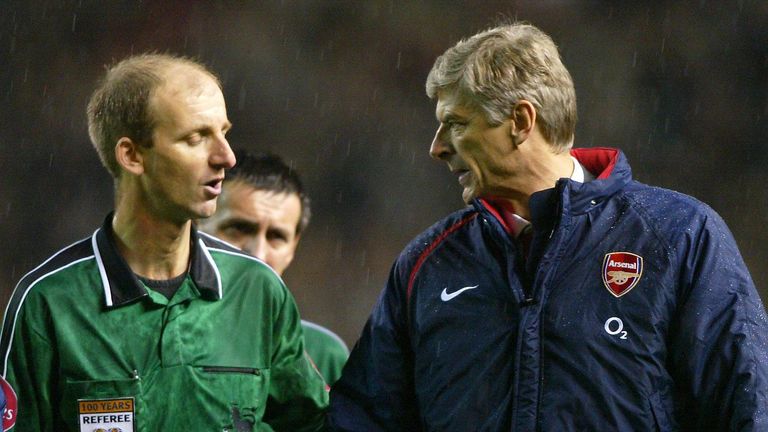 "This slice of pizza came flying over my head and hit Fergie straight in the mush," wrote Ashley Cole in My Defence in 2006. "The slap echoed down the tunnel and everything stopped - the fighting, the yelling, everything. All eyes turned and all mouths gawped to see this pizza slip off that famous puce face and roll down his nice black suit."
Ferguson admitted in his own autobiography: "The next thing I knew, I had pizza all over me. They say it was Cesc Fabregas who threw the pizza at me but, to this day, I have no idea who the culprit is. The corridor outside the dressing-room turned into a rabble. It seemed to me that losing the game scrambled Arsene's brain."
Fabregas, then a seemingly innocent 17-year-old and an unused sub in the game itself, has never admitted to being the phantom pizza thrower - but has always been the prime suspect. In addition, it was claimed Lehmann squirted Ferguson with a water bottle as the tunnel row got out of hand. The United boss had to change out of his suit and into a club tracksuit to conduct his post-match interview.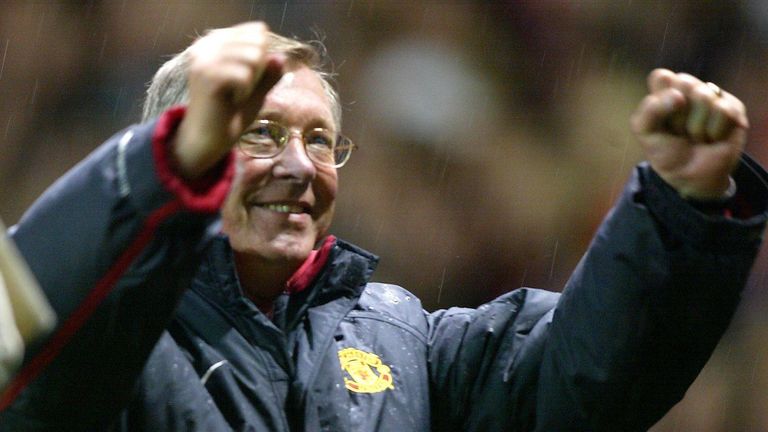 Wenger could barely contain his fury, telling reporters: "I can't be happy about the penalty, I can't be happy about the incident when Freddie Ljungberg was through on goal and I can't be happy that [Jose Antonio] Reyes was kicked off the park deliberately. The players have a deep sense of injustice."
For his part, Van Nistelrooy was later charged with violent conduct by the FA for his first-half challenge on Cole and received a three-match ban.
United followed up their victory with a 2-0 defeat at Portsmouth. Although Ferguson's side wouldn't lose again in the Premier League until the following April - a run that included a 4-2 triumph at Highbury in early February, when Keane and Vieira had their famous pre-match tunnel bust-up - they failed to overhaul the Gunners in the table.
Overtaken
Two weeks after losing to United, Arsenal were overtaken by Mourinho's Chelsea at the summit. The Blues would not their lead slip, going on to win the title by a margin of 12 points. United were six points further back in third spot.
The season ended with Arsenal beating United 5-4 on penalties in the FA Cup final, despite being outplayed for 120 goalless minutes in Cardiff. Lehmann made the crucial save in the shootout from Paul Scholes. Arsenal also won the Premier League Fair Play award for the second season running.
The bitter enmity between the Arsenal and United managers continued until 2009, when they finally buried the hatchet in the Frenchman's office after the Champions League semi-final. By that point, the 'Battle of the Buffet' had long since passed into Premier League legend.
Arsenal v Man Utd is live on Sky Sports 1 HD from 3.30pm on Sunday