Arsenal, Manchester City, Chelsea, Liverpool, Everton, Tottenham and Manchester United battle for title
With just two points between the top three of Arsenal, Manchester City and Chelsea, we look at the tightest title race in over a decade as Liverpool, Everton, Tottenham and Manchester United remain in contention.
By Rob Parrish - Follow me on Twitter @skysportsrobp
Last Updated: 09/01/14 9:50am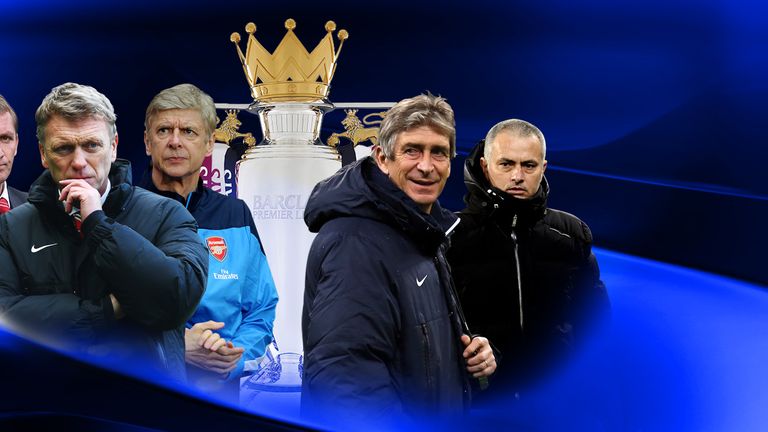 Arsenal, Manchester City and Chelsea have come through the first 20 games of a dramatic Premier League season as the key title contenders, but there is no certainty any of the trio will be lifting England's most sought-after piece of silverware on May 11.
Liverpool celebrated Christmas at the pinnacle of the standings before damaging defeats at the Etihad Stadium and Stamford Bridge saw them slip back into fourth with a deficit of six points, but Brendan Rodgers' side remain challengers to end a 24-year wait for the crown in England.
Not since the 2001/02 season, when there were only two points between the top four, has the race been so closely contested at this stage of the season, with three further teams worthy of consideration beyond the leading quartet.
The word 'reigning' is likely to be replaced by 'out-going' as the prefix of choice for champions Manchester United, such are the difficulties endured by the Old Trafford outfit in the post-Sir Alex Ferguson era, but it would be unwise to completely write off a team which has dominated domestically for the past two decades.
Everton and Tottenham have maintained their places among the front-runners, who have changed slightly since our initial analysis earlier this season, but are rightly seen as the outsiders in a seven-team scrap for glory.
Arsenal
Points 45 Sky Bet odds 4/1
Why they will win it: Arsenal have not enjoyed the luxury of leading the league at this stage of the season since the 2007/08 campaign and can now match their ambition with the necessary transfer market muscle. Despite a lengthening injury list over Christmas, they took maximum points from their three festive fixtures following the damp squib of their draw with Chelsea.
Why they won't: Question marks remain over the striking talent available to Wenger behind leading forward Olivier Giroud, who has just three goals in his last nine Premier League outings, particularly with Theo Walcott out for the season. The pressure to end a nine-year trophy drought will only increase, with their alarming slide of 2011 after losing the League Cup final a warning from history.
Man City
Points 44 Sky Bet odds 10/11
Why they will win it: Manuel Pellegrini's men have moved ominously through the gears in recent weeks with 25 points gathered from their last nine games. Faultless at home and now much-improved on their travels, even the recent absence of Sergio Aguero through injury has not halted their charge, such is the strength in depth available in most departments at the Etihad.
Why they won't: Joe Hart's man-of-the-match display in the narrow home success against Crystal Palace demonstrates there are still defensive deficiencies in City's squad, despite the return of Vincent Kompany. Conceding two in the recent victories against both Fulham and Swansea further demonstrates that this is an area of weakness that can be exploited by opponents.
Chelsea
Points 43 Sky Bet odds 7/2
Why they will win it: Don't be fooled by Jose Mourinho's protestations that Chelsea are not contenders. The Blues boss has more creative players available than he can fit into his squad and his personal record of securing silverware on a regular basis over the past decade cannot be matched, while owner Roman Abramovich is hardly a miser in the transfer market.
Why they won't: Did you know Mourinho wants a new forward? He's hardly mentioned it. Fernando Torres' goal against Southampton was the first time a Chelsea striker has found the net away from home in the Premier League since the Spaniard scored at Sunderland in December 2012. January may prove interesting, with questions over Juan Mata, David Luiz and Ashley Cole's futures.
Liverpool
Points 39 Sky Bet odds 8/1
Why they will win it: The form of Luis Suarez since his return to action this season has been nothing short of sensational, while his decision to sign a new contract prior to the January transfer window should put an end to speculation over his future - at least until the summer. The return from injury of Steven Gerrard and Daniel Sturridge will further bolster Brendan Rodgers' squad.
Why they won't: Stop Suarez, stop Liverpool, is the evidence provided by the statistics. Four of the Anfield side's five defeats this season have come when the Uruguay international has failed to find the target - against Chelsea, Manchester City, Arsenal and Hull City - while he was still suspended for the home reverse by Southampton.
Everton
Points 38 Sky Bet odds 66/1
Why they will win it: Everton have suffered the fewest defeats of any team in the Premier League this season and their impressive defensive record is only bettered by Arsenal. The transition to the style of play favoured by Roberto Martinez has been largely seamless, with the continued emergence of Ross Barkley this term a real boon for both club and country.
Why they won't: A propensity for drawing matches - Everton's tally of eight is only topped by West Brom - suggests this is a side more hard-to-beat than title challengers. Even the most ardent fan would admit that top spot is out of reach, but a top-four finish and the riches on offer in the UEFA Champions League is an achievable target for Martinez in his first season at Goodison Park.
Tottenham
Points 37 Sky Bet odds 50/1
Why they will win it: The departure of Andre Villas-Boas was a demonstration of the cut-throat nature of Premier League football in a knee-jerk society. Tim Sherwood has 10 points from his four games at the helm and has instilled a greater freedom in a star-studded squad, while the recall of Emmanuel Adebayor has given Spurs an additional attacking option alongside Roberto Soldado.
Why they won't: With eight points to make up on league leaders Arsenal, an inexperienced new manager at the helm and a hugely remodelled squad which is still to fully gel, Spurs will not be top of the pile in May. However, as with Everton, they will see fourth place as an attainable target, with Liverpool in striking distance just two points away.
Man Utd
Points 34 Sky Bet odds 25/1
Why they will win it: United have the pedigree, personnel and experience to put together a winning streak to get them back into the title frame and have traditionally been stronger over the second half of the campaign. This squad took the title by 11 points last season and a return to fitness of Robin van Persie will make their forward line a different proposition.
Why they won't: There is an alarming fragility to United this season under Moyes. Home defeats to West Brom, Everton, Newcastle and Tottenham in the space of a few months would have been unthinkable under Ferguson. The fear factor the reigning champions used to enjoy has evaporated and they have left themselves no margin for error over the remainder of the season.