Brendan Rodgers has compared Raheem Sterling to Alexis Sanchez but the Arsenal forward's qualities are a clear example of what Liverpool are missing with Luis Suarez gone, writes Adam Bate...
"You get different types of striker. He's more of an Alexis Sanchez when he plays as a striker - he's not going to pin the defender. He plays in the spaces and he's got the speed to get in behind."
Brendan Rodgers' assessment of Raheem Sterling following his encouraging performance against Bournemouth on Wednesday night has certainly got people talking ahead of Liverpool's game against Arsenal on Sunday.
But while Rodgers might be convinced Sterling has the qualities to perform the Sanchez role at Anfield, the feeling persists that only the Chilean could replicate the dynamism Liverpool have missed so far this season.
The last time Arsenal visited Anfield in February, Liverpool were four goals up inside 20 minutes. While the first two goals came from set-pieces, the broader theme was that the Gunners were outgunned – utterly overwhelmed by the speed and power of the onslaught from the home side.
Much of that was down to Luis Suarez, who laid on the chance for Raheem Sterling to tap home for a 3-0 lead, and Daniel Sturridge, his strike partner who finished off a fast break for the fourth. Neither man, of course, will be available to Rodgers on Sunday.
Change
And yet, it's a change of personnel at Arsenal that has added to the sense of a shift in the balance of power between these old rivals since the summer. While the Anfield vacuum remains following Suarez's exit, English football has a new star to enjoy. Suarez's Premier League replacement is at Arsenal.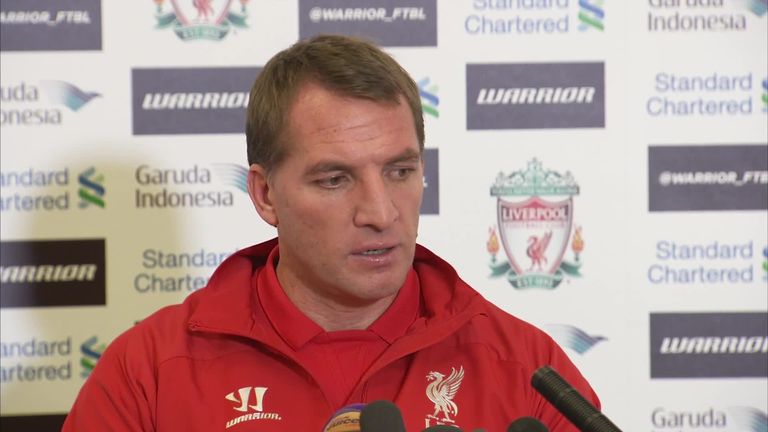 He's a fantastic player and would have suited us. His profile would have been great.
It might not have been that way. Liverpool had agreed a deal with Barcelona only for the man himself to be swayed by life in London. "He's a fantastic player and would have suited us," said Rodgers at the time. "His profile would have been great but it was not to be and we move on."
Defending from the front, twisting and turning to wriggle free in that inside-right position, the similarities in style between Suarez and Sanchez are obvious. Both are typically pugnacious South Americans - "it is sort of bred into them to work hard," said Arsenal's Aaron Ramsey last month – and they bring that street-fighter quality that can thrive in the Premier League.
For Sanchez, the transition period has been swift. Despite scoring 19 times in La Liga last season, there was always a sense he was a little lost amid the sterile domination of that Barcelona side. Able to unleash his trademark aggressive and direct approach on the Premier League, he now appears in his element.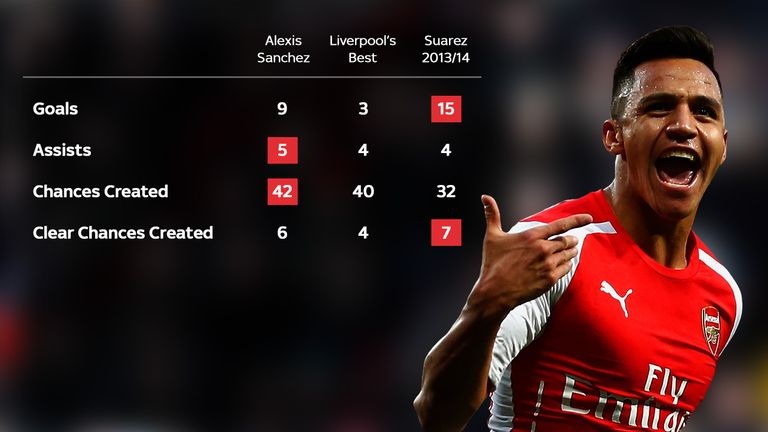 Sanchez has scored nine Premier League goals already, three times as many as any Liverpool player, with five assists to his name too. Even aside from that end-product, the Chilean has caught the eye with his attitude alone. It's a brand of frenzied attacking zeal that belonged to Liverpool last season but has since been lost.
Liverpool supporters will certainly recognise their old hero in Arsene Wenger's words of praise for his new acquisition. "He has shown he can find the ball, he can dribble and he can go at you," says Wenger. "There are similarities with Suarez a little bit by going at you, by being where you do not expect him to be in the box, and by having that huge desire to be at the end of things."
That word 'desire' is at the heart of his work. When Wenger talked of Sanchez "digging deep" to force a late winner against Southampton earlier this month, it was another example of the player turning positivity into points. What would Rodgers give for such urgency in his attack?
"He would have been an ideal replacement for Luis Suarez," Gary Neville told Sky Sports. "Goals, tenacity, pressing from the front, loses the ball – it goes past him he runs back. Everything Liverpool would have wanted to replace Suarez."
Pressing
That pressing was a feature of Liverpool's game last season with Suarez inspiring this terrier-like approach. It was the catalyst for the sort of moments that saw them twice punish the casual Mesut Ozil in this fixture last season. Not only are such errors less likely given Sanchez's hunger to track back but now it's Arsenal capable of nicking the ball and hurting opponents.
"He reminds me of Luis Suarez when he chases everything down and he makes nothing into something," says Alex Oxlade-Chamberlain. That was the case against Sunderland last month when he seized on errors to score twice at the Stadium of Light and win the game for the Gunners.
"He has quick feet and that's why he wins many balls that normal players don't win," said Wenger after that performance. "In transition from offence to defence, he is very quick and wins the ball back very quickly, and you can take advantage of that … There is no time between the offence and defence. The transition is very quick."
Sanchez's speed is now a feature of Arsenal's game. The Premier League tracking data has clocked him as their fastest player – each time at over 34km/h – in Arsenal's last three Premier League games, despite the presence of speedsters such as Kieran Gibbs and Oxlade-Chamberlain in the team. And it's helping Arsenal win the ball high up the field.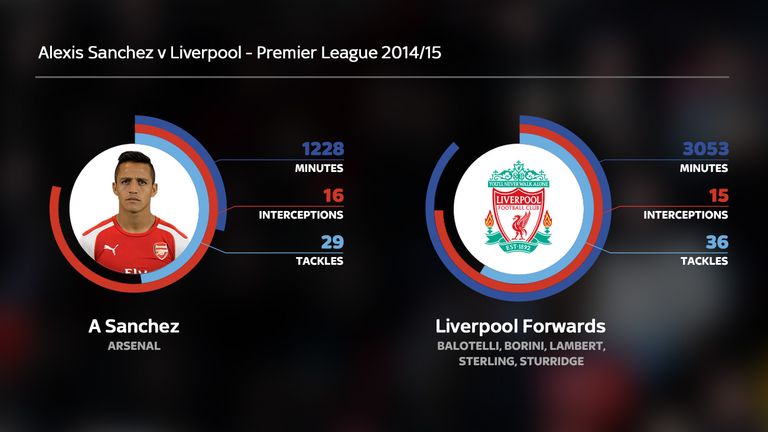 Sanchez's statistics for tackles and interceptions reveal the stark contrast with what's currently on offer at Anfield. As well as making 29 tackles, his 16 interceptions are more than Sterling, Sturridge, Mario Balotelli, Rickie Lambert and Fabio Borini have managed between them. That's more interceptions in 20 hours than Liverpool's forwards have managed in 50.


So while it will be tempting for Rodgers to lament the loss of his star striker when Liverpool face Arsenal on Sunday and even ask Sterling to belatedly perform the role of Suarez's replacement, perhaps the more pertinent example of what might have been this season will be the South American lining up for the opposition. Alexis Sanchez, harrying an error-prone defence and injecting the sort of energy into the contest that was all Liverpool's last term.
There are many reasons why Arsenal's five-point deficit on Liverpool last season has been converted into a five-point advantage in the current campaign. But none of them personify it quite like those two men. One who left Liverpool for Barcelona. And another who arrived from Catalonia as an enduring reminder of the qualities they are missing.
Watch Liverpool v Arsenal live on Sky Sports 1 HD from 3.30pm this Sunday