Louis van Gaal must get Manchester United into Champions League, says David Moyes
By Michael Kelleher
Last Updated: 14/02/16 7:11pm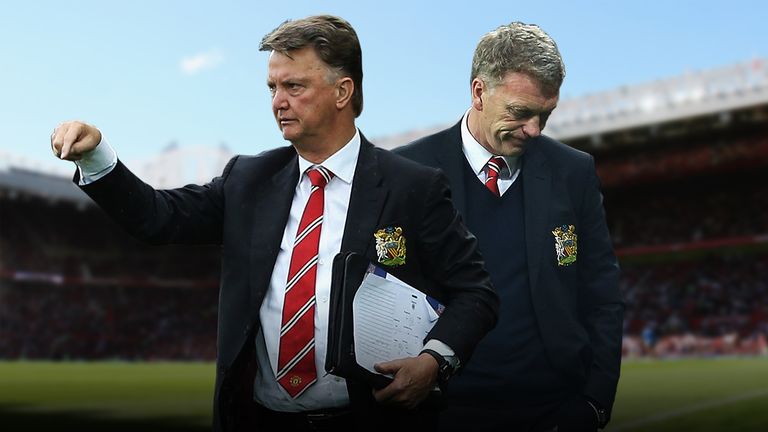 David Moyes has warned Louis van Gaal that failure to qualify for the Champions League will not be accepted by Manchester United.
United's lost further ground in the race for a top-four finish when they lost 2-1 to struggling Sunderland on Saturday.
That result leaves them six points adrift of fourth-placed Manchester City, having played a game more, and Van Gaal admitted afterwards that winning the Europa League now represents United's best route into the Champions League next season.
Moyes is well placed to speak on the subject, having been sacked prior to the end of his sole season in charge of United, when United finished seventh.
The Scot admits he knew there may be repercussions from United's failure to finish in the top four in 2013/14 and says the Champions League is a competition a club of United's size should be competing to win, not struggling to qualify for.
"I knew Manchester United need to qualify for the Champions League," Moyes said, speaking on Goals on Sunday.
"I think Manchester United need to be there. They are a club of status and want to be at that level, if not more. They want to be winning it if they can, nevermind qualifying for it. That's what happens at Manchester United. It's that level."
Van Gaal's relationship with the media has grown increasingly strained in recent months as speculation over his future has increased.
Widespread media reports have indicated Jose Mourinho has already been lined up by the United hierarchy to replace Van Gaal, with the Dutchman admitting he would be "disappointed" if that is indeed the case.
Moyes experienced the glare of the spotlight at United for himself and he admits it is an uncomfortable place to be if the team is underperforming.
"There's so much media attention on Louis van Gaal just now," Moyes said. "When I lost my job, he was lauded by everybody in football - by you people, the media and everybody else. Now many of you are the ones saying he should lose his job.
"If you got to Manchester United, that's what you get. You get an awful lot of media attention, but I still believe I was the right person to take the job."
After 26 games this season, United have 41 points and have scored 33 goals. During Moyes' season in charge the team had 42 points and had scored 41 goals at the same stage of the season.
When asked if he feels he was unfairly treated in comparison to Van Gaal, Moyes said: "I know that the reason I lost my job at Manchester United was I didn't win enough games. It's as simple as that."