Jose Mourinho says no Manchester United deal has been agreed
By Matthew Treadwell
Last Updated: 10/04/16 5:30pm
Jose Mourinho has reiterated his desire to return to management in the summer but insisted he has not agreed or signed a deal to become the next Manchester United manager.
The former Chelsea boss has been consistently linked with United if Louis van Gaal leaves the club in the summer, although Mourinho was keen to emphasise no agreement is in place.
Speaking exclusively to Sky Sports News HQ at the Anthony Joshua-Charles Martin fight, he said: "[Van Gaal] is my friend, I worked with him for a few years.
"I am always linked with jobs and in the summer I will have a job, but in this moment I can promise you I do not have a contract with any club.
"I am not in a position to turn [jobs] down, I am in a position to analyse. I am in a position to be open to any club or national team.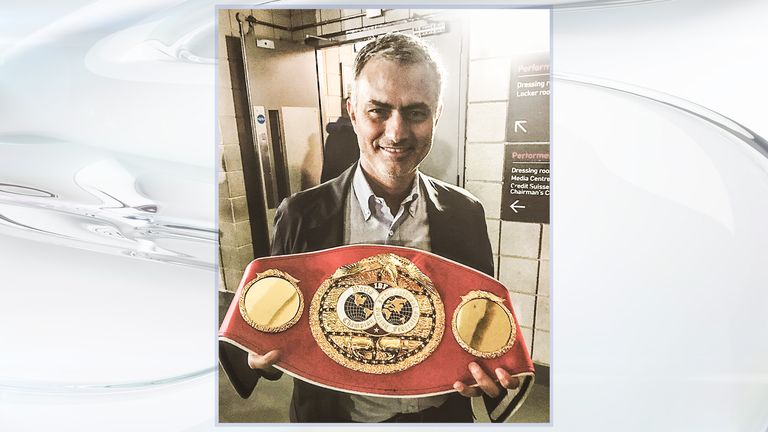 "I have to be honest, if possible I would prefer a club but I must analyse to see what is best for my career and to be back with everything I have.
"I would prefer [to be in England]. I love the country, I love the football here, my family is very stable and happy.
"If possible yes, it would be my first choice."
Mourinho, who also confirmed he had politely declined an approach from war-torn Syria to coach their national team, predicted Sunday could prove pivotal in the race for the Premier League title.
Leicester travel to Sunderland in the first of the two Super Sunday matches, before Tottenham take on Manchester United at White Hart Lane.
"Tomorrow [Sunday] can be a big day. If Leicester win and Tottenham do not win, I think it is Leicester's title," added Mourinho.
"The other way, if Big Sam [Sunderland] beats Leicester and Tottenham beat Manchester United, I think we are arguing to have a big fight.
"I think it is a fight of two teams."
The former Real Madrid and Inter Milan boss also said he would like the man he originally replaced at Chelsea, Claudio Ranieri, to lift the Premier League trophy with Leicester.
"When Prince William is saying he would love Leicester to win it, I am nobody to say anything! I think [Ranieri's] career deserves that," he said.
"He is a good man who I respect. In spite of bad words, he knows I like him very much and I would like him to win.
"But I like [Spurs boss] Mauricio (Pochettino), I have a great relationship with him and his work at Tottenham is very good. Let's go for the simple one, the one with more points deserves to win."
Watch Sunderland v Leicester and Tottenham v Manchester United on Super Sunday. Coverage begins on Sky Sports 1 HD at 12:30pm.