Manchester United boss Jose Mourinho says "it will be difficult" for referee Anthony Taylor at Anfield on Monday after criticism of his appointment.
Taylor is from the Manchester area, and the decision to hand him control of the Liverpool-United Monday Night Football meeting has been called into question by Reds fans and the man previously responsible for allocating officials.
Live Monday Night Football

Former referees' chief Keith Hackett this week backed Taylor's "integrity" but said "it would be intolerable" if there was a disputed call in the derby.
Mourinho was given a stadium ban last season for commenting on referees' handling of Chelsea games and was at first reluctant to talk about Taylor at his pre-match press conference, but the United boss eventually made his feelings plain.
He said: "I have my view, but I learned a lesson by being so many times punished by some words, so I don't want to say anything about it.
"I think Mr Taylor is a very good referee, but I think somebody with intention is putting such a pressure on him that I feel it will be difficult for him to have a very good performance."
Mourinho is confident United will not do anything to provoke action from Taylor and has paid tribute to the way they have behaved so far this season.
"Our disciplinary record is really, really good. We don't have problems at all at this level," he added.
"We are a team that plays with discipline, that is following everything that was told to us in the meetings that we had with the representatives of the Premier League and the referees.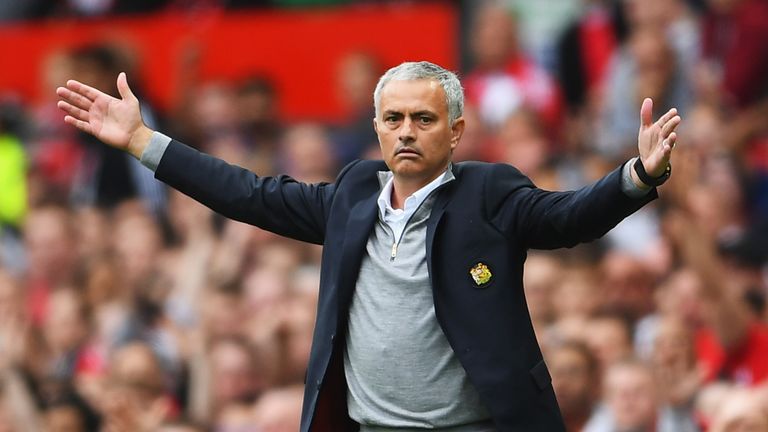 "We don't press referees, we behave on the touchline so that's a point that we are very comfortable with."
You can watch Liverpool v Man Utd, plus England's tour of Bangladesh and the British Masters on Sky Sports. Upgrade now and enjoy six months at half price!