Why Phil Jones could be key for Jose Mourinho at Manchester United
Last Updated: 04/12/16 5:49pm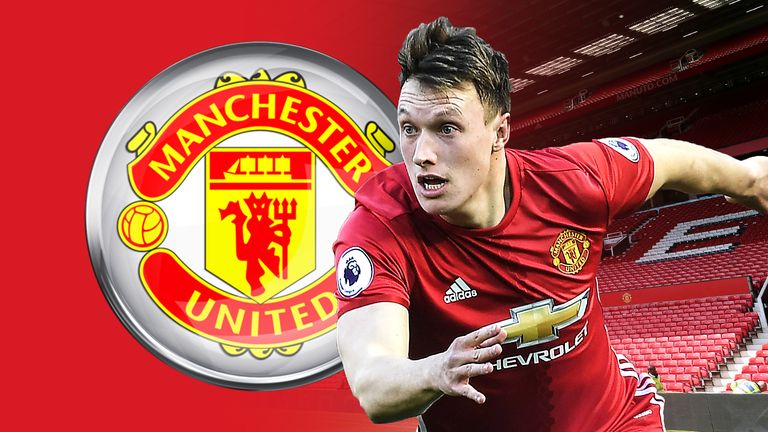 ​​​​​​​Phil Jones has impressed for Manchester United since he was rushed back from injury last month. Ahead of their Nissan Super Sunday clash with Everton, Nick Wright examines why the defender could become a key man for Jose Mourinho…
Manchester United cursed their luck when Chris Smalling joined centre-back partner Eric Bailly on the sidelines earlier this season. An already shaky defence was dangerously depleted for their Premier League trip to Swansea at the start of November, and Jose Mourinho had little choice but to turn to a forgotten figure.
Phil Jones hadn't made so much as a substitute appearance since January. Ten months of injury hell had thrown his future into doubt, but with United in dire need of a victory at the Liberty Stadium, here he was in Mourinho's starting line-up.
It was a risky move, but Jones was a commanding presence in the heart of United's defence as they claimed a comfortable 3-1 win. "He was a brave guy to say: 'I am ready for the team' when he wasn't," said Mourinho afterwards. "After two or three months without kicking a ball, he was only ready in the mind. But that's where it matters and he had a great performance."
Mourinho's comments were partly aimed at Smalling and Luke Shaw for ruling themselves out of the game, but the praise for Jones was genuine. The 24-year-old has played every minute since then. It's the first time in almost two years that he has started five consecutive games, and his assured displays have helped stabilise United's backline.
It's quite the turnaround. Sir Alex Ferguson described Jones as a "phenomenal" talent with the potential to become United's "best ever player" back in 2013, but repeated injury issues halted his progress. When he suffered a fresh setback at the start of this season, Mourinho admitted he feared he might never recapture his best form.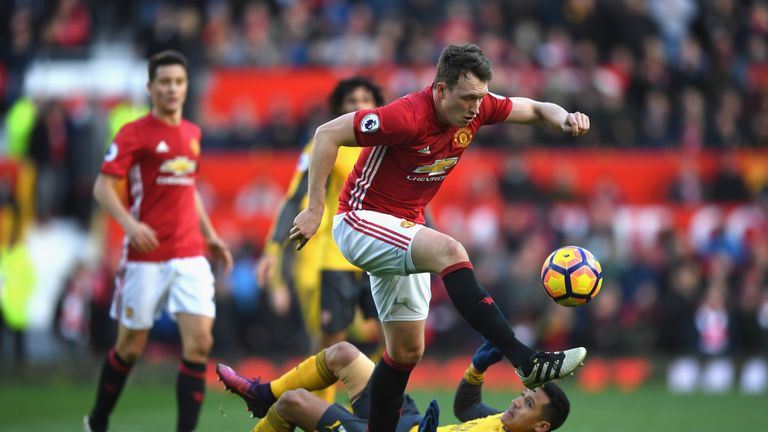 It remains to be seen how long Jones' fitness holds up, but his uncompromising approach to the job has already made a big impression on his manager. "Sometimes defenders now think the most important ability is to build from the back," he said last week. "It's not. The most important thing is to defend and that's what I like about Phil Jones. He likes to defend, he wants to play as a defender."
While John Stones is the ball-playing template for Pep Guardiola on the other side of Manchester, Mourinho has different priorities. The stats show how Jones has embraced the task. Of players to have started at least two Premier League games this season, Jones ranks top for clearances with 10.7 per 90 minutes.
Most clearances per 90 mins - Premier League 2016/17
| Rank | Player | Team | Clearances per 90 mins |
| --- | --- | --- | --- |
| 1st | Phil Jones | Man Utd | 10.7 |
| 2nd | Jan Vertonghen | Tottenham | 9.3 |
| 3rd | Ben Mee | Burnley | 9.2 |
| 4th | Michael Keane | Burnley | 9.0 |
| 5th | Steve Cook | Bournemouth | 8.8 |
It's a small sample size after only three appearances, but it's indicative of how he is meeting Mourinho's demands. Jones is focused and resolute. United are unbeaten since he came into the team, and while there have been tricky moments, he has brought the kind of conviction their timid defence lacked earlier in the season.
It's not simply hit-and-hope, either. Jones appears ungainly at times but he can pick a pass. He completed 72 out of 75 against Swansea, and his 91.1 per cent accuracy this season is second only to Michael Carrick at United. It beats Stones' average, and it's all the more impressive when you consider he plays more long passes (4.3 per game) than any other United defender.
Manchester United's most accurate passers
| Rank | Player | Passing accuracy % |
| --- | --- | --- |
| 1st | Michael Carrick | 92.1% |
| 2nd | Phil Jones | 91.1% |
| 3rd | Chris Smalling | 90.9% |
| 4th | Jesse Lingard | 90.7% |
| 5th | Juan Mata | 90.2% |
It's encouraging for his manager, and he's hitting the right notes off the pitch, too. Mourinho values loyalty and dedication above all else. His ruthless management style is not for everyone, but Jones praised his "honest" approach after United's 4-0 win over Feyenoord last week. "That's all you can ask for as a player," he said. "Players need to know when they've done right and wrong. He does that."
That kind of temperament is perfect for Mourinho, who has been less impressed by other members of his squad, and Jones came to his manager's defence again after he was sent to the stands against West Ham at the weekend. "I think that's just passion," he said. "I like to see that from anyone - players, staff - it's passion for the game and a willingness to win."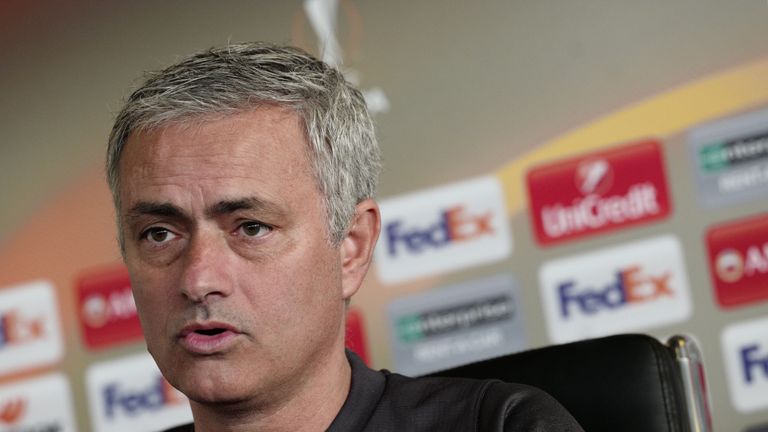 Sometimes defenders now think the most important ability is to build from the back. It's not. The most important thing is to defend. That's what I like about Phil Jones.
Jose Mourinho
Passion. A willingness to win. They could have been Mourinho's words. Bailly and Smalling are due to return from injury in the coming weeks, but Jones will take some moving now. "His condition looks very good and his confidence is improving," added Mourinho last week. "Phil is playing really well, no mistakes in 90 minutes, and I'm really happy for him."
He's happy with him, too. Jones was a forgotten figure whose Manchester United career appeared to be drifting away from him, but he has grasped his opportunity with both hands. A month on from his comeback at the Liberty Stadium, he already looks like Mourinho's man.