Jose Mourinho defended Marcos Rojo's character after the Manchester United defender escaped punishment for a two-footed lunge at Crystal Palace.
The Argentina international's robust attempt to dispossess Wilfried Zaha, 38 minutes into United's 2-1 victory at Selhurst Park, was seen by referee Craig Pawson but only yielded a yellow card.
The incident comes just nine days after Rojo dodged a dismissal for a similarly poor challenge on Everton midfielder Idrissa Gueye.
United boss Mourinho refused to comment on the tackle itself but insisted Rojo's integrity could not be called into question.
"He is playing phenomenal. He's playing really well," the Portuguese said.
"He's a clean player, he's aggressive in his nature, Argentinean, he's emotional, but very clean.
"I didn't comment on David Luiz on Marouane Fellaini, I didn't comment (Danny) Rose on (Henrikh) Mkhitaryan, I'm not going to comment on this one."
Victory at Palace extended United's unbeaten run in all competitions to nine games, and saw them claim back-to-back league victories for the first time since August.
"Two big wins," Mourinho added. "Two victories mean six draws, if in five matches you win two and lose three that's better than five draws.
"The reality is I forget my draws and focus on performances. The performances have been very good for a long time. The players deserve this happiness.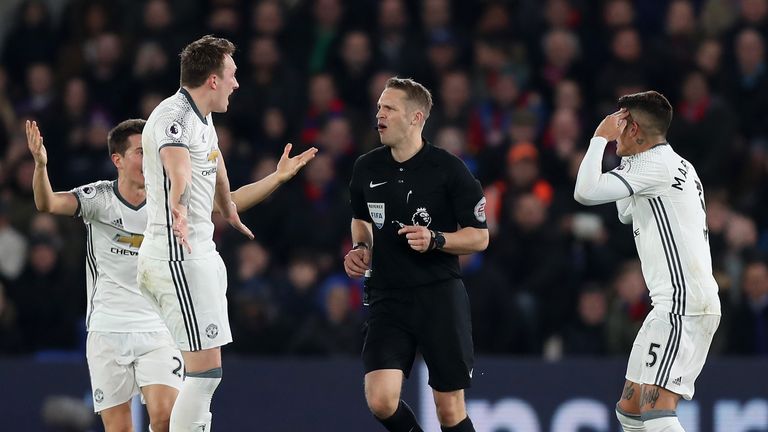 "First half we were in control, we had no problems. In the second half, after their goal, no more control, let's go for it, with quality, with passion, with risk, and the players deserved it.
"Even if this game finished 1-1 I'd have the same feeling towards my players. It's difficult. We played against Tottenham two days ago, we had to run a lot, a big game, difficult, today we saw some of the boys really tired.
"The boys they did phenomenal against a very difficult opponent, who had 24 hours more than us to rest, it means a lot, and before Tottenham we had the game in Ukraine. So I think the boys deserve this."