Zlatan Ibrahimovic says he's conquered England in first season with Manchester United
By Jefferson Lake
Last Updated: 12/01/17 7:01pm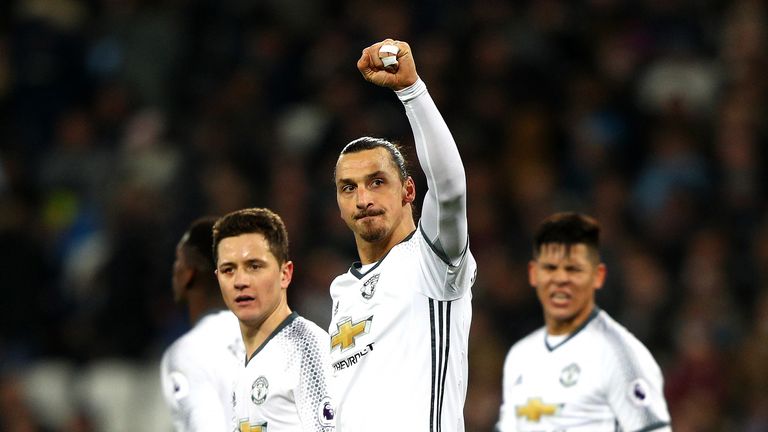 Manchester United striker Zlatan Ibrahimovic feels he has already "conquered England" in his first season.
The 35-year-old has scored 18 goals since moving to Old Trafford on a free transfer from Paris Saint-Germain last summer and will have Liverpool in his sights on Super Sunday.
He feels that is enough for him to be able to consider himself a success on a personal level and will now move on to the team's target of winning the Premier League.
"I'm chasing the head trophy - the Premier League. That is my aim," Ibrahimovic told manutd.com.
"The individual things come as part of the main objective because that is like a bonus for every individual player. If the collective does well, then the individuals will do well.
"I try to help the team and try to do what I'm best at - scoring goals, playing good and creating chances for my team-mates. As long as I can do that, I know I will help my team.
"The same thing with them, they help me the way they can for the team. I have no individual targets because that I did already, after three months in England. I conquered England - it took three months."
Ibrahimovic, who is set to return for Sunday's crunch clash against Liverpool after illness, believes the team are now finding their feet under Jose Mourinho after a mixed start to the season.
United are unbeaten in 15 games in all competitions and have won their last nine in succession but they remain sixth and 10 points off leaders Chelsea.
"I said from the beginning - slowly, slowly, we will get better and everything was about the click," said Ibrahimovic. "We needed to click as a team. Now you see the identity of the team.
"The last one-and-a-half months have shown the right way. The gap has been bigger but now it's better, so we are closer to that now.
"We wait for the other teams to have their dips, to make their mistakes, and we will be there."