Antonio Valencia has a strong case for being the Premier League's best right-back, writes Adam Bate.
When Victor Valdes slipped in stoppage time to allow Manchester United to put the seal on a 3-1 win over Middlesbrough, it was a tap in for Antonio Valencia. But what was he doing there? It's a testament to Valencia's work-rate that, having been denied by Valdes's feet in the first half, he marked his 200th Premier League game for the club with a goal in the end.
It was another all-action performance from a man who is enjoying one of the best seasons of his career. United's player of the month for November and January is having a magnificent March as well. The 31-year-old was recently rewarded with a contract extension - although manager Jose Mourinho disagrees with the use of that particular term.
"It isn't a reward for him," he said at the time. "It is a privilege for us to be able to keep such a good player and man … He is simply the best right-back you can have. There is no better right-back in football." Big praise but perhaps not such a surprise given that Mourinho told Valencia in pre-season that he had once wanted him to be Real Madrid's right-back too.
The one-time winger insists he still doesn't see himself "100 per cent" as a full-back and demonstrated as much at Middlesbrough where he was utilised as a wing-back with United changing their system. But he has revelled in the role of running into the wide open spaces ahead of him when taking a deeper starting position. His United career has fresh impetus.
Indeed, Valencia recently said he feels like he is 21 again and with no fewer than 50 high-intensity sprints at the Riverside Stadium he can still get up and down the flank. But curiously given that he has dropped back into defence from midfield, it is his work in shutting out the opposition that has been so impressive this season.
For Sir Alex Ferguson, using him at right-back was mainly an option when chasing the game. "I think he gradually began to realise that I could defend," said Valencia recently. Louis van Gaal gave him an extended run there but it is under Mourinho that he has improved further, presumably providing the template for what the manager wants from Luke Shaw.
Only Ander Herrera has made more tackles for United this season and Valencia has done very well in one-on-one situations. While specialist full-back Matteo Darmian has been dribbled past 20 times in his nine Premier League appearances this season, he has been beaten only seven times in 24 games. That's a record to rival any defender in his position.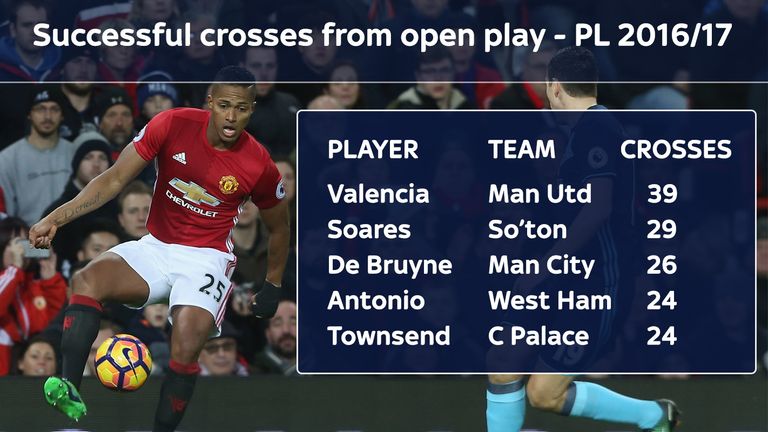 Of course, the attacking qualities remain too. Only Paul Pogba has completed more dribbles for United and the threat posed by his crossing is a match for anyone in the Premier League. Valencia has delivered 39 successful crosses from open play so far this season - that's 10 more than any other player in the division.
Having started United's last 11 league games, there will be plenty of chances to build on that tally and judging by his pressing in the 93rd minute on Sunday, Valencia does not seem a prime candidate for the fatigue that seems to be so worrying Mourinho. Even so, there is the potential for 12 games in 44 days coming up - and that's not including internationals.
United's third longest-serving player, on course to rack up more games than any season since his first for the club, will link up with Ecuador this week. He is set to play a World Cup Qualifier in Paraguay on Thursday before his country host Colombia in Quito five days later with an eye on further bolstering their hopes of making next year's World Cup.
Valencia will be back in midfield for those games, but it is right-back that is his home now. In this team of star names, he is the dark horse who has emerged to collect the Sir Matt Busby trophy once more; the old favourite they dare not do without. And there's a growing feeling that Mourinho is right - Antonio Valencia might just be the best right-back around.
Sky Customers can now upgrade to Sky Sports and get 12 months for just £18 per month. Upgrade now!