From Paul Pogba to Romelu Lukaku: Jose Mourinho's giants at Manchester United
An in-depth look at how the Portuguese's penchant for imposing players has resurfaced at Old Trafford
By Jack Wilkinson & Adam Smith
Last Updated: 13/07/17 12:56pm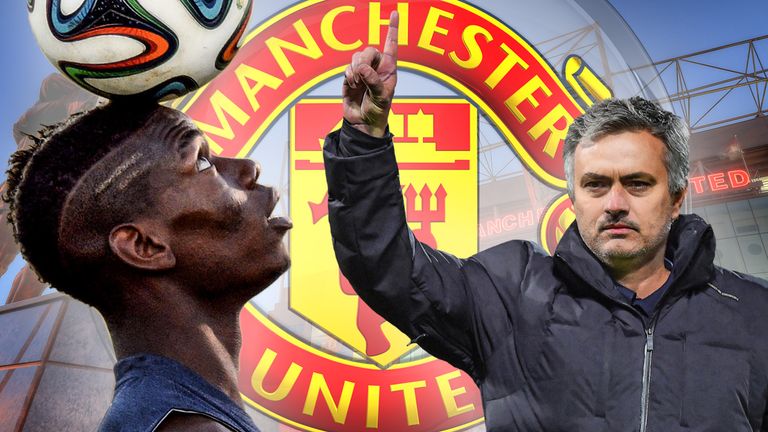 After Manchester United completed the signing of Romelu Lukaku, we examine whether the Belgian underlines Jose Mourinho's preference of physically imposing players and how this translates to the pitch.
Throughout his career at Porto, Chelsea, Inter Milan, Real Madrid and United, Mourinho has delivered success and trophies - 25 to be exact.
Yet for all that success, the Portuguese's teams are often remembered as much, if not more, for their physicality and power over style and flare.
The domineering characters of Didier Drogba, Ricardo Carvalho, Nemanja Matic and Diego Costa, to name a few, were all signed by Mourinho at Chelsea and went on to play integral roles in his title-winning squads.
And, midway through his third transfer window at United, Mourinho's penchant for players of stature looks stronger than ever before.
His first window saw giants Eric Bailly, Zlatan Ibrahimovic and Paul Pogba join the club, with the acquisition of the diminutive Henrikh Mkhitaryan an exception.
Having offloaded players in January, Mourinho has continued in the same vein as last summer, bringing in the tall, powerful figures of Victor Lindelof and Lukaku.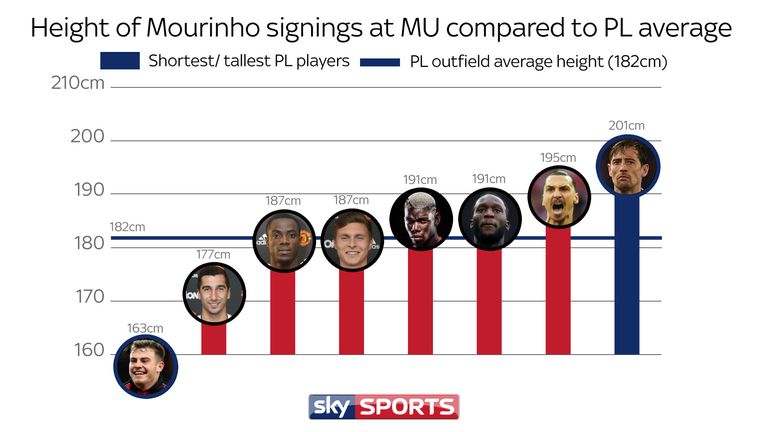 It means that of the six signings Mourinho has brought to United, Mkhitaryan is the only one who does not exceed the current average height of an outfield Premier League player - 182cm.
Excluding goalkeepers, these acquisitions have taken the average height of United's squad up to 184cm, joint second in the Premier League behind West Brom and Watford (both 185cm), and level with Stoke and champions Chelsea.
Average height of PL squads (excl. goalkeepers)
185cm
West Brom, Watford
184cm
Stoke, Chelsea, Man Utd
183cm
Southampton, Burnley, Tottenham, West Ham,
Huddersfield, Arsenal, Crystal Palace, Newcastle
182cm
Brighton, Swansea, Leicester, Liverpool
181cm
Everton, Bournemouth
180cm
Man City
It will therefore come as no surprise that Mourinho's teams tend to tower over those of predecessor Louis van Gaal, who fielded an XI with an average height of 183.9cm as his tenure at the club ended with victory in the FA Cup final.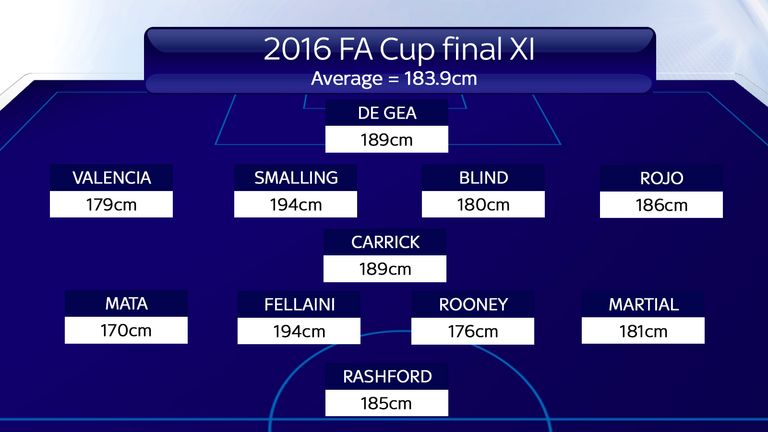 By contrast, the final game of Mourinho's first season at United, the Europa League final, saw a side that averaged 184.3cm go on to lift the trophy, a figure which would have been far greater had injured trio Ibrahimovic, Bailly and Marcos Rojo been available in Stockholm.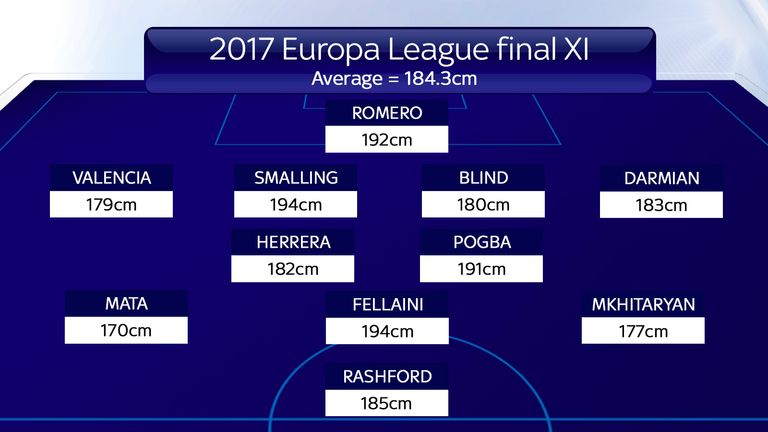 Mourinho often turned to the aerial prowess of Marouane Fellaini in his debut season at Old Trafford, despite the Belgian receiving criticism from fans while Van Gaal was at the helm.
The notion that Mourinho favours taller players gathers more weight when we examine those linked with a move to Old Trafford this summer.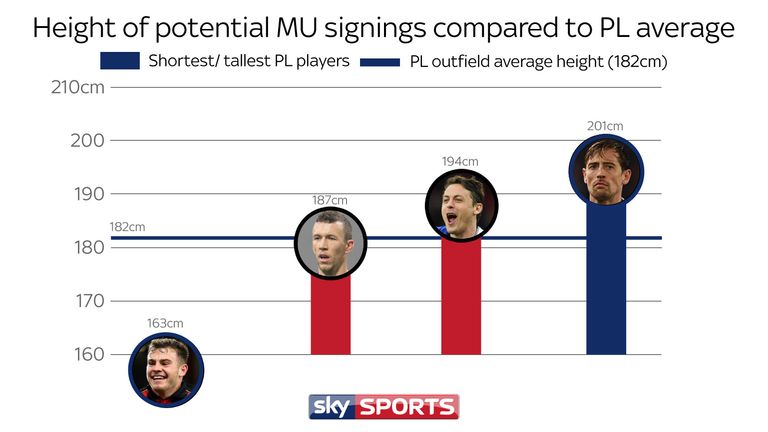 The rangy figure of Matic has been tipped to reunite with Mourinho at United, while a move for Inter Milan winger Ivan Perisic has also been mooted.
As a result, the completion of such signings which could drastically increase the average height of United's squad and potential starting line-ups next season.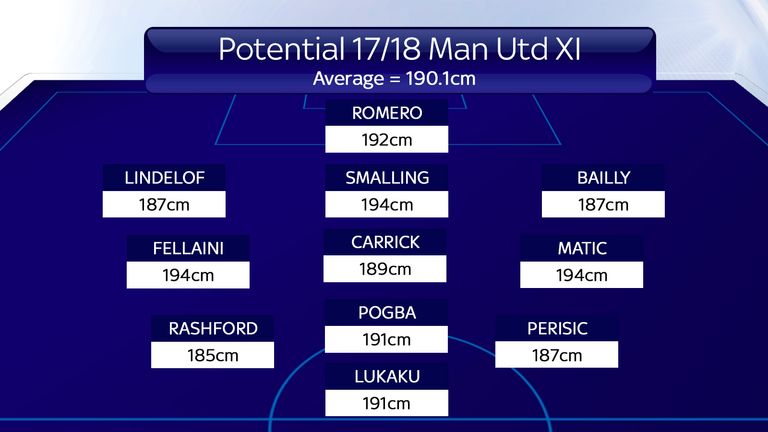 But how does Mourinho's transfer policy translate onto the pitch? Well, you only have to look back at the stats from last season where the Portuguese oversaw a drastic upturn in United's aerial statistics.
In attack and defence, the Old Trafford club's tallies registered in Van Gaal's final term were bettered in Mourinho's maiden campaign.
United saw a 100 per cent increase in headed shots, rising from 38 in 15/16 to 76 in 16/17, while headed shots on target rose from 11 to 23, a 109.09 per cent rise. As a result, more headed goals were scored, an 80 per cent increase from five to nine.
There was a marked improvement in aerial duels too, with a 24.6 per cent rise in those won and an 11.97 per cent decrease in those lost.
What's more, the ability of those in the air came to the fore to deliver a spike in United's crossing stats, with crossing accuracy from open play up 44.7 per cent and accuracy from corners up 22.6 per cent.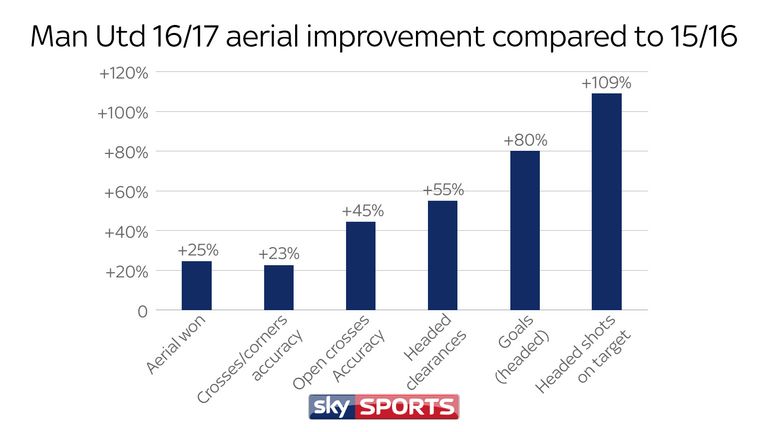 Europa League and League Cup victories, together with Champions League qualification, in his first term at Old Trafford certainly vindicate Mourinho's approach both in the transfer market and on the field.
Signings of the same ilk as those already brought to the club, coupled with another year under the Portuguese's authority, and it's a ploy which could well lead Mourinho and United to yet more success.