Paul Merson has urged Macus Rashford to bide his time and stay at Manchester United this summer despite his limited game time at Old Trafford this season.
There has been speculation that both Rashford and Anthony Martial may consider summer moves with the arrivals of Romelu Lukaku and Alexis Sanchez in the past year having left the pair competing for minutes off the bench.
However, Merson believes the England forward would be wise to fully consider his options rather than rush into a move from United, who face West Brom on Sky Sports Premier League on Sunday.
"He's at the biggest club in the world, he's 20 years of age. Where's going?" Merson said on Soccer Saturday.
"Don't leave Man United at 20 and go and play for a team that's not in the top six. At 20, he's still learning. Let's be honest right, if Martial hadn't got injured in the Europa League then he probably wouldn't have played for Man United yet.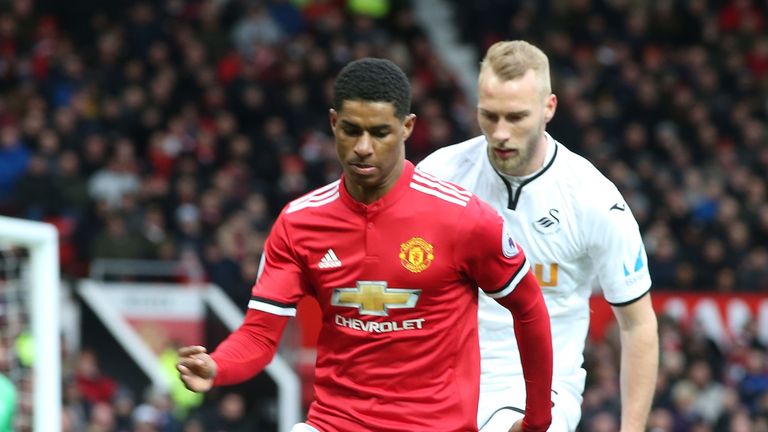 "He's played nearly 100 times for Man Utd, I think he's a brilliant talent but he needs to sit down and just calm down a bit because he's at the biggest club in the world of football and he could end up playing a team that's eighth or ninth in the league - no, don't do it.
"He'd have to go abroad, go to Juventus. He might play for Arsenal (in the top six) but why would he go to Arsenal? He's at Man Utd!"
"Just give it time, he's 20 years of age! I think that everybody gets a bit carried away that you've got to play 600 games by the time you're 20. Paul Pogba's done it (left United at a young age and gone on to succeed) but give me another one."

Merson did concede that if the situation had not changed in a year's time then Rashford may have to think about leaving United but stressed that there was no guarantee things would be better at a different club.
"If he goes through the whole of next season and it is the same pattern as this season then I think, as a player, you might have to have a look but don't rush," he added.
"The grass is not always greener on the other side. You don't leave a club and then 'oh, I'll go here, it'll be great', believe me, I've done it. I left Arsenal and went to Middlesbrough, it wasn't the same. Arsenal was an unbelievable football club, I'm talking from experience."