David de Gea exclusive interview: Manchester United shirt is a privilege
Last Updated: 04/05/18 11:15am
It has been another award-winning year for David de Gea - but the Manchester United goalkeeper hopes there is more silverware to come for both club and country.
Earlier this week, the Spaniard was named as his club's player of the year for a record fourth time as his performances have helped the team to the FA Cup final and to second in the Premier League with three matches to play.
In an exclusive interview with Sky Sports ahead of the Friday Night Football clash with Brighton, De Gea admits the team have not hit their pre-season targets but insists playing for the club remains a privilege as they seek to close the gap on champions Manchester City next season.
He also spoke about his evolution as a goalkeeper since the difficult early days following his move from Atletico Madrid in 2011 and what Spain and England can expect at this summer's World Cup…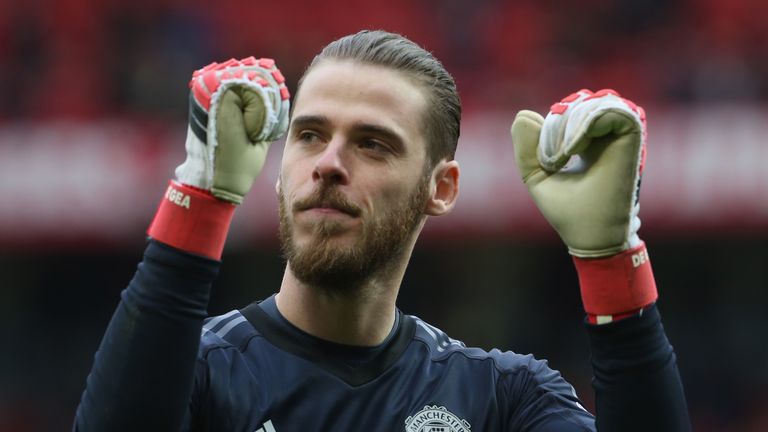 Let's start by talking about the awards…. Player of the Year again and the Fans' Player of the Year Award. What does it mean to you to get that recognition?
I'm very happy. It's just incredible. Initially, you don't imagine yourself winning even one of these trophies but now to have won four is just fantastic. All I can do is thank the fans, thank my team-mates and thank them for the affection they have shown me over the years.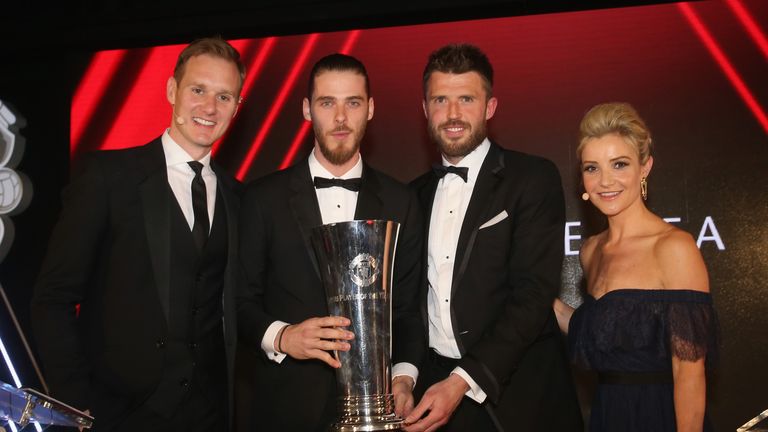 What does this club mean to you?
It's a way of life, being part of a club like Manchester United and being part of its history. It's a privilege pulling that shirt on. You are part of a club where so many legends and so many historic figures have passed through this stadium over the years. It's something you enjoy all the time, every time you pull on the shirt it is an absolute pleasure, honour and privilege.
Your manager Jose Mourinho believes there's something wrong when a goalkeeper wins. Do you agree with that?
Maybe it's better if a striker who has scored a load of goals wins it or maybe a midfielder wins it on occasions, but that's football. I think football is evolving and I think the role of the keeper is becoming more and more important in the game in general. That's just the way it's turned out this year. Maybe next year, let's hope a striker can win it perhaps.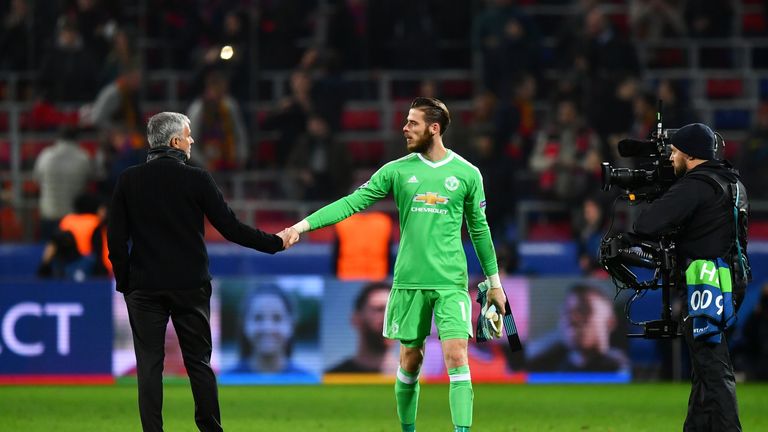 Speaking of the game and yourself evolving, as we sit here today how would you describe the David de Gea that arrived here when you first signed?
I was a young lad, new on the block coming from a different country to a different culture. I didn't speak the language and everything was different; the food and the culture. It was tough and there were some difficult moments, but what I never did was give up the faith I had in myself. You've got to trust in your own ability, back yourself and the main thing is work really, really hard and fight to improve. I think looking back and at the person I am today, I'm a better goalkeeper for it and more mature as a person. In terms of a player and person, I'm a much different David de Gea.
You mentioned goalkeeping changing. This season in particular, people have looked at Ederson and players like that who play with their feet. How has goalkeeping changed in your mind in the last five or 10 years?
It's a role which has taken on much more importance in the game now. As a result, goalkeepers have had to improve every aspect of the game. You've got to be much more rounded as a player. Everyone has had to improve the quality they have on the ball, you've got to be good with your feet and you've got to be considered one other outfield player at times in the game. I consider all aspects of being a goalkeeper as fundamental in the development of the side as a whole.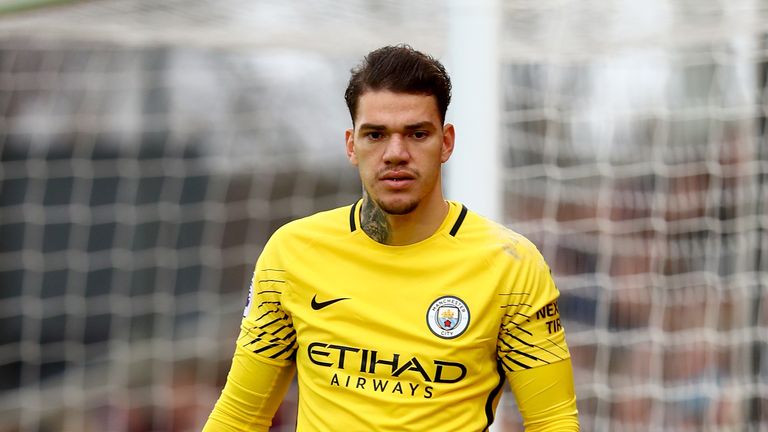 You are often talked about as the best goalkeeper in the world. Which other goalkeepers do you look to and watch?
Every goalkeeper has their own strong points and qualities. What I like to do is focus on every keeper. You can pick bits out of every keeper where they are particularly strong and you can learn from things like that. It's a case of looking at the whole bigger picture, looking at the strengths and what you can incorporate into your game.
How do you sum up this season for the team?
It has not been quite enough this season. Fair enough we are battling to hang on to second place and hopefully we will fire until the final game to ensure that happens, but we have not managed to win our initial target which was to win the Premier League title. That is what we are all here for, that is what the players at the club want and also to give a good account of ourselves in the Champions League but we have also not managed to do that. Obviously the FA Cup is very important, a nice trophy to win, and we are going all out to win that. But it is not quite enough - we are Manchester United and have to aim for bigger and better things. That has always got to be our focus.
Does it make it easier knowing a win against Brighton will all-but seal second place? Does that give you something to build on for next season?
We want to win on Friday night and seal second place as quickly as possible but it is insufficient and we can't offer any excuses. We are here to try and win trophies. The fans and people at the club deserve better and that is what we have to do - fight to win big trophies.
How do you close the gap to Manchester City next season and challenge for the title?
Next season is a new season and we have to improve in a number of areas. We have to fight to be involved at the end of the season. It is not just Manchester City we will be challenging next season, five or six teams fight for the Premier League. It is a case of hard work to be in there at the wire.
No rest for you this summer. We expect you to go to the World Cup with Spain. What sort of shape is that squad in?
We are in great shape. We've got a great squad and we are going there with a lot of hope and desire and we are really excited about what's ahead. We've got a strong squad and there's a lot of ambition there. We had a great qualifying campaign, but now it's the nice bit, the final stages of the tournament. We've got to go there and try and play our own style of football, try and get victories in the group stage and then go game-by-game. It will be an unforgettable experience and I'm sure everyone in the squad will be giving 100% to try and win the World Cup one more time for Spain.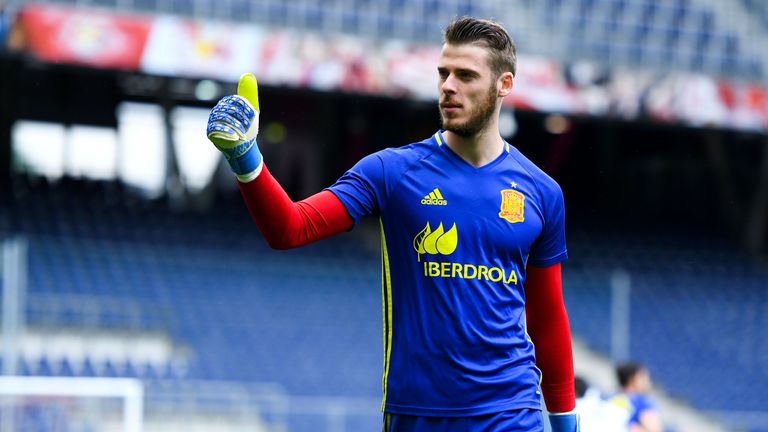 Do you give England any chance of winning the World Cup?
Why not? Every national side is there for a reason. They have come through the qualifying and they are there because they deserve to be there. Everyone is capable of winning it. You always get a surprise package in every tournament, so why not England? I'm sure everyone will be doing their best and England will be no exception.
David de Gea will be in action for Manchester United against Brighton, live on Sky Sports Premier League from 7.30pm on Friday.