Jose Mourinho insists Man Utd were distracted by FA Cup final in Watford win
Last Updated: 13/05/18 7:43pm
Jose Mourinho insisted his Manchester United players were off the pace in their final day 1-0 win over Watford as they were distracted by the looming FA Cup final.
United finish their 2017/18 campaign at Wembley next weekend, when they take on Chelsea in the FA Cup final, looking to secure their first silverware of the season.
With that in mind, Mourinho made nine changes to the team that drew with West Ham on Thursday, and the much-changed side struggled to find anything like their top level against Watford, also lacking in intensity, with little to play for.
With second place already assured, Mourinho insisted motivation was an issue at Old Trafford, even after Marcus Rashford had opened the scoring in the 34th minute.
"It was not an easy match because today we did not play for an objective," Mourinho told Sky Sports. "The only one was to try to break the 80 points barrier. All the eyes are on the final next weekend. It was difficult to have the players focused and committed."
Anthony Martial was omitted from the squad, despite Mourinho stating the France international would be handed a starting berth in his pre-match, fuelling speculation the forward could leave the club in the summer.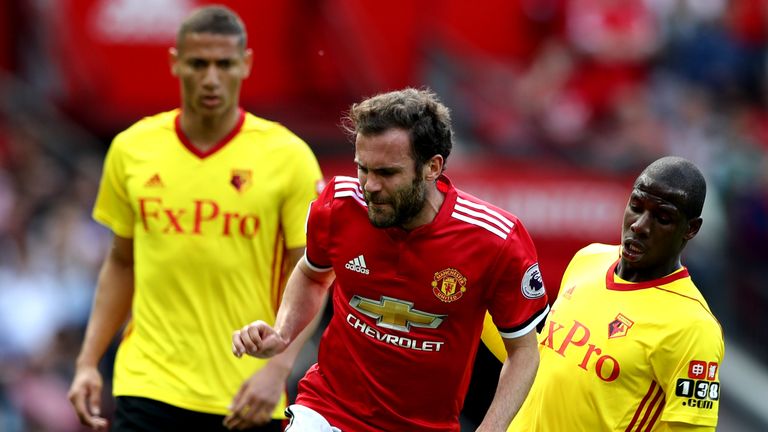 "He was injured in training yesterday," Mourinho added. "Something in his left knee and it was impossible to play. He is already a big doubt for the final next week.
"The supporters read the newspapers, they listen to the pundits, they eat the food that you give them. This has caused problems, but he missed today's game because he was injured."
On the final day of the season, Michael Carrick played his last game for the club at Old Trafford before retirement, and Mourinho's assistant Rui Faria was also present for his last game before leaving. Mourinho reserved special praise for the pair.
"For a winner like Michael, to win in his final match has to mean something," Mourinho said. "Sir Alex (Ferguson) was the smart one to sign him and the happy one to have him for so long. An unbelievable player. Even today, I was telling my assistants that I wanted to take him off to standing ovation but I couldn't because he was the best. Today he just changes office [to take coaching role at the club].
"He [Faria] was my kid, 17 years ago. We are sad, but that is life. We will always be together."