Andreas Pereira praises Manchester United coach Michael Carrick
By Shona Duthie
Last Updated: 26/07/18 7:18am
Manchester United midfielder Andreas Pereira says he feels lucky to have former player Michael Carrick as his coach.
Pereira, who spent the last two seasons out on loan at Granada and Valencia, has been involved in United's pre-season tour of the US.
The 22-year-old has started both games so far and impressed in the holding midfield role against San Jose Earthquakes - the same position Carrick, who retired at the end of last season to take up a first-team coaching position, played in.
"He is very good with me," Pereira said of Carrick. "He always tells me what to do and helps me in training. If I do something wrong, he will tell me.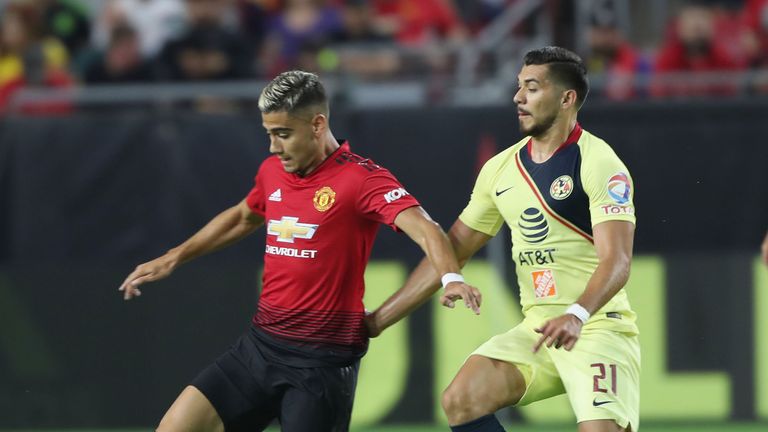 "Even if I do something good, he will tell me as well. It is very useful as well because he played in the same position.
"It is very easy to learn off him. So if he tells you something, it is so easy to pick it up because you understand it straight away. I am very lucky he is there for me."
Pereira made his United debut in August 2014 but has only made 12 first-team appearances since then.
Despite going out on loan twice - the midfielder insists he wants to push for first-team football in the Premier League.
"It is my intention to stay here and help the club and team," he said. "That is my first intention. I want to everything I can to stay at the club and help United this season.
"I have always been a midfielder and when I was young I always played as a midfielder but anywhere the manager tells me to play I will play and try to do my best.
"So now I am playing the No 6 role, I can play the No 8 role as well. I am just picking it up and learning in training from Carrick and the manager himself. They are helping a lot and I will try to do my best to play there."
MUTV is the only place to watch all of Manchester United's pre-season matches live, and hear first on new signings. Go to www.sky.com/mutv to find out more, or go to Sky channel 418 and press red.