Manchester United boss Jose Mourinho would not have spent his money to watch US tour
Last Updated: 30/07/18 12:36pm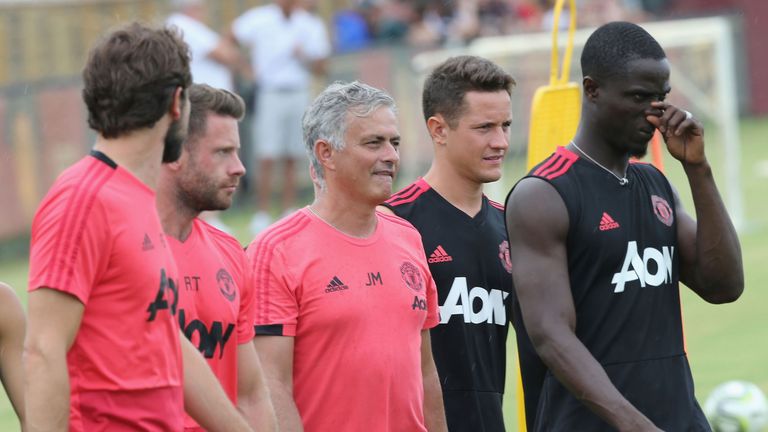 Jose Mourinho admits he would not pay to watch his under-strength, under-performing Manchester United side on their pre-season tour of the United States.
United have endured a miserable time so far in America. They could only manage draws in 90 minutes against Mexican side Club America, MLS outfit San Jose Earthquakes, and AC Milan in their International Champions Cup [ICC] opener.
They were then hammered 4-1 by arch-rivals Liverpool at 'The Big House' stadium in Ann Arbor, Michigan on Saturday night.
"The atmosphere is good but if I was them, I wouldn't come," Mourinho said.
"I wouldn't spend my money to see these teams. I was watching on television Chelsea against Inter and the people in Nice decided the beach was better. They didn't go to the game, the stadium was empty.
"I think the passion many Americans have for soccer deserves more. They deserve the best teams and invest to bring the best clubs to the US. But we, and some other clubs, were not able to give to the people the real quality football that can attract even more passion in this country."
Charlie Stillitano, executive chairman of the ICC's organisers Relevent Sports, has defended Mourinho despite his comments about the tournament.
He told ESPN: "I understand his point. There are challenges in a World Cup year. It gets later and later, the season seem to get earlier and earlier and it's really a challenge for everyone. I think he was just voicing that frustration.
"We are looking at changing the format next year but it's a bit cyclical anyway. We might tweak the format, but it's not a World Cup year, everyone is excited to come and I don't think we will have anything near the same problem."
Mourinho complaining about his squad being decimated by so many of his players being on post-World Cup holidays has been a constant theme of United's unhappy trip across the Atlantic.
The likes of Paul Pogba, Romelu Lukaku, Marouane Fellaini, as well as the England quartet of Phil Jones, Ashley Young, Jesse Lingard and Marcus Rashford, are still absent.
Antonio Valencia and Chris Smalling also missed the Liverpool defeat through injury, while Anthony Martial had returned home to attend the birth of his second child.
Alexis Sanchez did feature in Michigan, but he cut a frustrated figure as Andreas Pereira's stunning free-kick strike provided scant consolation for a United side ripped apart by Liverpool.
Asked about Sanchez's demeanour, Mourinho replied: "Do you want me to be very happy with the players he has around him?
"We are not playing here to improve the team, the dynamic or our routines.
"We are playing just to try to survive and not have some ugly results. Alexis is the only attacking player that we have.
"We don't have wingers, we don't have strikers. He is the only one who is here and the poor man is trying his best with the frustration of somebody who wants more.
"This is not our team, this is not our squad - not even 30 per cent of it.
"We start the game with almost half the players who are not even going to belong to our squad on August 9 (transfer deadline day)."
United are back in International Champions Cup action on Tuesday night when they take on Real Madrid in Miami.