It has been a frustrating pre-season so far for Jose Mourinho.
The Manchester United manager has made no secret of his displeasure with how his preparations for the 2018/19 campaign have gone.
Here, we pick out some of his comments to the media over the past fortnight…
On missing key players...
18 July: "(Nemanja) Matic, (David) De Gea and Fred will come next week, but I don't have all my players.
"I'm not worried about playing against Liverpool or Real or AC Milan [in the International Champions Cup], but I am worried because I am not training with all my players. It is what it is and we have to make the best of it.
"It's maybe good for Luke Shaw and Eric Bailly and Andreas Pereira, just back from loan - I'll take the positives."
Mourinho made his concerns about the absence of key players clear at the start of United's US tour - although initially, he could see the benefits for some fringe players.
23 July: "We are not a team. We're a group of players from different teams. Some are first team, some under-23s, some coming from loans and going on loan, some are younger, U18s. We don't have a team to play much better than we did but [it's] one more training session."
The frustration was plain after a dour 0-0 draw with San Jose Earthquakes, with Mourinho making it clear little should be read into the performance or result produced by the players he put out for United's second friendly of the tour.
24 July: "I have got good facilities, as always. I have got incredible commitment of the people that are involved with the process of preparing a good pre-season. I am happy with the matches, the evolution of the matches, but I don't have the players to work.
"I don't have the majority of the players that are going to be in the squad on the 9th of August, when the [transfer] market closes and we can make the squad official for the season. Of course I am not happy."
With Romelu Lukaku, Paul Pogba, Marouane Fellaini, Marcus Rashford, Jesse Lingard still recovering from their World Cup efforts, Mourinho says United's tour is missing a key ingredient: first-team players.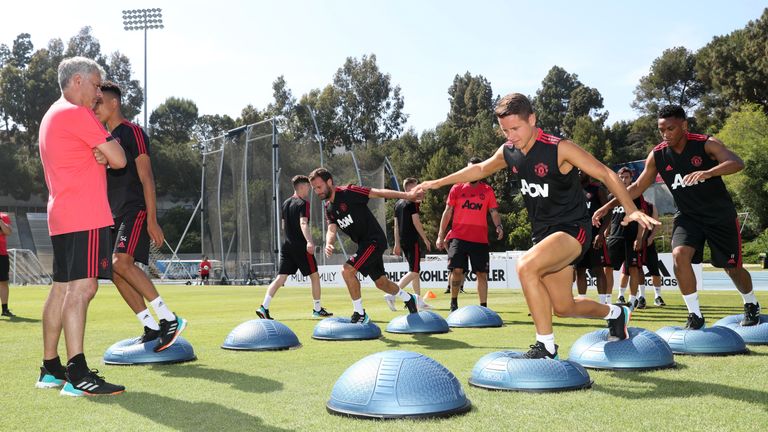 28 July: "The atmosphere is good but if I was them [the fans], I wouldn't come. I wouldn't spend my money to see these teams.
"I think the passion many Americans have for soccer deserves more. They deserve the best teams and invest to bring the best clubs to the US. But we, and some other clubs, were not able to give to the people the real quality football that can attract even more passion in this country."


Mourinho raised eyebrows with his suggestion fans should stay away from pre-season friendlies, such as United's defeat to Liverpool. Around 100,000 US football fans had attended the match at Ann Arbor, Michigan - but Mourinho said the quality on show was not worthy of such attention.
28 July: "Do you want me to be very happy with the players [Sanchez] has around him? We are not playing here to improve the team, the dynamic or our routines. We are playing just to try to survive and not have some ugly results. Alexis is the only attacking player that we have.
This is not our team, this is not our squad. Not even 30 per cent of it. We start the game with almost half the players who are not even going to belong to our squad on August 9.
"We don't have wingers, we don't have strikers. He is the only one who is here and the poor man is trying his best with the frustration of somebody who wants more. This is not our team, this is not our squad - not even 30 per cent of it.
"We start the game with almost half the players who are not even going to belong to our squad on August 9 [transfer deadline day]."
Alexis Sanchez may have made a late arrival to United's tour due to visa issues, but Mourinho sided with the Chilean when it was suggested the attacker cut a frustrated figure in the 4-1 loss to Liverpool. Again the manager made clear most of the players on tour would not be involved in the Premier League campaign.
On transfers...
24 July: "One thing is what I would like. Another thing is what is going to happen."
Mourinho seemed far from impressed with the progress of United's transfer dealings this summer when he spoke to ESPN FC. His frustrations in the market ramped up a few days later…
28 July: "I would like to have two more players. I think I am not going to have two. I think it's possible I am going to have one. It's possible.
"I gave a list to the club of five names a few months ago and I wait to see if it is possible to have one of these players.
"If it is possible it is possible, if it is not possible it is not possible. If it is possible, good, if it is not possible we keep fighting, working and believing in the players that we have."
Mourinho's statement that he gave the United board five names to pursue underlined his unhappiness with their transfer business so far - and laid down a marker he has requested significant improvements to his squad.
On the impact of holidays...
28 July: "Antonio Valencia comes from holiday - I think too much holiday for him. His condition was not good when he was back, then injury and also go back.
"Anthony Martial has the baby and after the baby is born - beautiful baby, full of health, thank God - he should be here and he is not here."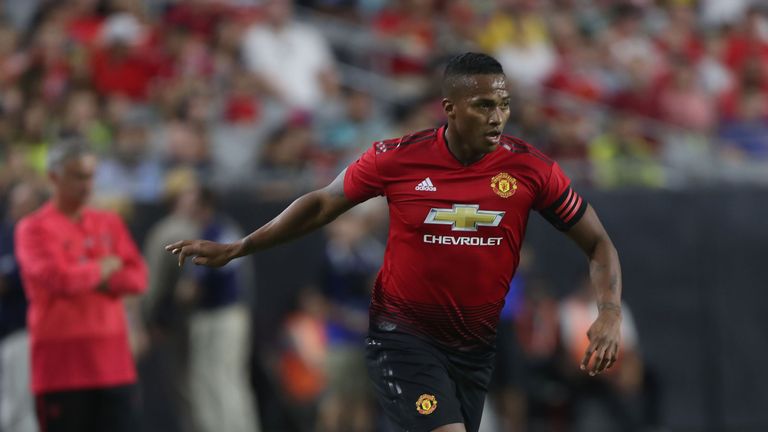 Antonio Valencia comes from holiday - I think too much holiday for him. His condition was not good when he was back.
Mourinho was less than impressed by Valencia's off-season training regime and Martial's reluctance to return to the tour immediately after the birth of his second child.
28 July: "I just hope the boys on deserved holidays, they take care of themselves a little bit and I hope somebody wants to do what Marcus Rashford and Phil Jones decide to do, which is to be back a little bit earlier to try and help the team because for the beginning of the season we are going to be in trouble."
Wish you were here. Mourinho suggests he would appreciate some of United's World Cup stars cut short their post-tournament holidays to prepare for the Premier League season.
26 July: "Ashley Young is a possibility to play right-back, but is on holiday. I don't know if he fancies to be back for that and put himself to be available for the team or stay on holiday."
Mourinho admits he's unsure whether Young will be back in time for United's opening game of the season.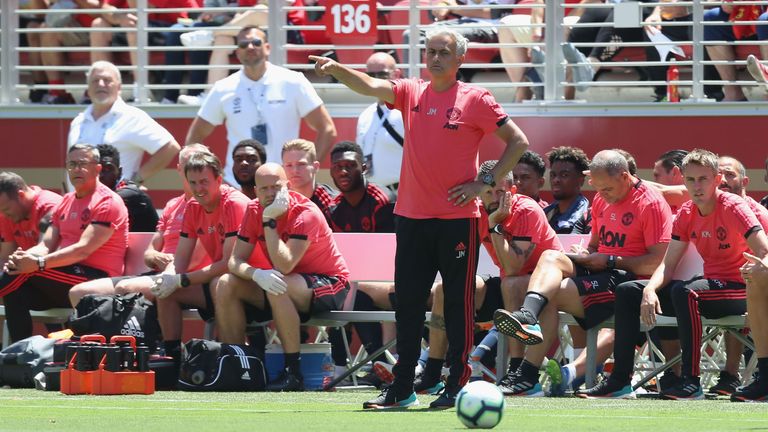 24 July: "When I look to Leicester, if I'm not wrong, only Harry Maguire and Jamie Vardy, were in the World Cup in the final phase. I think a team that is working for six weeks minimum, with only one central defender and one striker missing, it is clear how much better the situation is for them.
"When I look to Brighton on the second game, I don't think they have any player that is not doing a very good pre-season with lots of matches and training together.
"So of course, against Leicester and Brighton the situation is not amazing for us. We will have to fight for the points with the players we have available."
With the season still a couple of weeks away, Mourinho is already feeling less than optimistic about United's opening fixtures against Leicester and Brighton.
On referees...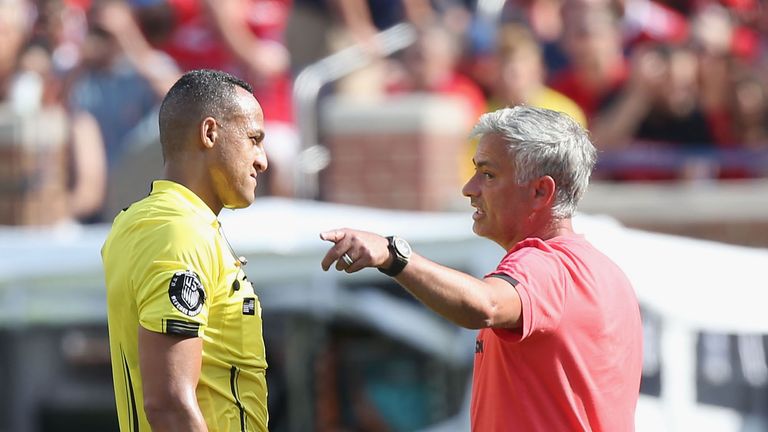 28 July: "The referees they come by mistake - they were called by the baseball federation, thought it was a baseball game. They arrived here and it was soccer and they had to be in a soccer game. So, it was good fun."
Mourinho couldn't resist having a dig at the officials after Liverpool scored two penalties in their 4-1 win over United.