Manchester United boss Jose Mourinho is "not confident" about making any Deadline Day signings.
Sky sources reported Mourinho was interested in international trio Harry Maguire, Toby Alderweireld and Jerome Boateng as he attempts to strengthen his defence.
But the Portuguese admitted at Thursday morning's press conference that he was unlikely to add any further signings this summer.


"I'm not confident," he said. "The market closes today [Thursday] so there's time at least for me to stop thinking about it.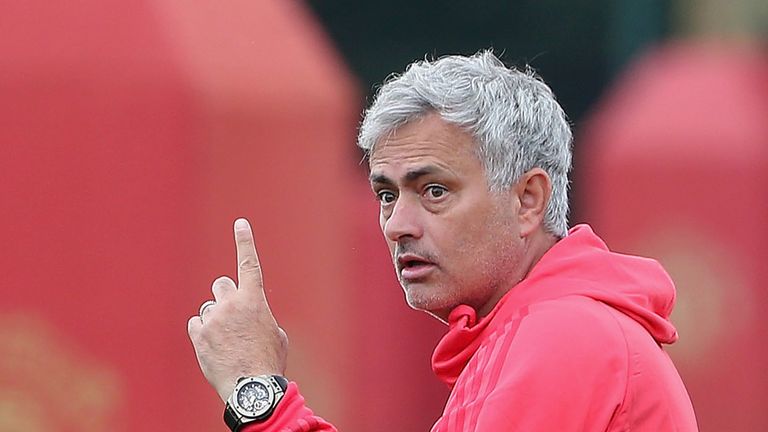 "I will have to focus on the players I have in relation to the first three matches, because after Spurs there is an international break and I have a couple of weeks to recover people and prepare them better.
"I have to focus on the players that are available. We go with everything we have in that first match.
"Nothing will happen before the transfer window shuts? The information I have is no."
Sergio Romero, Antonio Valencia, Marcos Rojo, Dalot, Ander Herrera and Nemanja Matic will all be unavailable for Friday's opener against Leicester, live on Sky Sports.
Mourinho also needs to check on the fitness of those that returned late from the World Cup.
"They returned on Monday," he said. "They trained Monday, Tuesday, Wednesday and today [Thursday], so you can imagine they are not really fit and ready. But we have needs.
"The list that I gave you before of the injured players is an important list and after training I will speak with that group of players [back from the World Cup] because everybody is different, physically and mentally, to see how available they feel they.
"Because it is very important their feeling and to understand how they think they can help or not help."
Live Renault Super Sunday


United forward Alexis Sanchez described the Leicester game as "must-win" earlier this week but Mourinho tempered expectations ahead of the Old Trafford opener.
"In football you need time to work and you need players on the pitch, which we didn't have until now," he said.
"I said that during pre-season - it looked like I was saying something absolutely out of order, something crazy.
"I repeat, pre-season is difficult when you don't have your players to work. It's as simple as that."
United cannot afford a poor start as they look to challenge Premier League champions Manchester City, who finished 19 points clear of Mourinho's side last season.
However, despite all his trophy-laden years at Porto, Chelsea, Inter Milan and Real Madrid, Mourinho views last season as one of his best in management.
"It is difficult for me to believe that we finished second when I listen, read, because you [the media] are capable of making people who finished second look like they were relegated, and you are capable of making people that win nothing and finish below us look like serial winners," he said.
"It is difficult for me to understand or believe that we finished second. Sometimes it is also difficult to believe that I won eight championships and three Premier Leagues, but I keep saying, thinking and feeling that second position last season was one of my biggest achievements."