Manchester United and Arsenal blow their last chance for a top-four finish with disappointing draws
Chelsea guaranteed to finish in the top four; Tottenham effectively certain to finish ahead of Arsenal due to superior goal difference
Last Updated: 06/05/19 11:56am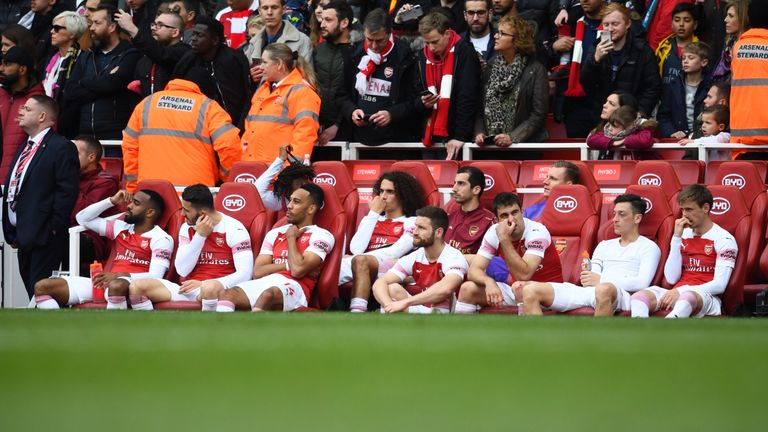 Chelsea and Tottenham are set to finish in the Premier League top four after Arsenal and Manchester United stumbled to costly draws with Brighton and Huddersfield.
United's failure to beat the already-relegated Huddersfield means Ole Gunnar Solskjaer's team cannot qualify for the Champions League.
And Arsenal's 1-1 draw with Brighton has effectively guaranteed they will finish behind fourth-placed Tottenham due to Spurs' vastly superior goal difference.
Chelsea are certain to finish in the top four and will start the final day of the season a point clear of Spurs, who host Everton.
Collectively, Arsenal and United have failed to win any of their last four games, not only failing to capitalise on Chelsea and Tottenham's own patchy form, but falling further behind in the top-four race.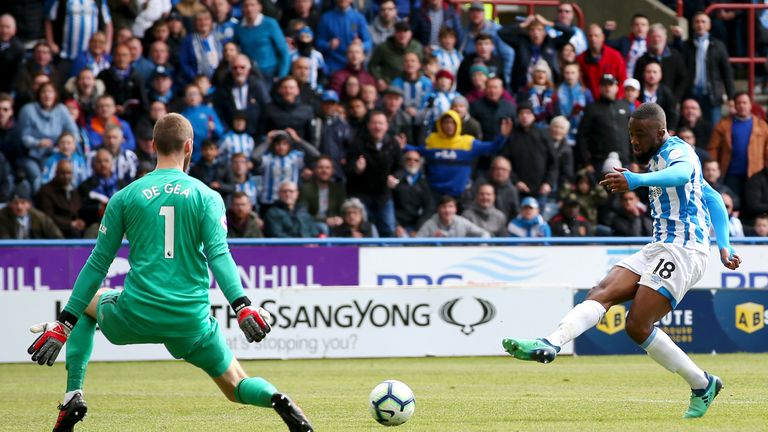 United's dispiriting display at Huddersfield drew a withering assessment from Gary Neville with the Sky Sports pundit declaring: "There's nothing I like about this United team at all. It's just awful. Look at them. They're the most despondent group of people."
And After Arsenal's draw with Brighton, Alan Smith told Sky Sports: "Fifth or sixth for this Arsenal team is about right. If they had finished in the top four, it would have been over-achievement."
A concurring Jamie Redknapp added: "I don't think they have the quality to get into the top four."
But Arsenal will still qualify for next season's Champions League if they win the Europa League.
Neville fumes at 'awful' United
Sky Sports pundit Neville laid right into his old team after they were mathematically ruled out of the race for the top four, labelling them "awful" and "despondent" after they dropped two points at bottom side Huddersfield.
The Terriers' goal in the 1-1 draw came from Isaac Mbenza on the hour mark, and was just their 10th at home all season - and United were again laborious and uninspiring as they failed to win for the fourth league game in a row.
"There's nothing I like about this United team at all," Neville said. "It's just awful. Look at them. They're the most despondent group of people.
"This isn't a team at all. It'd be nice if the club got an experienced sporting director to help him, but the shambles of that recruitment reported in the press this week hasn't helped."
Read more of Neville's scathing assessment - plus Jamie Redknapp on why selling Paul Pogba won't solve United's woes - right here.
Solskjaer, Emery drop big transfer hints
Ole Gunnar Solskjaer refused to name names when asked about his summer plans, but said some players may have played their last game for Manchester United - and intimated Alexis Sanchez may be among those waving goodbye to Old Trafford this summer.
He said: "There's always a chance it's a last time but I wouldn't say that about any individual now, I don't think that's fair.
"Every performance makes an impact on who you want to keep and who you want to let go. That's easy enough to answer. Let's see how bad his [Sanchez's] injury is for now. Every player is always playing for their place in the team."
Hear more from Solskjaer's honest post-match admission here.
Unai Emery, likewise, suggested he was unsatisfied with his squad as they dropped points at home against bottom-half teams for the second game in a row, saying: "We need new energy and new players to change the performance."
Trophy would make for 'brilliant' Arsenal season
Despite missing out on the top four for the third time in as many years, Arsenal will still have had a "brilliant" season if they win the Europa League and qualify for the Champions League, according to Jamie Redknapp.
"If they win a trophy, that will be a brilliant season," he said. "To get into the Champions League by winning a trophy would be more than [Emery] would have dreamt of.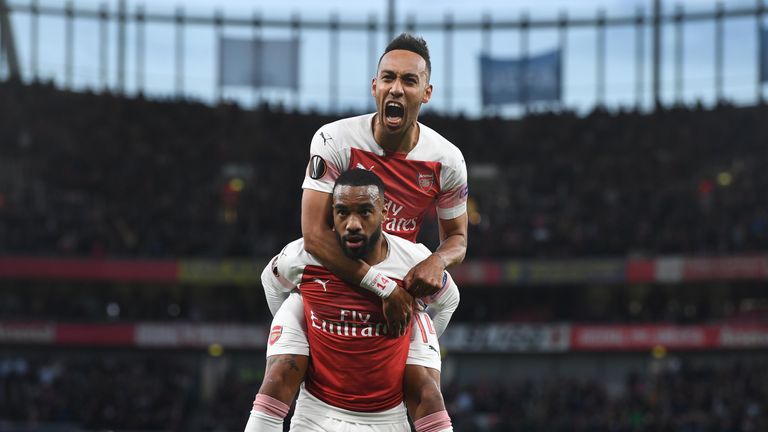 "When you look at their squad, it's not the best. They're losing Aaron Ramsey and they've had a few injuries. They need more quality."
Dreadful form seals Arsenal and United fate
Collectively only Huddersfield and Southampton can match Arsenal and Manchester United's tepid end to the season - with two of the Premier League's biggest clubs returning only three points between them across their last four games.
Form table (last 4 games)
| Position | Club | Points |
| --- | --- | --- |
| 16 | Tottenham | 3 |
| 17 | Southampton | 2 |
| 18 | Manchester United | 2 |
| 19 | Arsenal | 1 |
| 20 | Huddersfield | 1 |
In that time, even third-placed Chelsea and Spurs in fourth have only picked up five and three points respectively, which would normally leave them out of the race - but barring a shock result on the last day, both will be playing Champions League football next season.