Manchester United boss Sir Alex Ferguson ready to face Real Madrid
Sir Alex Ferguson has labelled Man Utd's meeting with Real Madrid on Tuesday night as 'one of the biggest' in football.
Last Updated: 05/03/13 6:59pm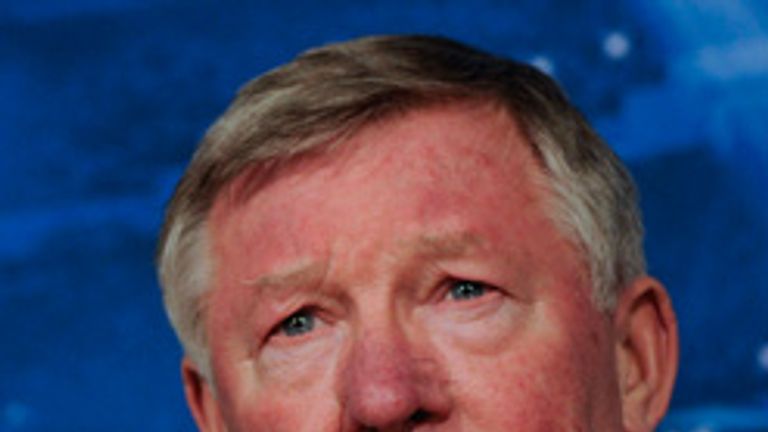 United welcome Real to Old Trafford in the second leg of the UEFA Champions League last 16, with the tie tantalisingly poised after a 1-1 draw in the Santiago Bernabeu three weeks ago.
Ferguson is relishing the visit of the Spanish champions and is confident that the fixture will live up to the pre-match hype.
"I think there will be goals," said the United manager. "I think both teams will score, but we have to think we can score more than them.
"There has been a massive build-up. You can see from the number of photographers at the training ground today - that is an indication of how important a game it is for both clubs.
"It's an occasion you always want to have and that's the beauty of the Champions League, you have the opportunity each year to play against one of the big teams from Europe. It is one of the biggest.
"I think both teams are in form. Real had two fantastic performances against Barcelona and found form at the right time for a game of this nature. Our form been consistent for quite a while which we need on Tuesday.
"I don't think it gets any bigger than this for a European night. It's set up to be a potentially marvellous game - I don't think we'll be disappointed."
United midfielder Michael Carrick is also expecting a memorable evening, saying: "These are the nights you live for. It is extra special. There is just something in the air. Everyone comes to the stadium with a spring in their step.
"Every supporter is that little bit more vocal. They appreciate how important it is and what it means to get through.
"The prestige and history of the club suggests we should be challenging in the later stages of these tournaments. It is up to us to go out there and do it."
Both teams created chances in the first game in Madrid and Carrick has called for the 'complete game' from United in order to progress to the quarter-finals.
"We can't [be too gung-ho]," said Carrick. "I don't think we will and I don't think they will; it's hard to know, isn't it?
"The game over there was tight at times, but we could have come away with a 3-1 win and so could they. So it's about taking our chances.
"With the strike power we've got and the strike power they've got, both teams will have to defend well. You have to have the complete game in many respects."
Referee hope
Meanwhile, Ferguson is crossing his fingers that he does not have reason to lament the performance of Turkish referee Cuneyt Cakir at Old Trafford.
"You hope in a game of this nature that you are going to get the best refereeing performance, on the same level as the players on the pitch," said Ferguson.
"Mistakes will be made by players and the referee but you hope it will be a top performance.
"You hope to get nothing less than the best. An occasion like this deserves that."