Manchester United striker Wayne Rooney down after 3-0 defeat by Liverpool
Wayne Rooney admits that the defeat to Liverpool at Old Trafford ranks as 'one of my worst days' in the sport.
Last Updated: 17/03/14 6:26am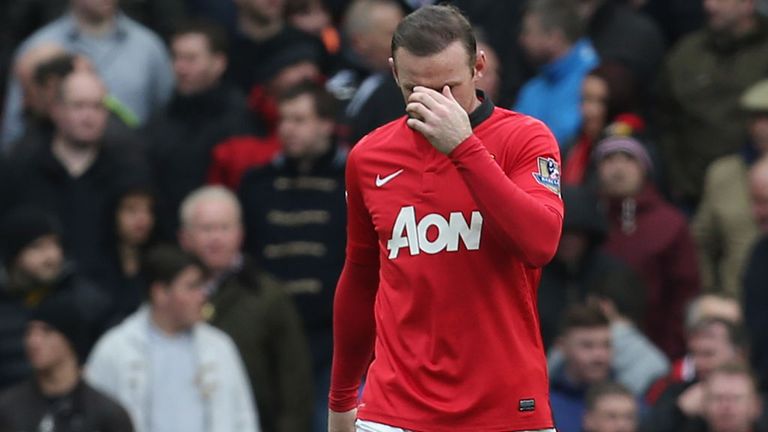 The United striker could not hide his dismay following the 3-0 debacle, during which Steven Gerrard netted two penalties for the visitors before Luis Suarez scored late on.
The 28-year-old told MUTV: "It's one of the worst days I've ever had in football.
"It's hard to take. You have to give Liverpool credit - they played well - but it's difficult to take.
"Nobody wants to lose, especially in this way, in your own stadium. It's not nice."
As for the match itself, he added: "To go behind by one penalty was hard to take.
"We had a game plan for the second half, which went out the window when they got the second penalty so early on.
"It made it an uphill battle to come back. I thought after that we had a couple of chances where I thought, if we got one, we could have gone for a second and maybe we could have done it.
"I haven't seen the penalties back again but from where I was standing on the pitch I don't think we can argue with them."
United's season will be effectively ended if they fail to overturn a two-goal deficit in Wednesday's Champions League clash at Old Trafford against Olympiakos who won the first leg 2-0.
And as they look to keep their campaign alive, David Moyes admits being United manager is harder than he ever imagined.
"The job was always going to be hard," the United boss said. "Harder? Yes I would say so yes."
The United fans have stuck by Moyes and there were no audible boos at the final whistle on Sunday.
Moyes knows performances and results will have to improve for that to continue though.
"Results will always dictate that but I can only tell you what I've seen today and the supporters were terrific," the Scot said.
United were an incredible 29 points ahead of Liverpool this time last year, but now they trail their old foes by 14 points.
The Merseysiders are almost certainly out of United's reach now and Moyes' focus is now set on an another improbable task - qualifying for the Champions League.
United are 12 points adrift of the top four having played two more games than their neighbours.
The United manager has not given up hope of finishing in the top four, however.
"It will be very difficult but it's not over yet so we have to keep working as hard as we can towards trying to do it," the former Everton manager said.
"I've been saying for a while we've given ourselves a long task and a long road to try to get back in it."
United's next difficult task is to try to overcome a two-goal deficit in Wednesday's Champions League match with Olympiacos at Old Trafford.
Moyes added: "The players are capable of turning it around. It's something to go for, it's another game and we'll do everything possible to make that work."