Gary Cahill says Chelsea will stick with a winning formula for the trip to Tottenham
By Mark Crellin
Last Updated: 01/01/17 11:04am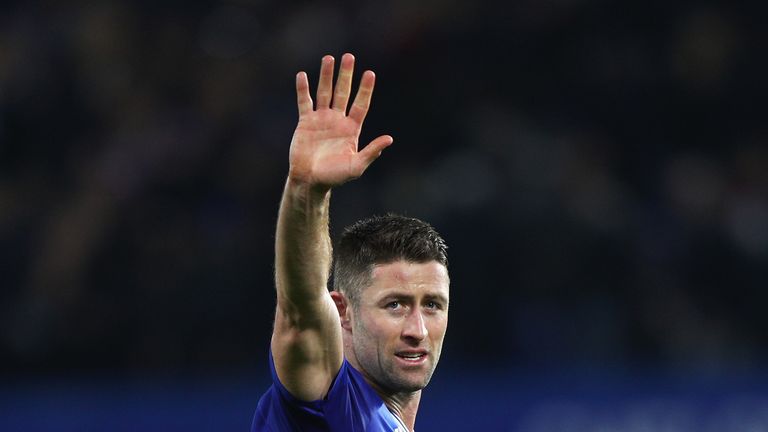 Gary Cahill says the Chelsea squad have not been discussing their bid for a place in the Premier League record books.
The England defender thinks that will remain the case ahead of Wednesday's massive London derby at Tottenham.
Chelsea equalled Arsenal's single-season record for Premier League wins when they beat Stoke 4-2 on Saturday to make it 13 in a row.
And they will equal the Gunners' overall record tally of 14 victories if they can leave White Hart Lane with three points.
But Cahill told Chelsea TV after the Stoke game: "It's not been something we've spoken about.
"It's not like all week we've been saying 'we want this record, we want this record'.
"We've just kept going, and I think that's the right mentality to have.
"Being aware of the record and wanting to achieve it, there's nothing wrong with that. For sure, I want to achieve it.
"Every player wants to be a part of records - I'm not shy about saying that - but it's not something we speak about.
"We just have to keep focused on the job that we're doing.
"We're getting this run and we're getting this success through hard work and through everyone chipping in with their part in the game. That's the mentality we should have, that shouldn't change."
Chelsea ended Tottenham's title challenge last season when an intense Stamford Bridge tussle ended in a draw and now the teams will lock horns in another high profile clash.
Cahill added: "We realise it's a game everyone's going to be speaking about.
"Because it's Tottenham that's not going to change our preparation, the way we go about things.
"It's going to be exactly the same. We expect exactly the same from each and every player come kick-off time, and we'll be OK."
New customer winter madness offer: save over 40% on your Sky Sports Month Pass, just £20