David Luiz has proven the doubters wrong by becoming a picture of consistency for Chelsea in their march to the title. Adam Bate looks at the defender's fine form and how Antonio Conte's tactical tweaks helped to bring the best out in his summer signing...
It was not that David Luiz hadn't had his moments during his first spell at Stamford Bridge. He was a popular figure. The Brazilian defender played his part in some of Chelsea's greatest triumphs, after all. Most notably, of course, he won the Champions League with the club in 2012 - scoring his spot-kick in the penalty shootout victory that famous night in Munich.
But there were those who considered the timing of Chelsea's last two Premier League titles revealing. One of them came in the season prior to Luiz's arrival; the other came in the season immediately after his exit. It added weight to the notion that this was a man capable of great moments but not of the consistency required to win the Premier League.
And yet, here we are. Chelsea are on a barely believable run of 49 points from 18 games. In that period, they have equalled a Premier League record for consecutive wins and kept 12 clean sheets. It's a run that's included wins over Tottenham, both Manchester clubs and against Arsenal last time out. And Luiz has not missed a single minute of it.
More than that, he has played a vital role in Chelsea's success. His sweetly struck and smartly taken free-kick at Liverpool recently was perhaps the standout moment, but the real story of his return from Paris Saint-Germain has been just how reliable he has been. John Terry was once Chelsea's rock at the back. Unlikely as it might seem, that man is now Luiz.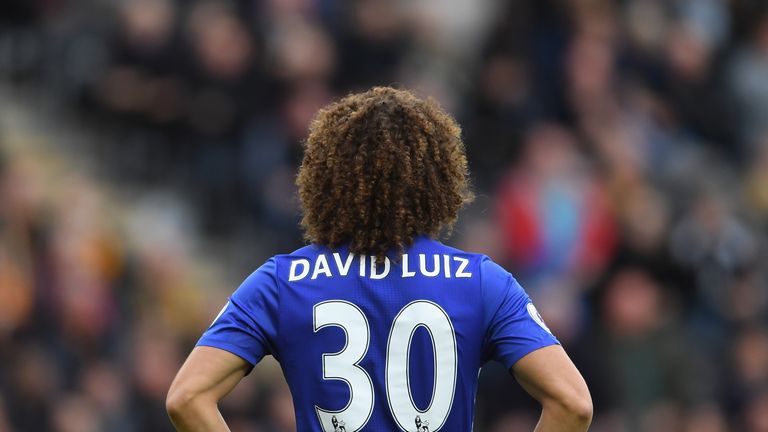 Consider the numbers. There are 54 players who have made an error directly leading to a goal this season. Twenty-three are defenders. It is a list that includes England internationals such as Chris Smalling and Nathaniel Clyne. Chelsea's Gary Cahill has made two. John Stones has made three. But the name of Luiz is not to be found among them.
So how has he cut out the mistakes? Much credit must go to Chelsea's coach Antonio Conte. Amid suggestions that the defender was far from his first-choice acquisition so late in the summer, Conte was nevertheless effusive in his praise - stating from the outset that Luiz had all the characteristics required to become one of the best defenders in the world.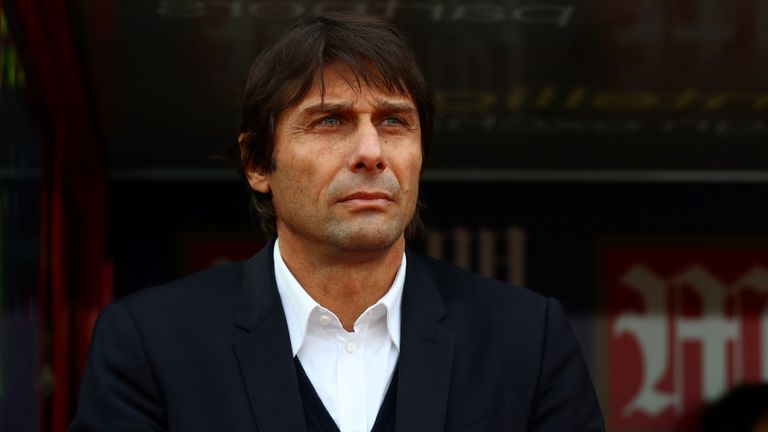 If he must improve in some aspects, I'm here for this reason.
"I don't like to speak about the past," said Conte when quizzed on the player's previous lapses. "Now I'm the coach of David Luiz. And, also, I have a great responsibility to improve him. If someone thinks that this player loses his concentration during the game, I won't be happy but my task is to improve him in that aspect. I want to work with him.
"David is a mature player but, if he must improve in some aspects, I'm here for this reason. The only way to do that is through work not talk. You need to work with them on the training pitch every single day. You put your sweat into it. I put my sweat into my players. To improve them. To work on any weaknesses and make them stronger."
Conte acknowledged that his new signing could "improve in defensive situations" and after seeing Chelsea lose their first two Premier League matches following his reintroduction to the team - big games against Liverpool and Arsenal - he decided to address the issue by changing the situation. For the first time in his career, Luiz was used in a back three.
The move to 3-4-3 has proven a masterstroke for a variety of reasons, not least because it makes use of N'Golo Kante's remarkable ability to operate effectively in a two-man midfield and gives Eden Hazard greater freedom to hurt the opposition too. But one overlooked asset of the system is that it suits the skills of Luiz in defence as well.
Support
For example, Chelsea's 3-4-3 means that he enjoys the benefit of playing alongside two fellow central defenders rather than one. This means that there is more support for Luiz if he does step out from the back line. That was a factor in the build-up to Dele Alli's opener for Tottenham last month but for the most part the system has provided protection.
So in a sense, he is the same player put in a different situation. The stats before and after the change of formation illustrate the point. Prior to the switch, he made more tackles than both Gary Cahill and Cesar Azpilicueta. Since then, he is making far fewer tackles because they are in the marking roles for which they are better equipped and he sweeps up behind.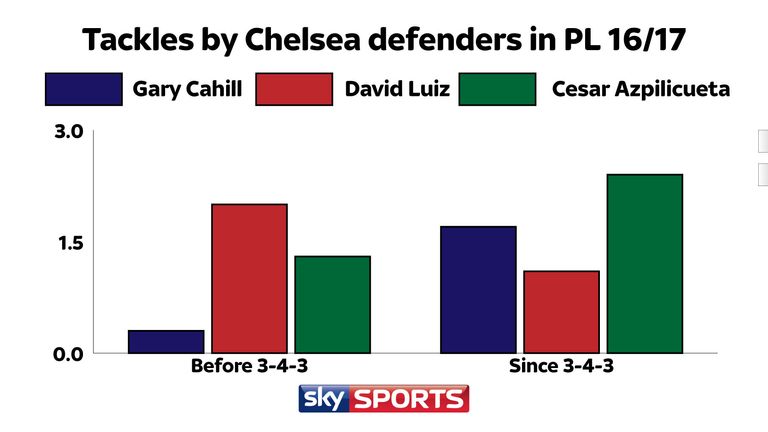 In fact, he is making fewer tackles per 90 minutes than in any of his first three seasons at Chelsea. It is an improvement. He is not diving in as much and so has been dribbled past less often than in any of those seasons as well. He is also making more clearances. In other words, Luiz now has the characteristics usually associated with a quality defender.
The player himself credits Conte for identifying the right role for him in the side. "He's one of the best coaches I've ever worked with," he explained in December. "He knows very well the characteristics of each player and we follow exactly what he guides us to do on the pitch. We soon understood the philosophy and system that Conte likes to play.


"He made us understand even more that the collective dedication to a system is fundamental for the individuals to stand out. We know how to play with and without the ball, both in attack and defence. If we are without the ball, everyone knows how to defend and with it, each one knows his role well to help the attack."
It has been quite a turnaround for Chelsea and for the much-maligned defender who has played such a significant - and unexpected - part in their success. And so, the man who guarantees great moments looks set to deliver the one few thought they would see - a Premier League title for Luiz, Chelsea's unlikely new personification of consistency.