Antonio Conte insists his relationship with Jose Mourinho stops at mutual respect ahead of Chelsea's clash with Manchester United, live on Sky Sports.
The pair have been involved in several touchline confrontations dating back to October 2016, when Mourinho suggested Conte had "humiliated" him and his players by celebrating Chelsea's fourth goal in a 4-0 win over United.
Conte insisted the pair's relationship is professional ahead of their Super Sunday clash, but was stopped short in his pre-match press conference when asked if he will shake Mourinho's hand after the game.
"It's not important, the relationship between the coaches," said Conte. "We have to respect the job of the other coach. I don't like to speak about the other situation.
"He is an opponent and I'm an opponent for him. After the game it will be the same.
"I have respect for his job, he must have respect for mine. Then I stop."

Conte refused to be drawn on Nemanja Matic's move from United last summer, after Mourinho admitted he was "surprised" to be offered the midfielder from Chelsea.
The Blues head coach will have to make a late call on whether his own defensive midfielder, N'Golo Kante, will be fit to face United this weekend following a hamstring injury he suffered playing for France last month.
Chelsea have conceded 11 goals in six games in Kante's absence.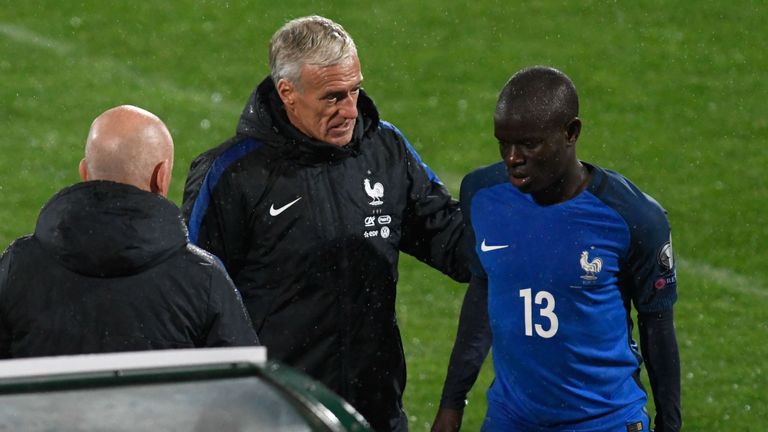 "We have tomorrow and then I'll take the best decision for him and for the team," said Conte, when asked about Kante. "He is progressing well and I am happy for this. We are talking about an important player."
Conte admitted his concerns and urged Chelsea to "dig deeper" after they slumped to a 3-0 defeat to Roma in the Champions League this week.
The reigning Premier League champions remain four points behind United, who are second, and nine points off leaders Manchester City, but Conte insisted he welcomes added pressure.
"I always feel the same pressure," said Conte. "Last season it was the same. When you are top of the table you feel the pressure because you want to stay there.
"This is important because I am a passionate man, I have a great enthusiasm, I need to feel this pressure.
"I like the pressure. I was born with pressure."