Olivier Giroud says he should have more Chelsea goals
By Lyall Thomas
Last Updated: 23/03/18 10:14am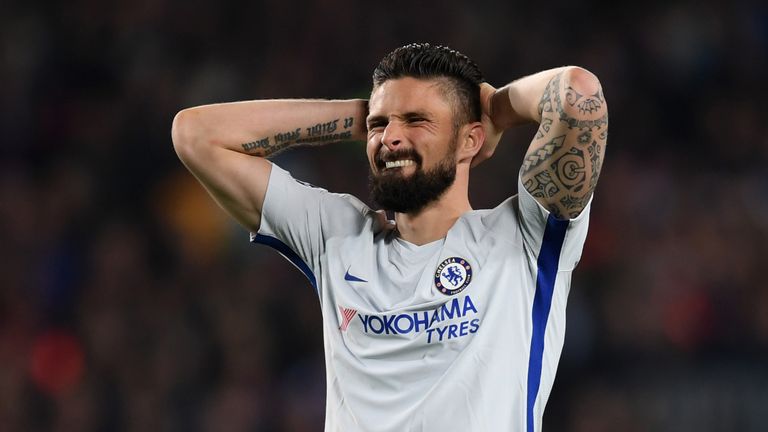 Olivier Giroud admits he has not yet lived up to his own expectations since joining Chelsea from Arsenal in January.
The France striker has scored just once in eight appearances, as the champions have struggled and dropped out of the Premier League's top four.
Giroud believes he has settled at Stamford Bridge and that he fits with Antonio Conte's system, but says he should have scored more goals.
"I am happy with my adaptation, the welcome I received, and the relationship on the ground with my team-mates," Giroud told L'Equipe.
"You have to be demanding with yourself. If I signed to Chelsea, it's to have a new challenge. When you sign like that in January, it's never easy because you have to acclimatise to your team, but I really wanted to be ready right away. It was a little paradoxical.
"I could have - should have - scored more goals. In terms of statistics, I am very attached to this; I remain stuck at one goal and three assists in five matches. I'm sure it is not enough.
"But, in any case, the content [of my matches] is very encouraging. In time I will do it. [It's encouraging] in my relationship with offensive players; whether with Willian, Pedro or Eden Hazard.
"Former football legends like Robert Pires, who is a friend, Freddie Ljungberg or even former Chelsea players, told me that Chelsea's game would fit me because they always played with a big striker in front."
Chelsea return to action on April 1 when they host London rivals Tottenham at Stamford Bridge.