N'Golo Kante midfield role leaves Chelsea exposed, says Steve Sidwell
By Richard Cooke
Last Updated: 07/12/18 2:34pm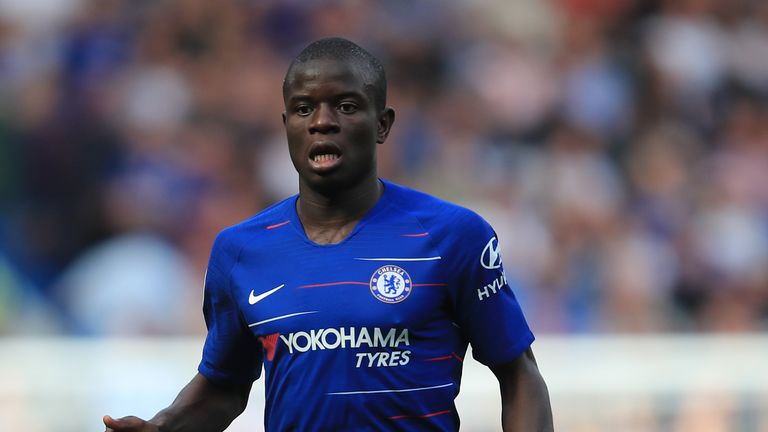 Chelsea are being left exposed by Maurizio Sarri's persistence in using N'Golo Kante in an advanced midfield role, according to Steve Sidwell.
Sarri has used Kante on the right of a three-man midfield this season with Jorginho employed as the defensive midfielder.
It is the same role that Jorginho fulfilled under Sarri at Napoli but Sidwell is one of many observers who believe that Kante is better suited to a deeper-lying position.
"Kante is one of the best defensive midfielders in the world, why take him out of his position?" former Blues midfielder Sidwell told Sky Sports News.
"I don't think that (advanced) position suits him. He's got incredible energy, he gets around the pitch and I think if you gave that role to someone like a Ruben Loftus-Cheek it would suit him more.
"When you've got that three-man midfield the pivot just stays there and keeps the team ticking over, you need the other two in front of him chipping in with goals. Kante is not going to be that type of player."
Chelsea have lost two of their last three Premier League games using the system and face champions Manchester City at Stamford Bridge on Saturday.
Sidwell believes Pep Guardiola's side can take advantage of the gaps that Tottenham and Wolves found when they defeated the Blues in recent weeks.
"I can see why Sarri has done it because he likes the high press so when your team is higher up the pitch that's where he wants Kante," Sidwell added.
"I'm still a fan of Kante being in that pivot especially with the way Chelsea play with (Marcos) Alonso bombing forward.
"If Kante's there he just fills in that void and I think that's an area that Manchester City are going to look to exploit, that channel between Alonso and David Luiz."
However, Maurizio Sarri batted away questions over his use of Kante in his press conference ahead of the visit of Manchester City.
He said: "When we won, the position of N'Golo was good. In this moment we are not winning, so it's normal some players are playing very badly.
"It's normal some players are playing out of position. I explain why usually Kante plays in that position. I have my opinion. I can understand why somebody else does not agree."