Alvaro Morata: Where it went wrong for Chelsea striker as Atletico Madrid move edges closer
Last Updated: 21/01/19 9:13pm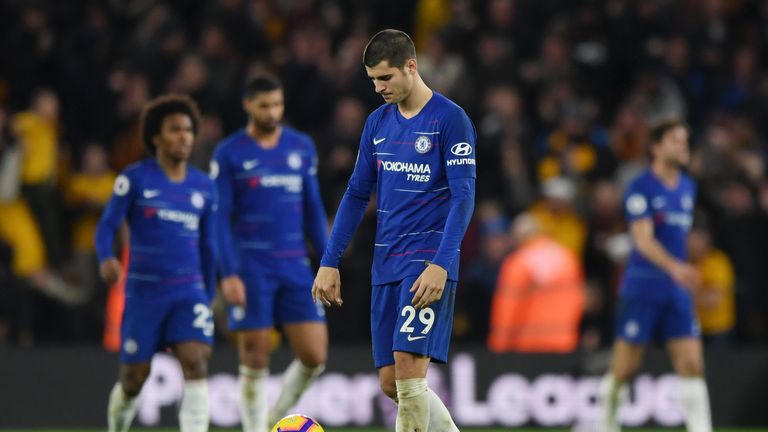 With Atletico Madrid closing in on a loan deal for Alvaro Morata, we look at where it has gone wrong for the striker during his 18 months at Chelsea.
In July 2017, Chelsea completed a then club-record signing for Morata, who was brought in to replace the outgoing Diego Costa in a deal worth £57m and potentially rising to £70m.
"I am looking to work hard, score as many goals as I can and to win as many trophies as possible," Morata said after touching down in London.
"We believe he can make a great impact for Chelsea. Alvaro has proven class at the highest level and his quality will be a huge asset to the squad," added Chelsea's now former technical director Michael Emenalo.
But some 18 months, 24 goals, and one FA Cup later, Morata is nearing the exit door at Chelsea, with Atletico Madrid set to complete a six-month loan deal - with the option to buy in the summer - for the striker, according to Sky in Italy.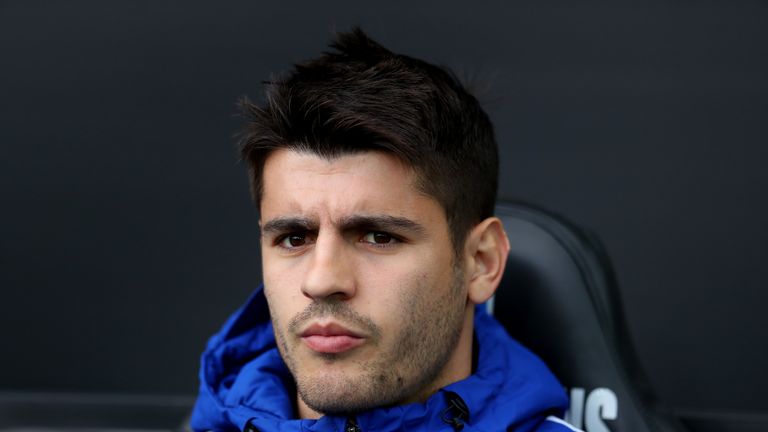 With the views of Chelsea head coach Maurizio Sarri, assistant Gianfranco Zola, and Morata himself, we analyse the forward's struggles at the club…
The sorry statistics
Morata opened the 2017-18 Premier League campaign with six goals in six games, four of which were from Cesar Azpilicueta assists as the Spanish pair appeared to be forming an almost telepathic connection.
However, Morata scored just four more goals by the end of 2017, and just once in the new year before the season came to a close with Chelsea finishing fifth.
Morata's 2017-18 in the Premier League
| | |
| --- | --- |
| Games played | 31 |
| Games started | 24 |
| Goals | 11 |
| Minutes per goal | 187.9 |
| Big chance conversion | 37.1% |
| Shooting accuracy | 54% |
Their campaign ended with FA Cup victory, and though Morata contributed valuably with goals in the quarters and semi-finals, he played just one minute of the final, with Antonio Conte starting Eden Hazard and Olivier Giroud up front.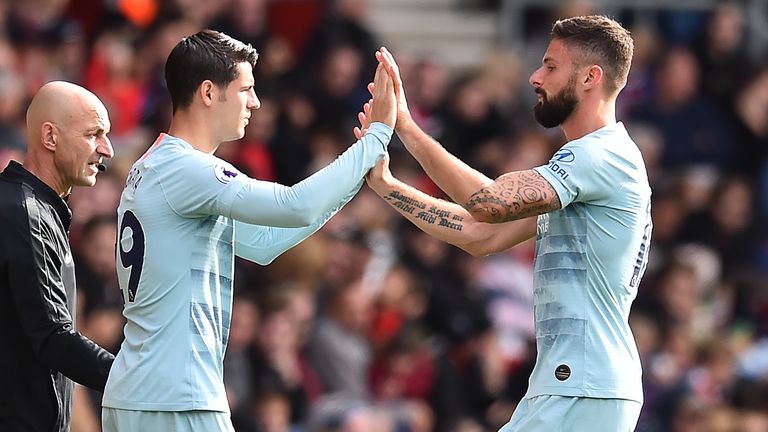 The summer heralded a managerial change at Chelsea, with Conte making way for Sarri. The Italian initially persisted with Morata, but five goals in 16 league appearances - a goal every 188 minutes - has seen Hazard become the preferred attacking option.
Why he struggled
For Morata, it has been as much about the chances missed as the ones he has taken. In 2017-18 he squandered 17 big chances, placing him fourth behind Mohamed Salah (23), Christian Benteke (20) and Harry Kane (18).
This season, Morata is sixth in the standings having missed 10 big chances, and this disparity between opportunities converted and wasted has been to the player's detriment - particularly as the only player to miss more since the beginning of 2017-18 - Salah (35) - has scored 48 times to make amends.
PL - Big chances missed v goals since 2017-18
| Player (Team) | Big chances missed | Goals |
| --- | --- | --- |
| Salah (Liverpool) | 35 | 48 |
| Morata (Chelsea) | 27 | 16 |
| Kane (Tottenham) | 26 | 44 |
| Jesus (Man City) | 24 | 18 |
| Aubameyang (Arsenal) | 22 | 24 |
| Wilson (Bournemouth) | 21 | 18 |
| Lacazette (Arsenal) | 21 | 22 |
| Aguero (Man City) | 20 | 31 |
Earlier this month, Zola acknowledged Morata cannot rely on ability and must improve tactically in order to succeed in the Premier League.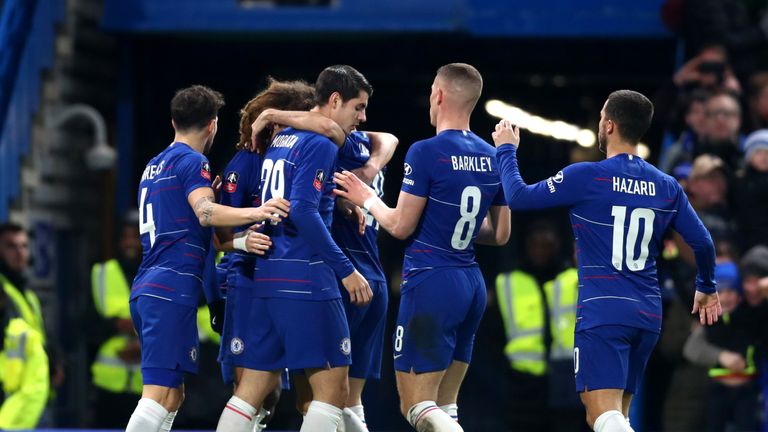 "Technically without doubt he is one of the best in this position," said Zola. "I think he has to improve a little bit tactically because nowadays with the type of football, football is so organised you need to get better tactically, your ability is not enough.
"In my opinion he needs to improve on this. He's been working on that, he has a good attitude. He feels that he doesn't score enough and he feels a lot of responsibilities for that."
Morata then scored twice in Chelsea's next game - their 2-0 FA Cup win over Nottingham Forest - and Marca noted the player's "joyless celebration" was aimed at Zola.
The Spanish newspaper added: "Not feeling respected, Morata wanted to respond with a gesture showing how he feels, particularly given his lack of backing from the club."
Lacking confidence
Confidence, unsurprisingly, appears to be key for Morata, and this has evidently fluctuated during the player's time at Chelsea.
Following Morata's two-goal contribution in November's win over Crystal Palace, Sarri said: "He improves in confidence, in personality, in playing with the team, so now I am very happy.
"He can improve more because the technical potential and physical potential is great, now he has confidence he can improve more."
In Morata's own words: "Last year was very difficult for me for many things. Now I am good and the team is good and it is time to enjoy this," he told the club's website after the 3-1 win against Palace.
"We have a very good group and they help me to find the very best feeling on the pitch and in training and I just want to say thanks to all my team-mates and all the supporters."
But come December, Sarri compared Morata to a player he coached at Empoli, Riccardo Saponara, whom he described as "one of the best players I have ever seen, but a little bit mentally fragile".
Morata was subsequently left out of the squad for the defeat of Manchester City. "A tactical decision, not the final option," said Sarri, after implementing Hazard as a false-nine.
And as of January, with Sarri conceding Morata could leave the club, the striker was omitted from their matchday squad for the games against Newcastle and Arsenal.
The pundits' view…
Back in November, former Chelsea striker Jimmy Floyd Hasselbaink told Sky Sports News the club needed another forward to become serious title contenders, but stressed Morata - who admitted he had sought help from a psychologist - was getting sidetracked from what he what did best.
Hasselbaink said: "He is a confidence person. He is so good at getting behind the defence and he needs to keep on doing that.
"Everybody says 'he needs to do this and needs to do that' but he shouldn't concentrate on becoming something he is not. He should embrace what he has got.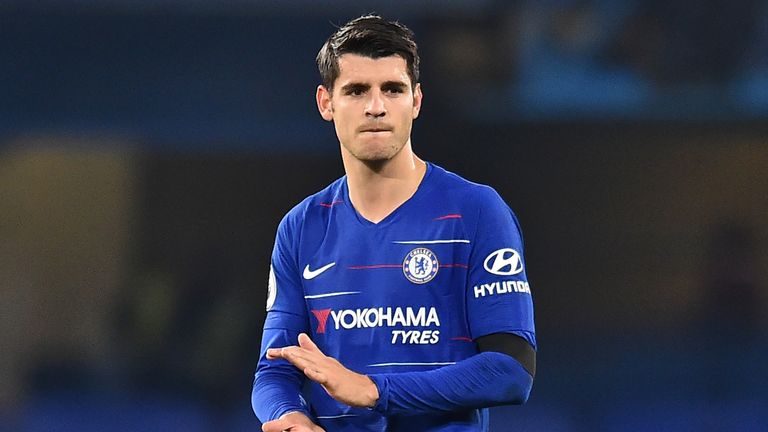 "He's not somebody who likes the contact of the centre-halves, but he shouldn't have to play like that. If he keeps on playing to his strengths I believe he will score a lot of goals."
Meanwhile, at the start of the season, Sky Sports pundit Gary Neville expressed his concern over Morata's quality, stressing Chelsea required a player of Costa's calibre in order to compete for the Premier League title.
Neville said: "To win the league they have to keep Eden Hazard and get a centre-forward. Alvaro Morata is a good player but I think about the void left by Diego Costa. If they are going to play a single striker, which they historically have, then they need another one."
Jamie Carragher echoed these sentiments, noting how Morata looks "finished" after falling short of Chelsea's requirements, with the team winning the league twice with Costa spearheading the attack, and three times during Didier Drogba's first spell at the club.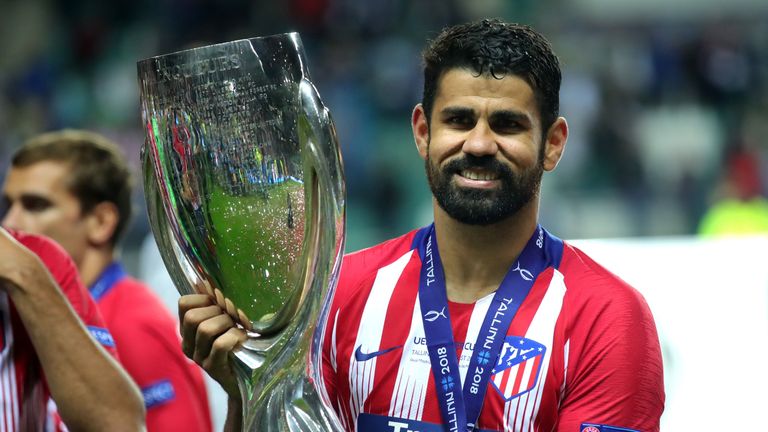 "I think Drogba changed the perceptions about what a striker could do and the way in which a team could be shaped," Carragher said in his Telegraph column.
"It begs the question as to what his latest successor Alvaro Morata will be remembered for at the club and, as things stand, I find it hard to believe he has a future there… The reality is I do not think that Morata will ever click at Chelsea, and I am sure the club think that too.
"All Chelsea's title-winning sides have had great strikers - Drogba or Diego Costa - and this team needs one desperately."
So what next?
Alvaro Morata's move from Chelsea to Atletico Madrid is expected to be completed imminently, according to Sky in Italy.
Meanwhile, Gonzalo Higuain's loan to Chelsea has moved a step closer with AC Milan and Genoa meeting on Tuesday to finalise the sale of Krzysztof Piatek, also according to Sky in Italy.
Stay across Sky Sports' Transfer Centre page for the latest developments on Morata and Higuain's future.