Premier League: Thorgan Hazard still dreams of playing for Chelsea
Thorgan Hazard insists he is improving all the time and may not be too far away from the Chelsea squad.
By Kristof Terreur
Last Updated: 02/12/13 9:01pm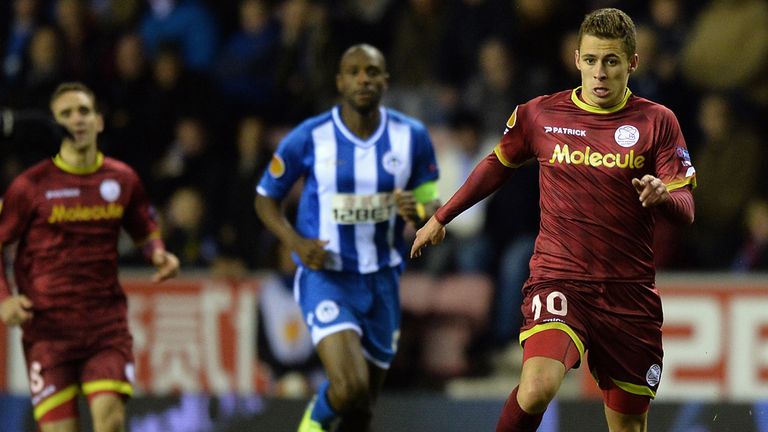 But Eden's younger brother - who joined the Blues soon after his sibling in 2012 from Lens - admits he will have to remain out on loan for another season or so.
He is currently in his second spell with Belgian outfit Zulte Waregem and he is playing well, having done enough to break into the national squad.
But he knows that still does not mean he is ready for Stamford Bridge, although he will look to move abroad next season.
"After one-and-a-half years at Zulte Waregem I feel I'm getting closer to the level of Chelsea's first team, but I'm not there yet," he told Sport Voetbal Magazine.
"I don't think Chelsea will be the next step in my career. If you see the difficult times Kevin De Bruyne, a Belgian international, is having at Chelsea, if you see how many other stars they have on loan all over Europe.
"There's are not many players anymore who dream to be a first team regular at Chelsea at the age of 20. I don't think I'll play for a third season in a row at Zulte Waregem, because I already said last season would be my last. I hope my next step will be one abroad, on loan."
Hazard junior, who scored against Wigan last week, insists he joined Chelsea to play with his brother and that dream remains.
"When I joined Chelsea in 2012, I knew I wouldn't be a first team regular. I chose Chelsea because I hope to play in the same team as my brother Eden one day. It's my dream to play together," he said.
"We don't talk about our career whole the time - he doesn't give me good advice all the time. When we call each other we talk about other things, about family life.
Then he tells me how his wife is doing, his two sons.
"Only when one of us has scored a beautiful goal, we chat about it. But he will never tell me: do this or do that."