Former Liverpool captain Steven Gerrard is confident he will return to the club "sooner rather than later".
The ex-Reds midfielder, who made over 700 appearances during a 17-year career at Anfield, is currently playing for Major League Soccer side Los Angeles Galaxy.
Gerrard says he is enjoying going unnoticed in the United States - but plans to return to Liverpool "somewhere down the line".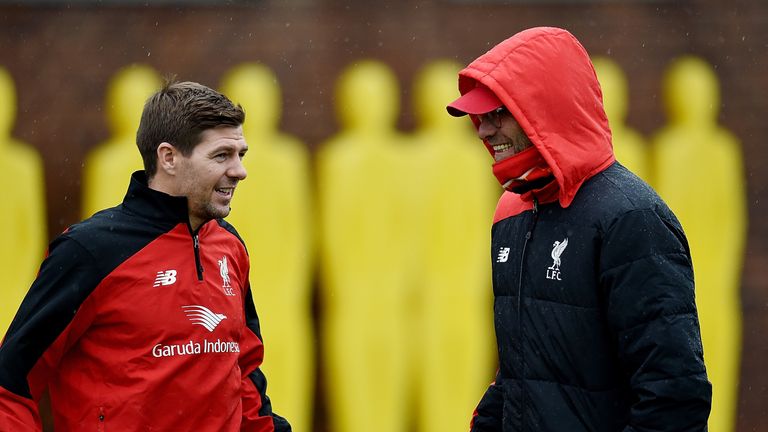 The 35-year-old said he and his family were happy living in California, but admitted he missed friends and family in the UK as well as attending games at Anfield.
Speaking at a fans' question and answer session at LA Galaxy's stadium, he said: "I will be going home at some point.
"I don't want to start any unnecessary rumours. I'm really happy where I am at the moment. But I'm sure somewhere down the line I will represent Liverpool Football Club.
"I miss my friends and my family. I miss a bit of cold weather.


"I miss going to the games. I spent 35 years in Liverpool. Liverpool's my home, it always will be. This is my second home for a short period of time.
"Sooner rather than later I will return to where I'm comfortable with my people - and that's Liverpool."
Gerrard, who came on as a substitute and scored the Galaxy's final goal in their 4-2 win over New England Revolution on Sunday, said his wife Alex and daughters, Lilly-Ella, Lexie and Lourdes, were "enjoying a different life experience" in LA.
He added: "Obviously the city's a fantastic city for myself and my family, the climate, there's plenty to do. I'm pretty much unnoticed as well, which is a bonus.
"I'm getting on a little bit now so eventually we'll move back and settle in Liverpool."