Roberto Firmino wants to stay at Liverpool for years to come
By James Walker-Roberts
Last Updated: 05/01/17 3:58pm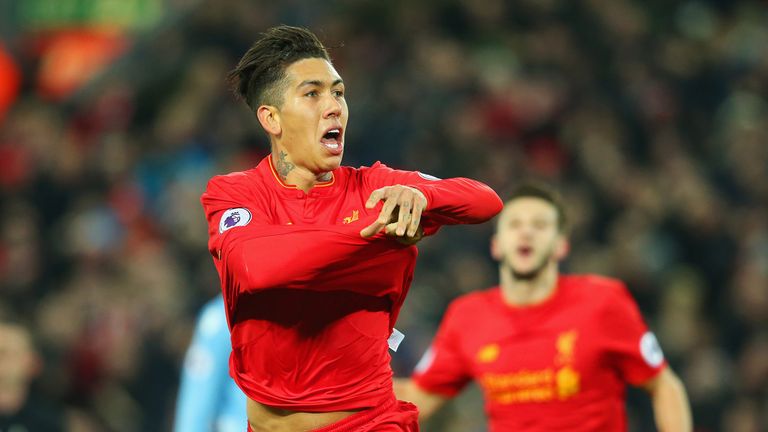 Roberto Firmino says he is loving life at Liverpool and wants to stay at the club for "many years."
The Brazilian has established himself as a key player for the Reds after signing for £21.3m from Hoffenheim in the summer of 2015.
He has started all but one Premier League game this season, scoring six goals and proving integral to Liverpool's title challenge.
"I am giving my best to the team like all the other players and everyone is happy with the work they are doing," he told the Liverpool matchday programme.
"That's reflected in the football we are producing and the fact that everyone is enjoying themselves. I love playing here and hopefully it is something I can continue to do for many years."
Having started his professional career in his native Brazil with Figueirense, Firmino then spent four years in the Bundesliga with Hoffenheim before joining Liverpool in 2015.
"I think I have already changed my way of playing," he says. "First of all because I was adapted to the European style of football due to playing in Germany with Hoffenheim for three years.
"But then I had to make another adjustment because English football and the Premier League is much, much faster.
"You really do notice that the pace is very high here but it is a type of football that I enjoy."
The 25-year-old also revealed how his dentist, Marcellus Portella, helped launch his career.
"I was playing in the Brazilian Serie B in Alagoas and I had no-one representing me," he said.
"Marcellus came on board and gave me a lot of support and effort. I was very young and he has been a very close friend.
"I'd like to think I have been good to him too and he has been good to me. I love talking to him and I respect him a lot."