Jurgen Klopp insists Philippe Coutinho is priceless to Liverpool
By Nick Lustig
Last Updated: 10/08/17 5:19pm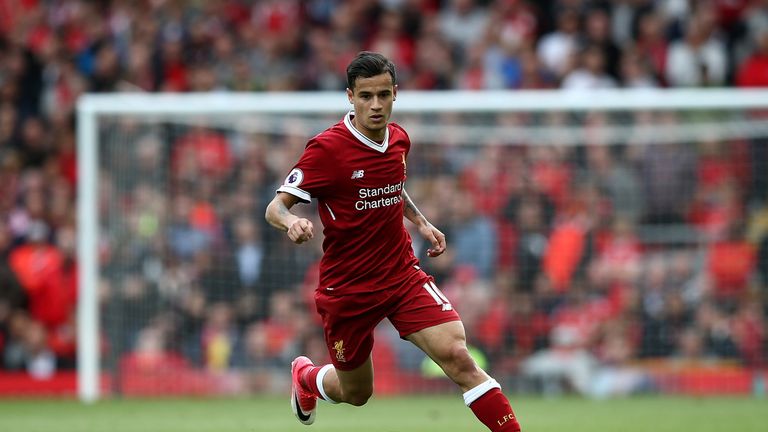 Jurgen Klopp insists Liverpool are under no pressure to sell Philippe Coutinho and considers the midfielder priceless to the club.
Sky Sports News understands Liverpool rejected a second bid from Barcelona for the Brazil international on Wednesday, with the Spanish club's latest offer worth up to £90.4m.
Coutinho pledged his future to Liverpool in January by signing a new five-and-a-half-year contract, with the deal including no release clause.
Sky Sports News understands the 25-year has since indicated he would like to move to the Nou Camp if a deal can be done amicably with Liverpool.
Sky Sports News understands Barcelona are prepared to pay up to £110m for Coutinho and pundit Guillem Balague believes the Catalan side will continue their pursuit.
"They will try to come back because they've put a lot of effort into this one" Said Balague.
"They think they have a chance and that chance is that the player wants to go to Barcelona, but is seems like that will not be enough"
But, in an exclusive interview with Sky Germany, Klopp said: "Liverpool is not a club that has to sell players. That is set in stone. So what they pay in the end doesn't matter.
"From a financial standpoint, there is no price limit to let him go. No price at which we are ready to give in.
"Our goal is to have the best possible team. So we want to keep our guys and add new ones. That is our plan."
Coutinho enjoyed a superb 2016/17 campaign, scoring 13 times and providing seven assists in 31 Premier League appearances as Liverpool finished fourth and secured Champions League qualification.
The Liverpool manager added: "Today, no player on the planet is untouchable. But a transfer is also a question of timing and if you have the opportunity and the need to react to such a transfer.
"Also you have to ask, if you have the time to react. But just because of one request of one club, we don't have to think about that. We are not in that situation."