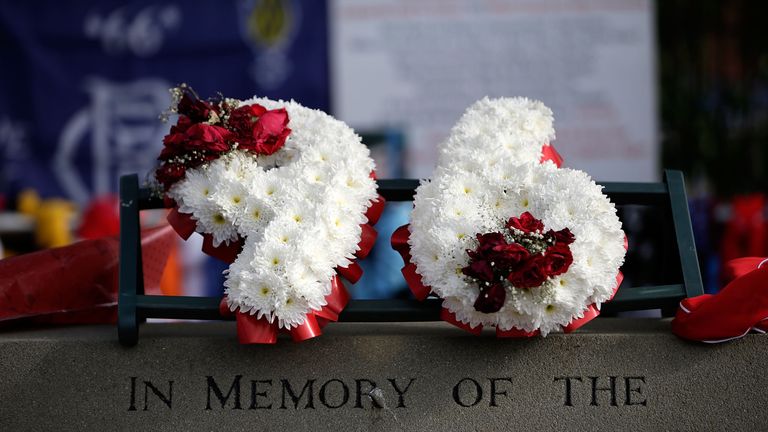 Six men facing criminal charges over Hillsborough can be tried at Preston Crown Court, a judge has ruled.
Lawyers acting for five defendants at a pre-trial hearing on Wednesday had argued any trials should be held outside the north-west of England.
But Mr Justice Davis, speaking as around 20 relatives of the 96 victims watched on from the public gallery, rejected possible alternatives Leeds, Birmingham and London.
Sir Norman Bettison, who was a chief inspector with South Yorkshire Police at the time of the tragedy, is charged with four offences of misconduct in a public office over alleged lies in accounts of his involvement in the disaster.
Graham Mackrell, who was the safety officer for Sheffield Wednesday, is charged with two offences involving the stadium safety certificate and a health and safety offence.
Retired police officers Donald Denton and Alan Foster, along with solicitor Peter Metcalf, are each charged with two offences of doing acts tending and intended to pervert the course of justice relating to amendments made to police officers' statements following the tragedy.
A sixth man, match commander David Duckenfield, faces 95 counts of gross negligence manslaughter but will not be formally charged and appear in court with the other five until an application to lift a stay on prosecution at the High Court has been heard.
No pleas were entered by the defendants on Wednesday but all have indicated through their lawyers at an earlier hearing that they will plead not guilty.
Ninety-six Liverpool fans were crushed to death in pens at the Leppings Lane end of Hillsborough Stadium on April 15 1989, as their FA Cup semi-final against Nottingham Forest began.
The Crown Prosecution Service said last month it anticipated three separate trials.