Philippe Coutinho could join Barcelona in January, Jason Burt tells Sunday Supplement
Last Updated: 01/01/18 7:26am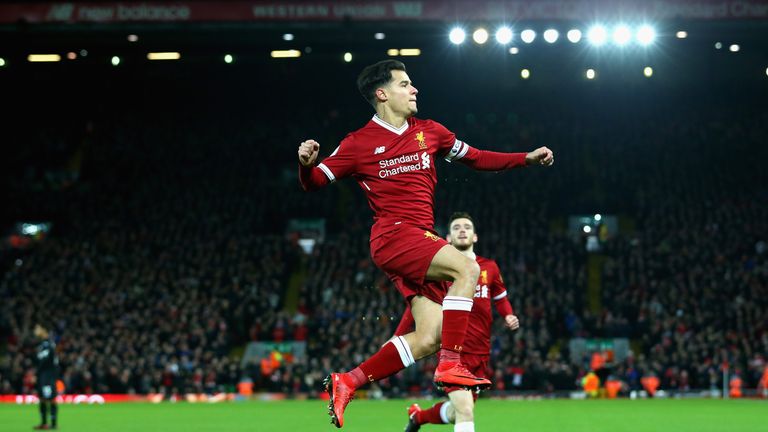 The Daily Telegraph's Chief Football Correspondent Jason Burt has told Sunday Supplement he thinks it is "possible" that Barcelona could sign Philippe Coutinho in the January transfer window.
The La Liga side made a series of offers for the Brazilian last summer, the last one worth over £100m, but Liverpool managed to retain the 25-year-old.
However, Coutinho continues to be linked with Barca and it was reported on Sunday that the Nike website had offered Barcelona shirts with the player's name on the back for sale - before later removing the listing.
And Burt thinks Liverpool have so many options in attack at the moment that a Coutinho sale might be more palatable to their fans than it would have been last summer.
Asked if he thought Barca would sign Coutinho, Burt said: "I think it is possible in this window.
"Obviously Liverpool won't want to let him go, but what's interesting with Coutinho is that the story has slightly shifted.
"Last summer, it was 'there is no way we can let him go', but Liverpool are slightly different now and not so dependent on him.
"Look at the way Mo Salah has been playing, Sadio Mane is back, Roberto Firmino is playing fantastically well, and Adam Lallana is going to come back into the team.
"There's interest in Thomas Lemar [of Monaco], Naby Keita's coming in, and people are wondering if Liverpool are as dependant on Coutinho as they thought they were. I think the fans almost feel that a little bit as well.
"I still think it would be a mistake to let him go in this window because, why now? But the problem is, when will Barcelona come calling again?
"There was a fear from his camp last summer that it was now or never, but I think they might come back again this summer.
"I think they are still interested in him but they can wait.
"I think it probably will still happen, I'm not quite sure when, and I think Liverpool and their fans will accept it a bit more now than they did last summer, which vindicates their decision to hang onto him until now."