Jurgen Klopp hailed a "nearly perfect" day for Liverpool as a professional performance saw out a comfortable 2-0 win at Southampton.
The story of the match belonged to two of Liverpool's potent attack, Roberto Firmino and Mohamed Salah, but it was the way they saw out their victory which was equally impressive.
Firmino and Salah's well-worked goals at the start and end of the first half sandwiched an opening period where the visitors stood firm against plenty of Southampton pressure.
After half-time Klopp's side could easily have added to their lead, while they restricted the hosts to just a solitary shot.
"It was mature," Klopp told Sky Sports. "What we wanted to do, we knew about Southampton's strengths and where they want to play football, and so we wanted to defend there, and we could have done it a little bit better.
"The rhythm was not too good, it was either really fast or really slow, not normal football passing speed.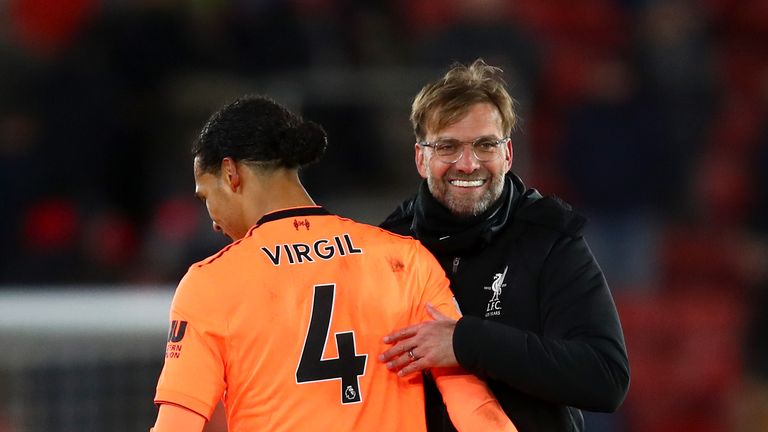 "But we scored two wonderful goals, and could have scored more in the second half, we had some big chances.
"Southampton did well, that's their style of play and that's how they want to sort their problems. We deserved the three points, got a clean sheet and no injuries - nearly perfect."
The timing of the opening goal, six minutes in, did more to settle Southampton than Liverpool, but Klopp was delighted with the manner of both strikes from his increasingly dangerous-looking striking duo.
He said: "The first was brilliant. That early goal, and then the kind of goal they both were too was perfect. The first was a counter on the break, and I don't think you can play much better than Mo and Roberto did for the second.
"If you want to find a few issues in the game, we could have closed it earlier, but we didn't so we had to defend but we did that well."