Liverpool goalkeeper Loris Karius says competing with Simon Mignolet is 'not easy'
Last Updated: 31/03/18 1:15pm
Liverpool goalkeeper Loris Karius says competing with Simon Mignolet is "not easy" and reveals why he has no regrets about leaving Manchester City as a teenager.
The German goalkeeper arrived at Anfield in May 2016 and after a pre-season injury kept him out of action for the first few weeks, he took up the No 1 spot in Jurgen Klopp's side.
However, after some below-par performances, Karius found himself battling with Simon Mignolet for the starting berth and while he is enjoying a run in the starting XI at the moment, says he has found it difficult going up against his team-mate.
"It wasn't easy," he told Sky Sports ahead of Liverpool's trip to Crystal Palace on Saturday. "I knew after the first season where I had an injury, then went back in and played a few games, went back out and then Simon did well and the team qualified for the Champions League, I knew there was a possibility that in the beginning [of the next season], he would start again in the league.
"I just worked hard in training and then the games I had, I tried my best because you can only look at yourself and try to perform well. It's not easy for a goalkeeper to come in and out, but that was the situation and you have to take it as it is really.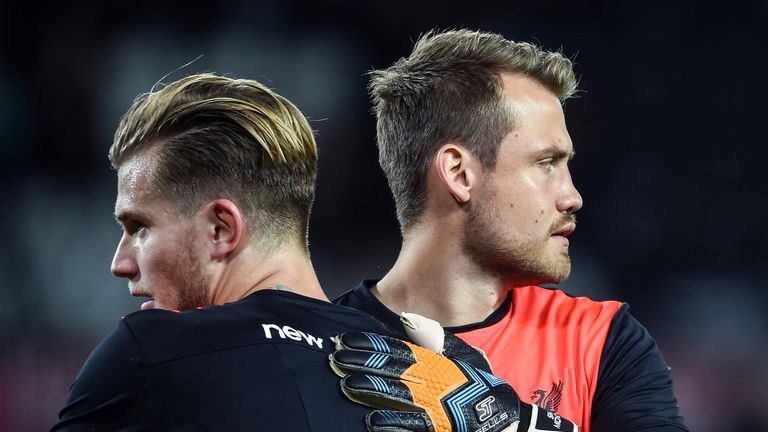 "It is difficult to say what changed about yourself but I feel good, I've been playing quite well so I want to keep it up and do even better. I know I can improve on pretty much everything, I'm 24 now so there is a lot of space for improvement.
"But the life of a goalkeeper is that you always get criticised when you have a bad day so you just have to get used to it and of course, at a club like this, it was more than I was used to so maybe that was the biggest thing."
It is not the first time Karius has played in England, spending two years with Man City from the age of 16 but he never made a first-team appearance, leading him to look for regular football elsewhere.
"I played for the U18s and the reserves and was training every day with the first team really, with Joe Hart who was a great guy and helped me a lot back then. He was a great role model and I don't really regret anything," he added.
"But then I made a decision that I wanted to play first-team football regularly, and it was quite difficult for a young player, especially as a goalkeeper, so I thought I'd have to take a little step back to a smaller club. As long as I saw the chance to play there and progress as a young player and then hopefully move onto a bigger club in the future. That's what happened so it worked out well."
Liverpool are currently third in the Premier League table - two points behind Manchester United - and Karius believes they can finish second, with three points on offer when they face Crystal Palace live on Sky Sports Premier League this weekend.
"The Premier League is gone I think, the gap is too big," he said. "Man City have had a great season and you have to accept that but we want to be in the top four for sure and ideally second place, that's our aim. I think if we keep going like this, we can reach it.
"In the Champions League, there are eight games left and of course, you look to go to the final and possibly win the competition but first, there is Man City in the way. It is not going to be easy but for everyone watching, it is going to be an exciting game.
"I think in general, there are no games in the Premier League where you think 'oh that's an easy one'. Sometimes we might have made it look easy with how good we were on that day so we will go into the game 100 per cent focused. We know what Crystal Palace can do and what they are good at.
"I think there was a game there last season with ups and downs but we won it so our main target is to win the game, although it is going to be difficult. It's not an easy place to go to, it is an away game and they are fighting for relegation so they will be at 100 per cent and that's what we have to do too. I think we can get the three points."