Trent Alexander-Arnold's amazing season with Liverpool could yet get even better. With the help of former Liverpool captain Phil Thompson, we assess the reasons for his success and those World Cup hopes.
It was the opening goal against Hoffenheim that convinced Phil Thompson. Trent Alexander-Arnold stood over the free-kick and curled it into the back of the net. "It was a big moment," the former Liverpool captain tells Sky Sports. "For him to take charge was quite something. To have that confidence, not to overrule, but to say leave this to me. They trusted him.
"Usually, when you are a young player coming into the side you kowtow to what the big boys tell you. I have been through that at Liverpool as a young player coming in. You know where you are in the pecking order. But for him to do that shows character and I like that in a player. He has got the cojones, as they call it now, to step up and take responsibility."
Not that everyone was surprised. Liverpool captain Jordan Henderson noted that it was "no coincidence" that Alexander-Arnold was the player taking the free-kick - he had assumed those duties for the U23 side when aged just 18. His manager Jurgen Klopp was quick to point out that "the goal is the same size" in senior football too.
Nevertheless, Alexander-Arnold is still just a teenager. One who has made only 17 league starts so far in his fledgling professional career. But after getting the better of Manchester City's Leroy Sane over two legs and impressing again against Roma, he is also now almost certain to be lining up for Liverpool in a Champions League final next month.
It has been an extraordinary rise, albeit one that echoes the progress of Liverpool full-backs from years gone by. Like Alexander-Arnold, Steve Nicol, then an uncapped young Scot, had made only a handful of appearances for the Reds prior to his breakthrough 1983-84 season that culminated in European Cup final glory against Roma.
Rob Jones, meanwhile, was only four months and 17 league games into his own Liverpool career when he made his senior England debut against France at Wembley in 1992. Alexander-Arnold could yet eclipse them both. Phil Neal told Sky Sports he sees something of himself in the youngster. Jamie Carragher has tipped him to break his appearance record.

With Alex Oxlade-Chamberlain also saying the sky is the limit and Klopp calling him incredible, it would be easy to get carried away, but the signs are that Alexander-Arnold remains remarkably level-headed. The feedback from a recent Sky Sports shoot was that he was unusually conscientious, humble and keen to get it right - much like on the pitch.
"You can never be satisfied with anything in football because there's always someone trying to stop you getting to where you want to go," he told Sky Sports. "If you take your foot off the gas there's always someone who wants your spot. So it's important you don't do that. Every day when I was told I was going to train with the first team I'd to take it day by day.
"The coaching staff at Melwood helped because they didn't tell us that we were going to be here for four weeks. They'd say, 'Yeah, you're coming back tomorrow'. Every day you'd go on the pitch not knowing if you'd be back at the academy or staying. So you left everything out there. That's what I've really taken with me, train every day like it's your last session."
The attitude certainly seems spot on. But what exactly is it about him that has impressed everyone so much? Firstly, he has the physical capabilities to play in a position that Klopp describes as "one of the most important in world football" because of the need to defend and attack. "He is the modern-day full-back," says Thompson.
It is not just that Alexander-Arnold gets into the position, he is able to execute when he gets there. His delivery from wide right has caught the eye, with some of the crosses reminiscent of his idol Steven Gerrard. "His final ball is terrific and he is learning when to deliver," Thompson adds. "It is that early ball played in between goalkeeper and defence."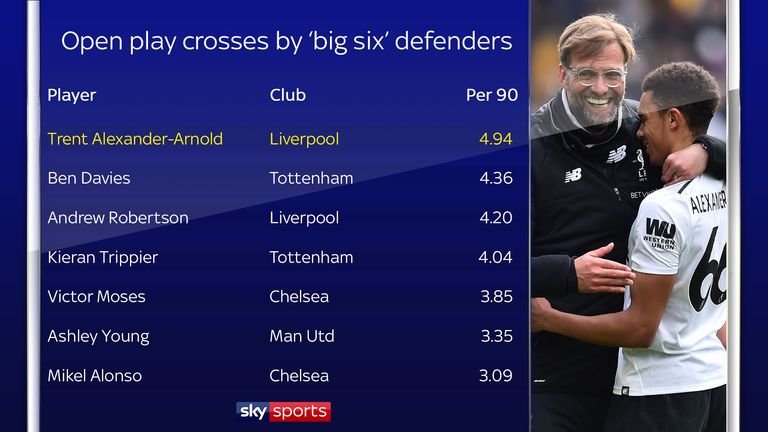 This willingness to sling the ball into the box with quality is a key trait that marks him out even among his peers. Alexander-Arnold has put in almost five crosses from open play per 90 minutes in the Premier League this season. That is more than any other full-back or wing-back at a top-six club, including Andrew Robertson out on the other flank. He is a threat.
Of course, he also has a defensive responsibility and has been particularly impressive in the Champions League. No defender in the competition has made more combined tackles and interceptions than Alexander-Arnold. But having been partially culpable for goals conceded at Crystal Palace and Manchester United recently, there is still much to learn.
"He is an exceptional talent but he absolutely has to learn not to get caught the wrong side," says Thompson. "We saw that against Manchester United. It is stock-in-trade defending. As a full-back, you sweep round. But he got caught ball watching. His body shape was not correct. You have to be tucked in enough to provide the cover.
"That will be a big learning experience because opponents will look at that. Good players will go running into that space between the centre-back and the full-back. He is getting better at it and I suppose the good thing about it is that the best way to learn quickly is to make mistakes and get punished for them because you do not forget that.
"It is tough for young players from the academy. You don't get the time to make those mistakes. The big clubs will buy so you don't get trusted. Chelsea or Manchester City, they are not going to trust many academy players to come through because they want instant success. Most importantly, the managers want it because they are not staying a long time.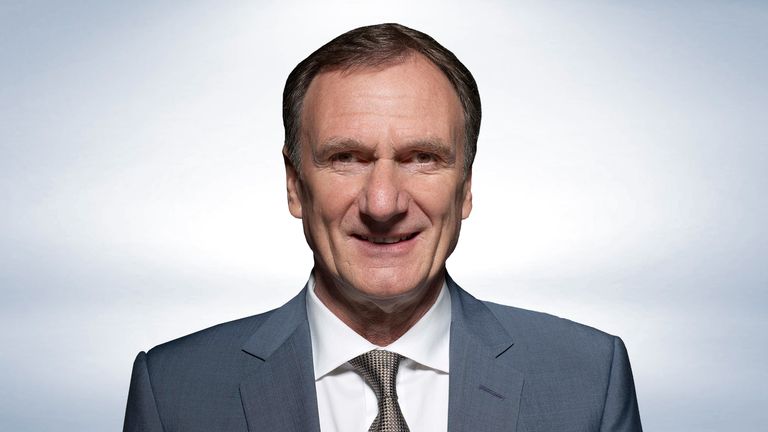 Trent has a good manager who trusts him and I think that is a big thing. If you have that trust it makes you play better.
"But Trent has a good manager who trusts him and I think that is a big thing. If you have that trust it makes you play better because you have someone who believes in you. Hopefully, Klopp is different because he has that vision. He has a project at Liverpool that he wants to fulfil and that is when you see young lads getting their opportunity."
Given Liverpool's injury crisis in midfield now that Oxlade-Chamberlain has joined Adam Lallana and Emre Can on the sidelines, Alexander-Arnold's next opportunity could be in midfield. With Klopp short of numbers in the centre but with options at right-back, the youngster has been tipped to return to the role he played from the age of 15 to 17.
The player himself still insists he does not really have a preferred position but perhaps it is the flexibility of someone else - Manchester City's Kyle Walker - that could open the next door for Alexander-Arnold. Walker's recent position switch for England, being used in a back three for the recent friendlies against Netherlands and Italy, changes things a little.

"I think he can make it to the World Cup in Russia, I really do," adds Thompson. "If he sees Kyle Walker as a full-back then Gareth Southgate will probably go with him and the experience of Kieran Trippier. But it could all depend on whether he sees Kyle as a right-sided centre-back instead. If that's the plan then that could get Trent on the plane."
Before that there is a game against Stoke at Anfield on Saturday and the small matter of a Champions League semi-final second leg next week, but it is thrilling to imagine what could follow for this teenager. As it stands, Trent Alexander-Arnold is an 11/8 shot to have a Champions League winners' medal around his neck on May 26. What a season that would be.
Comment below to get involved in the debate, but please adhere to our House Rules. If you wish to report any comment, simply click on the down arrow next to the offending comment and click 'Report'.