Mohamed Salah vows to replicate record goalscoring season at Liverpool
Egypt international scores for a record 32nd time in 38-game Premier League season
Last Updated: 13/05/18 7:07pm
Golden Boot winner Mohamed Salah has vowed to replicate his record-breaking debut season at Liverpool next term.
The Egypt international eclipsed a trio of Premier League goalscoring greats - Alan Shearer, Cristiano Ronaldo and Luis Suarez - with his 32nd goal of the season in Liverpool's 4-0 final-day victory over Brighton at Anfield.
After being presented with the award by Liverpool legend Kenny Dalglish, Salah told Sky Sports: "This is very special.
"It's always in mind to help the team to win games, now we are in the Champions League next year and I have won the award, so I am very proud.
"It's always in mind to succeed in England, to give 100 per cent and succeed here. I have had a great season.
"I am trying to improve every year so I am very happy. I am improving every year. It's special to break the record here.
Asked if he could repeat the feat next season, he added: "I will, don't worry. I will do my best to win it, 100 per cent."
Liverpool manager Jurgen Klopp has praised the manner with which Salah has dealt with the acclaim his sensational season has yielded and has backed him to continue scoring next season.
"Fantastic, absolutely fantastic," Klopp replied when asked to comment on his striker's record-breaking season.
"The last few weeks were really difficult for him. Imagine everyone telling you how brilliant you are, or they give you an Oscar for this, an award for that, an award for getting out of car without having an accident!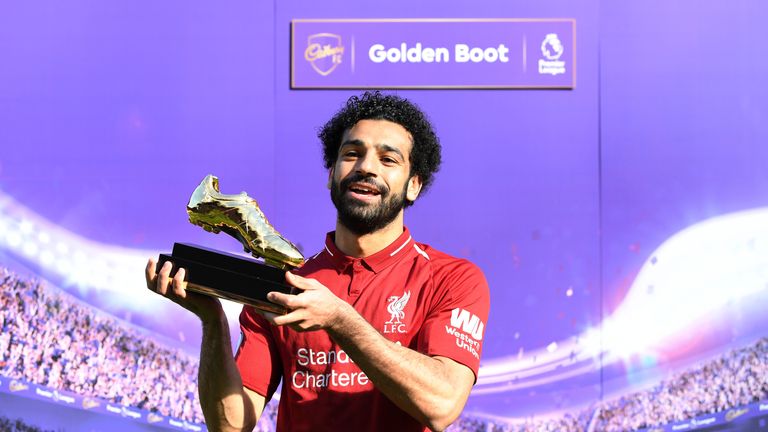 "It's really difficult to stay focused, and he is focused. Staying on track in a season like this it's really difficult, he's still a young boy and I am really happy with how he dealt with it.
"He has been outstanding this season but he is young and has the potential to improve and that's really good news.
"There is still work to do, I'm happy with that, but in his mind he wants to too. If he mixes it up in a few moments there will be goals again, I have no idea about the number because it's difficult to score that many goals all the time."