Liverpool manager Jurgen Klopp described Xherdan Shaqiri's performance in the 4-1 drubbing of rivals Manchester United in the International Champions Cup as "not normal".
Shaqiri only joined up with his new team-mates on Wednesday, having played a key role in helping Switzerland to the last-16 of this summer's World Cup.
Klopp has been impressed with how keen Shaqiri was to join them on tour so soon after playing in Russia, as well as how he adapted to playing in an advanced midfield role after coming on as a half-time substitute in Michigan and scoring with a bicycle-kick.
"That's not normal after four days in the club - adapting that well to the style of play," said Klopp.
"We wanted to help him a little bit with the position so that it's not too complicated, gave him a lot of freedom, offensively playing natural, plus offering runs in behind, which is what he did, especially around the Sturridge goal.
"It was better than I would have expected, to be honest. I think today it was a game where it was quite easy to come in for pretty much all of them because we played over 90 minutes of really good football on a very difficult pitch for both teams.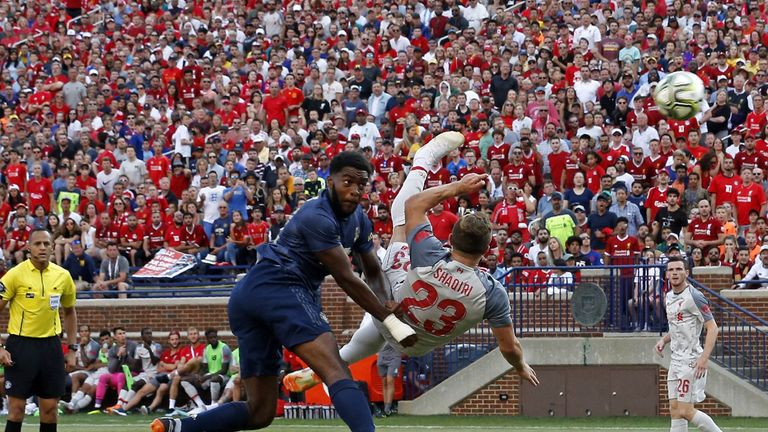 "We still played simple and quick, kept them moving. After the Dortmund game [a 3-1 defeat last Sunday], I didn't feel really good but I knew I don't have to make it bigger than it is.
"It's a pre-season game so if you make mistakes you should lose - if you learn from it that's okay. Today we don't make it bigger of course.
"For Shaq, in the moment he signed he wanted to stay immediately at Liverpool and train with us. I think it was a week after he finished the World Cup, so I said: 'No, no, no. Go!'
"He came back a few days ago and he was really excited. For him it was a very good moment in his career, having already had a real experience at Bayern, at Stoke, at Inter.
"Those were important moments in his career and now we have him and he can now play together with a few really nice football players."
Klopp, meanwhile, says Daniel Sturridge will have a part to play for the club next season.
The forward's future at Anfield had been in doubt after he spent the second half of last season on loan at relegated West Bromwich Albion.
However, Sturridge's displays in pre-season - the striker scored against United - have convinced the Liverpool manager to now include him in his plans going forward.
"Daniel is an outstanding player," said the German. "If he is fit, he will play a role in the team.
"I am completely open to individualising training. When I came here I was very excited about the fact I would be working together with him. Since then he has had a few injury issues.
"Does he have to play 50-something games? No. But hopefully he will play a few really good ones. That is the plan."
Liverpool's next game is a friendly against Napoli at the Aviva Stadium in Dublin on Saturday.
Watch Liverpool's opening game of the Premier League season at home to West Ham on Sunday August 12. Coverage begins on Sky Sports Premier League and Sky Sports Main Event at 12:30pm.