Liverpool manager Jurgen Klopp insists he cannot remember watching a game quite like his side's epic 4-0 win over Barcelona to reach the Champions League final.
Trailing 3-0 from the first leg, Liverpool did the unthinkable as doubles from Divock Origi and Georginio Wijnaldum gave them a 4-3 aggregate victory at Anfield, becoming only the third side in the competition's history to overcome a three-goal deficit in the semi-final.
Klopp was almost lost for words as he tried to express his feelings after the game, admitting we may never see such a game again.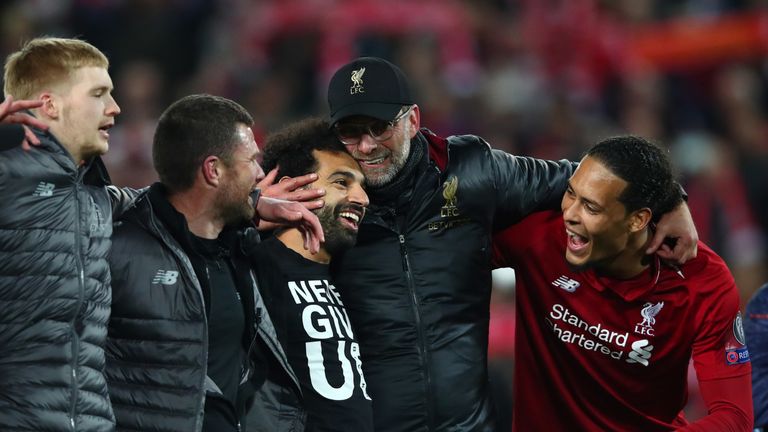 He told BT Sport "The whole game, the whole performance was too much. It was overwhelming. I watched in my life so many football games but I can't remember many like this.
"Winning is already difficult but winning with a clean sheet - I don't know how the boys did it. I saw James Milner crying after the game on the pitch, it means so much to all of us.
"There are more important things in the world but creating this kind of atmosphere is so special.
"It's 10 past 10, most of your children are probably in bed but these boys are f*****g talented giants. It's unbelievable. Fine me if you want. I'm not native so I don't have better words for it."
Klopp then said in his post-match press conference that he had told his players he "didn't really believe" they could turn it around, but that the character in the side eventually gave him faith.
"I said it before [to the players], I don't really believe, but because it's you I believe. Their heart is unbelievable. And I am really proud to be in a job with this team.
"I will remember it forever 100 per cent. I don't know if it can happen again and I don't know if it happened before."
Liverpool will now face either Tottenham or Ajax in the final, and Klopp says his side are looking to erase the memories of last season's final defeat by Real Madrid in Kiev.
He said: "[After] last year, we felt we have to go back. We cannot let it stand like this. Now we go back and we have another chance.
"Winning against Barcelona is obviously one of the most difficult things in world football. We had to score four goals and not concede and that made it more difficult.
"We didn't think about [winning] it, if I am honest. We tried to think about the good things we did in Barcelona and go step by step.
"The mix of big heart and football skills was unbelievable. I said it so often now, the thing that made it so possible."
Barcelona boss Ernesto Valverde admits his side were "rolled over" and "blown away" by Liverpool...
"They have been really strong, they played really well and they kind of us rolled us over, really. It is a terrible result for our fans and for ourselves but credit is due to Liverpool.
"You're going to suffer, the fans will suffer as well. That's what it is like. We didn't expect a situation like this. At the moment we're blown away, it's terrible."
Anfield inspires Liverpool again
Liverpool stunned Barcelona but this club - and these fans - have a way of making the impossible seem possible.
Adam Bate was at Anfield on a night when, against the odds, belief was in the air from the outset...
Epic night in pictures
From hope, to belief, to success... we run through the best images from Anfield on Tuesday on an unforgettable night.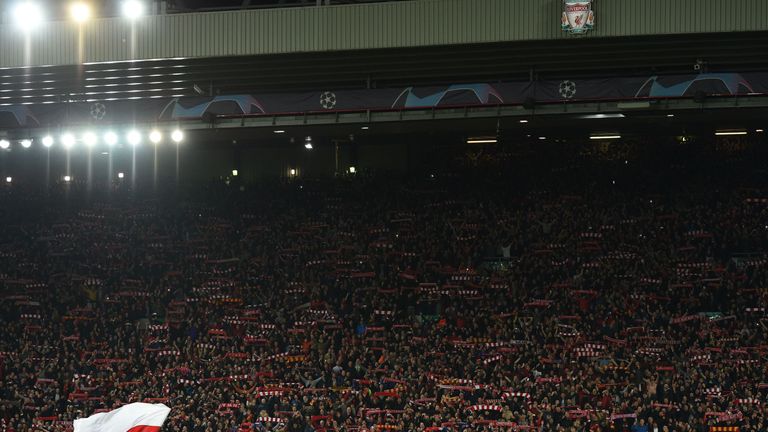 After saying pre-match he would not bet a "single coin" on Liverpool making the final, Jose Mourinho credited Liverpool's victory to "Jurgen's mentality".
Before the match, Mourinho said on beIN Sport: "I don't gamble in football, I don't like gambling but I wouldn't bet one single coin on Liverpool playing in the final.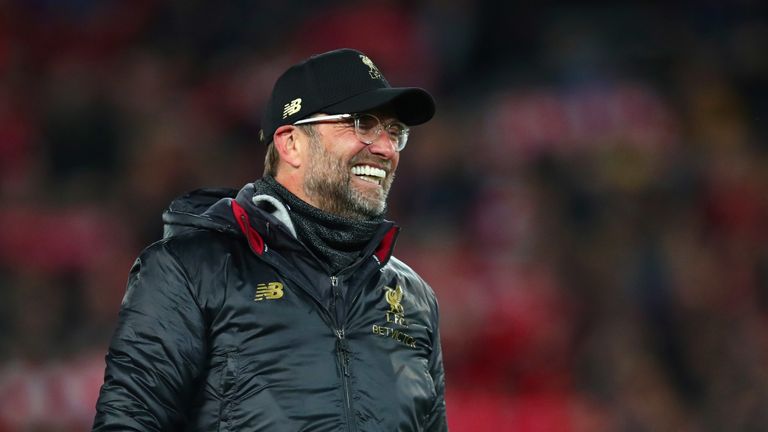 "Anfield can make miracles. But this would be more than that. 3-0 would be more than that."
But he said after the game: "I think this is not about tactics, not about philosophy. This is about heart and soul. And a fantastic empathy that he created with that group of players.
"I think Jurgen is the biggest responsible of this achievement by his fantastic personality, by his fantastic mentality. The team was there and the team believed."
Twitter reacts
From Jamie Carragher to Trent Alexander-Arnold's delight via Gary Neville, we look at the best reaction on social media...
He knows all about big Europena nights at Anfield...
Neville was worried even after the first goal had gone in...
And Liverpool's players are raring to get to Madrid...
When is the Champions League final?
The Champions League final, the 27th in its current format and 64th of Europe's elite-club competition, will take place on June 1, 2019.
Kick-off is at 8pm (BST), 9pm (CEST).
Follow Ajax vs Tottenham in our dedicated live blog on the Sky Sports app and SkySports.com on Wednesday evening
Title race final day live on Sky Sports
The last act of The Run In will be shown live on Sky Sports on a defining final day of the Premier League season.
Manchester City's trip to Brighton is live on Sky Sports Main Event from 2.30pm, while Liverpool vs Wolves at Anfield is live on Sky Sports Premier League from 2pm on Sunday, May 12. Kick-off for both games is at 3pm.