Luis Suarez says media could force him to look to leave Liverpool for Real Madrid
Luis Suarez says the criticism he receives from the British press could force him to look for a move from Liverpool.
Last Updated: 31/05/13 7:50am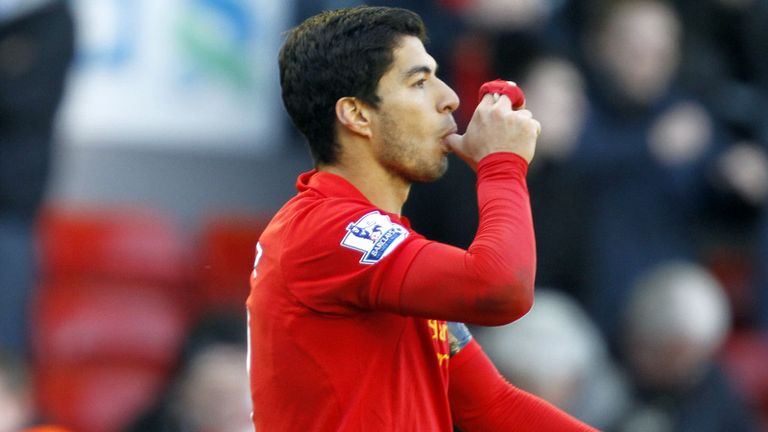 The Uruguay striker has been dogged by controversy since his arrival at Anfield in 2011, having served a ban for racially abusing Patrice Evra and being in the middle of another for biting Chelsea's Branislav Ivanovic.
Suarez has been linked with a move to Real Madrid, and he admitted he would be open to that, even though they are looking for a new manager with Jose Mourinho set to leave.
He revealed in an interview with Uruguayan radio station Sport 890 that the attention he receives in England is getting to him and may force him to look elsewhere for a new challenge.
"I'm happy at Liverpool, I'm happy because of the fans. I made a mistake, I'm human, but they've talked about me in ways they shouldn't have," Suarez said.
"My family have suffered and things got out of hand. My daughter and my wife have suffered. I'm not prepared to continue to put up with the English press.
"I love Liverpool, but if there is a chance of playing somewhere else...I suffered too much as a kid to get where I am to be attacked unfairly by the English press. They haven't appreciated me as a player, they've just judged my attitude.
"I've talked to my agent, there's nothing concrete. To say no to Madrid would always be difficult and more so with the team they have.
"I have a contract with Liverpool, but it would be very difficult to say no to Real Madrid. There are a lot of rumours in the transfer period, but you never know until firm offers are made.
"I've talked to the coach (Brendan Rodgers), and he knows what I want. He was a player. Some of the players understand my situation - enough said."
The striker has established himself as one of Europe's leading players since moving to Anfield in 2011, but his indiscipline has meant the club have had to cope without him for long periods.
He will miss the first six games of next season following his 10-match ban for biting Ivanovic, having been banned for eight matches for abusing Evra.