Premier League: Rafa Benitez says Liverpool need to concentrate on positives of finishing second
Last Updated: 18/11/14 1:22pm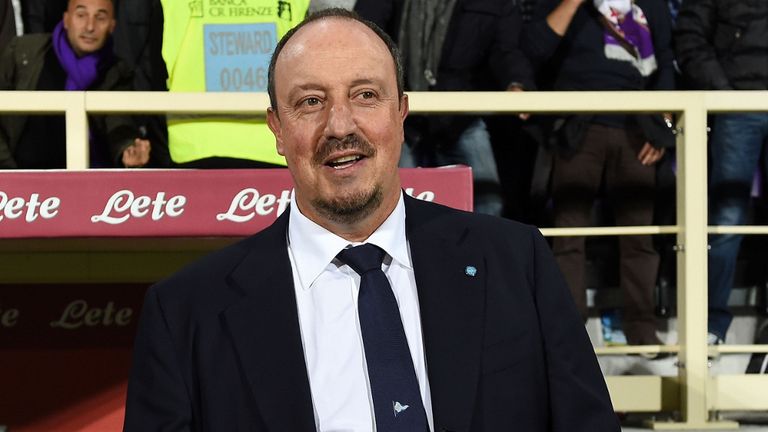 Former Liverpool manager Rafa Benitez believes the Reds need to concentrate on the positives of finishing second last season as they prepare to take on Crystal Palace on Sunday.
Brendan Rodgers' side are down in 11th place in the Premier League table after a stuttering start to the season which has seen them pick up only 14 points from 11 games.
Liverpool also finished second under Benitez in the 2008/09 campaign - winning 25 matches and losing just two games but drawing 11 times to finish four points behind champions Manchester United.
But Benitez's side also struggled the following season and took 18 points from the first 11 games in the 2009/10 campaign in which they eventually finished seventh.
Benitez told Sky Sports News HQ: "You have to have this experience and say 'what can we do now?'. We cannot change what happened so we have to think 'what can we do for the future? How can we be in the same position?' So I think that's the only thing.
"When we finished second I was really pleased because we had 86 points and it still was not enough and everyone went 'oh you lost an opportunity'. So if you continue moaning about 'oh we lost an opportunity' you will not be ready for the future. So I think you have to concentrate on what you did well, what you did badly and then try to improve for the future, for the next one."
During Benitez's time in charge at Anfield, Liverpool won three major trophies, including the Champions League in 2005.
New contract
The Spaniard has not ruled out a return to England, but he is currently in talks with Napoli about a new contract.
He said: "I have one year left this year and the future you never know, but I am talking with the chairman, thinking about the future with Napoli and life and all the possibilities.
"Also my family is still here in England so we have to consider a lot of things. But the main thing for me is to concentrate on my job and do my best for the next game.
"Napoli is a team that is growing so we have to see how fast can we grow, how fast can we improve things. It's a discussion that we have had in the past and we have in the future. I don't know how many months we will be talking about that, but obviously we will be talking about that.
"I want to win and do well this season and see where we are at the end.
"I have had conversations this year for a new contract with Napoli. I am really pleased there and happy. The chairman is supporting me all the time but in football you never know." 
Watch Crystal Palace v Liverpool live on Sky Sports 1 at 1.30pm on Sunday.