Mesut Ozil has created more chances in a single season (137) than any other player in Premier League history.
The German midfielder broke Frank Lampard's previous record of 134 during the 0-0 draw with Sunderland at the Stadium of Light, live on Super Sunday on Sky Sports 1 HD.
Lampard, who last played in the Premier League for Manchester City during the 2014-15 campaign, broke the record for Chelsea during 2008-09, when the Blues finished third.
Following the 2-1 win against Leicester in February, Ozil become only the 13th player to create more than 100 chances in a Premier League season.
That day, with 12 games left of the season, he moved to 106 - more than both Steven Gerrard or Ryan Giggs ever did in one term.
Ozil has also bagged 18 assists this season and is on course to break Thierry Henry's record of 20. He has been nominated for PFA Player of the Year - to be decided on Sunday night - but was not included in the PFA Team of the Year.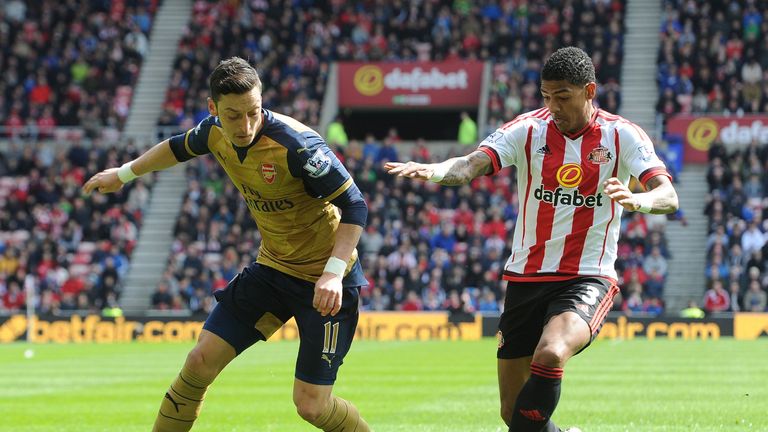 Opta defines a chance created as "an assist or the final pass or pass-cum-shot leading to the recipient of the ball having an attempt at goal without scoring".
Florent Malouda (117 - Chelsea, 2010-11), Cesc Fabregas (116 - Arsenal, 2006-07) and Leighton Baines (116 - Everton, 2012-13) round up the top five of most chances created in a season.
Most chances created in a single Premier League season (top-10)
| | | | |
| --- | --- | --- | --- |
| Player | Club | Season | Chances created |
| Mesut Ozil | Arsenal | 2015-16* (Ongoing) | 137 |
| Frank Lampard | Chelsea | 2008-09 | 134 |
| Florent Malouda | Chelsea | 2010-11 | 117 |
| Cesc Fabragas | Arsenal | 2006-07 | 116 |
| Leighton Baines | Everton | 2012-13 | 116 |
| Frank Lampard | Chelsea | 2009-10 | 114 |
| Cesc Fabragas | Arsenal | 2007-08 | 112 |
| Mikel Arteta | Everton | 2006-07 | 108 |
| Christian Eriksen | Tottenham | 2015-16* (Ongoing) | 105 |
| David Silva | Man City | 2012-13 | 104 |