Riyad Mahrez to Arsenal? Leicester winger would make a difference
Last Updated: 25/07/16 1:32pm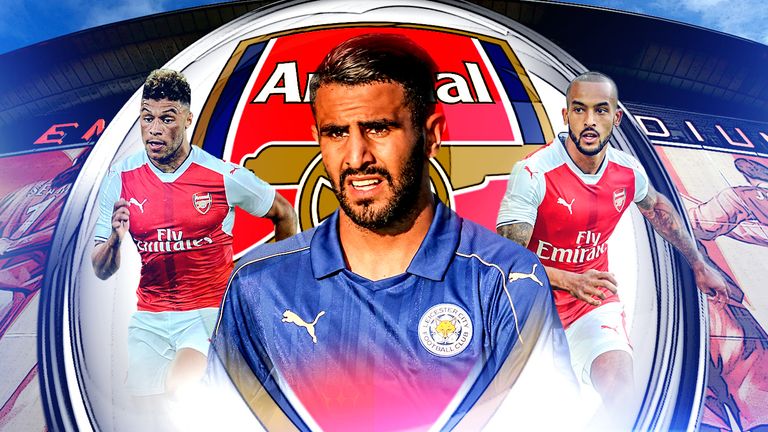 Riyad Mahrez is a man in demand with Arsenal the latest club to be linked with a move for the Leicester winger. But is this an area in which Arsene Wenger needs to strengthen? Adam Bate argues that he could make a big difference to the Gunners…
Ask Arsenal supporters the areas they'd look to strengthen this summer and it's a centre-back partner for Laurent Koscielny and an upgrade on striker Olivier Giroud that are likely to be regarded as the priorities. Another attacking midfielder is not considered quite so urgent.
However, Riyad Mahrez has been linked with a move to the Emirates Stadium this summer and the Leicester winger's qualities should see a shift in that thinking. His performances on the right flank, underlined by his latest stunning goal against Celtic, demand attention.
After all, this is the player who scored 17 goals as the Foxes won the Premier League title last season. He is the player who broke through the lines and drew defences out of position. And while there are a number of right-wing options at Arsenal, none can compete with Mahrez.
Consider their combined efforts last term. Arsene Wenger used six different starters there in the Premier League, but Aaron Ramsey and Jack Wilshere are widely regarded as being out of position on the right, while Theo Walcott's best role remains a moot point at 27 years old.
Alex Oxlade-Chamberlain endured a difficult campaign in which his progress was stunted and though Joel Campbell has his admirers, few are convinced he is the solution. The best performer on the right was Alexis Sanchez but that only moves the problems to the left flank.
Arsenal's right side 2015/16
| Player | PL starts on right | Goals | Assists |
| --- | --- | --- | --- |
| Joel Campbell | 10 | 2 | 1 |
| Aaron Ramsey | 9 | 2 | 0 |
| Alexis Sanchez | 9 | 6 | 2 |
| Alex Oxlade-Chamberlain | 7 | 1 | 0 |
| Theo Walcott | 2 | 1 | 0 |
| Jack Wilshere | 1 | 0 | 0 |
The numbers do not make impressive reading. Despite Arsenal creating more clear-cut chances than any other Premier League team last season, the number of goals fashioned by their nominal right-wingers were few and far between.
Campbell, Ramsey, Oxlade-Chamberlain, Walcott and Wilshere started a total of 29 games on the right. They scored six goals between them but only Campbell came up with an assist. That's one assist in 29 starts. It's a poor return and highlights the fact that the right wing is a weak spot.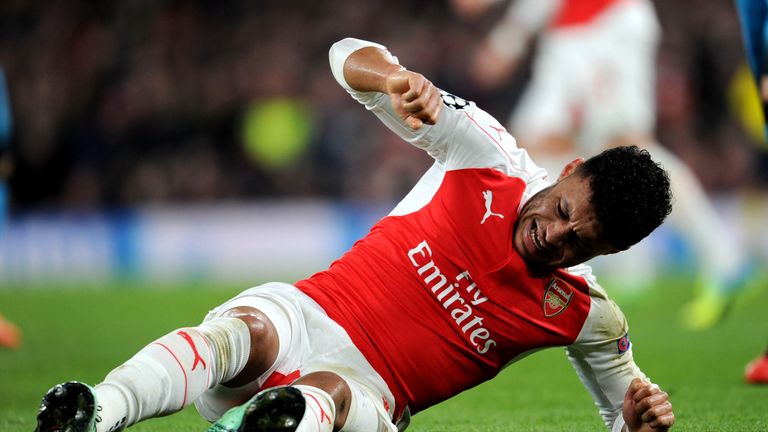 Sanchez showed what was possible in this Arsenal team when he was moved out there in the spring. He scored six goals in nine appearances from the right - matching the goals total of the others combined - and getting twice as many assists in a fraction of the game time.
But moving Sanchez means playing another player on the left. Danny Welbeck and Kieran Gibbs both covered out there, while Alex Iwobi had the most success - getting two goals and two assists from the left while Sanchez played on the other wing.
Even so, it means that in 38 Premier League games last season, Arsenal's right-winger, or the man on the opposite flank to Sanchez, produced eight goals and three assists. It compares unfavourably with the 17 goals and 11 assists that Mahrez delivered for Leicester.
The prospect of an attacking trio of Sanchez and Mahrez either side of Mesut Ozil ought to be an alluring one for Arsenal fans. These are three of the Premier League's best, with a proven history of creativity and goals, and would leave teams unable to focus on one man.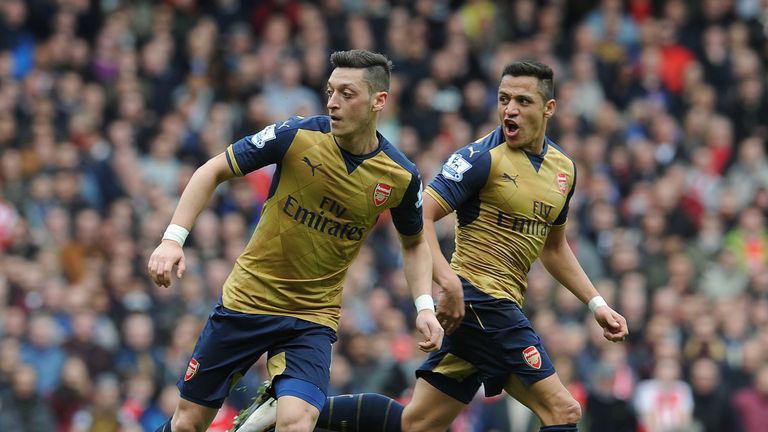 In a sense, Mahrez is a hybrid of the other two. While Ozil delivers assists and chances, he's not such a dribbler - ranking 38th in the Premier League. Sanchez is a dribbling threat but ranked 42nd for assists. Mahrez was in the top 10 in the country on all of these metrics.
He's more of an obvious fit than Jamie Vardy, who opted against joining Arsenal earlier this summer. While Mahrez relishes the space available on the break, he doesn't require it. He can play in confined spaces and use his trickery to find a way through packed defences.
Riyad Mahrez in numbers
| Premier League 2015/16 | Total | PL Rank |
| --- | --- | --- |
| Assists | 11 | 5th |
| Chances created | 68 | 8th |
| Clear chances created | 20 | 2nd |
| Successful dribbles | 131 | 1st |
The prices being quoted for the PFA Player of the Year are not as high as previous winners Gareth Bale and Luis Suarez despite Mahrez being at the right age at 25. Unlike Arsenal's record buys - Sanchez, Ozil and new boy Granit Xhaka - he knows the Premier League, too.
So while Claudio Ranieri is understandably keen to keep his key player and has made a compelling case for doing so by highlighting the player's happiness at Leicester, some of his arguments do not quite ring true. In particular, the suggestion that Mahrez might struggle.
"Other teams maybe have more stars and maybe he doesn't play at the same level, because maybe is on the bench so it is much better he stays with me," said Ranieri following another stunning display by Mahrez in the International Champions Cup at Celtic Park on Saturday.
If that plays on Mahrez's fears, it shouldn't. He is an upgrade on Arsenal's right-wing options and could expect to improve on the team's output if not his own. In fact, if he'd been in a Gunners shirt last term, he'd most likely still be clutching a title medal. Of course Arsenal need Mahrez.