Arsene Wenger has insisted the future of Alexis Sanchez will be decided by Arsenal and no one else.
The manager also denied Sanchez was involved in a training ground bust-up and insisted his relationship with the Arsenal forward is "normal".
Wenger said: "Alexis Sanchez has 15 months on his contract so the decision on will he be [here] or not will depend completely on Arsenal Football Club, not anybody else."
Widespread reports in the national press on Monday suggested a bust-up had occurred between the 28-year-old and his team-mates prior to Saturday's 3-1 defeat at Liverpool.
Live Monday Night Football


The result meant Arsenal dropped out of the Premier League's top four and are now 13 points behind leaders Chelsea, who face West Ham on Monday Night Football.
Sanchez, who was left out of the starting line-up for the match at Anfield, was alleged to have walked out of training mid-session last week before being involved in an angry confrontation with his team-mates.
But when asked about the supposed incident, Wenger said: "I am not aware, nothing happened. Nothing at all.
"I explained after the game at Liverpool that I decided to go for a more direct option in the game and that's what happened. That was the unique reason for my decision.
"For the rest, his attitude… He is a committed player, sometimes with excessive behaviour, but you have seen that many times in history in every squad."
When asked if the reports were completely false, Wenger added: "Yes, completely false, but I understand you have to fill the newspapers and we have to respect that.
"When you don't win the games, it's not always down to real stories and we have to accept that."
Sanchez and Wenger shook hands in front of the cameras at Arsenal's London Colney training base on Monday as the Gunners continued their preparations for Tuesday's Champions League last-16 second leg against Bayern Munich.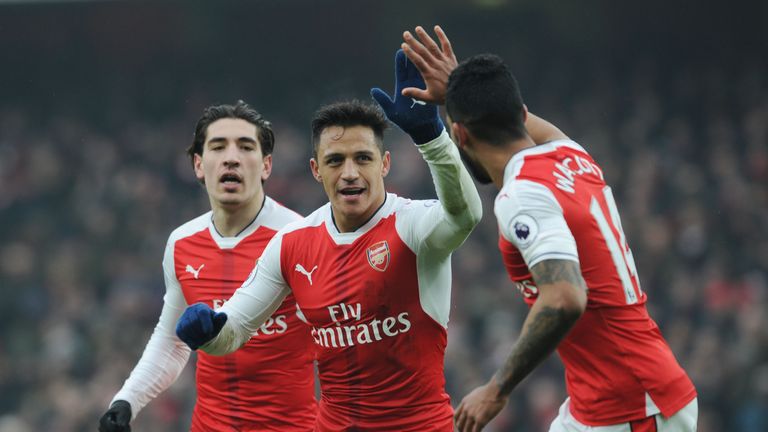 As well as denying a bust-up, Wenger added that his relationship with Sanchez was "honest and normal, like with every single player".
Sanchez, who has scored 20 goals in 35 appearances this season, has 15 months remaining on his contract at the Emirates and is yet to confirm whether he will stay.