Arsenal still kings of north London but Spurs catching up, says Nigel Winterburn
Last Updated: 20/11/17 1:08pm
Nigel Winterburn claims the balance of power in north London is still with Arsenal after Saturday's impressive 2-0 derby victory but Tottenham have almost caught up.
The former Gunners and England full-back was at the Emirates as first-half goals from Shkodran Mustafi and Alexis Sanchez sunk their high-flying local rivals in Sky Sports' lunchtime kick-off.
Winterburn admitted Spurs have closed the gap between the two clubs in recent years, culminating in finishing above their fiercest foes in the Premier League last season for the first time since 1995.
Mauricio Pochettino's team are still a point ahead of the Gunners, despite the defeat, after 12 games.
"Yes, they have closed the gap," Winterburn, who won three league titles, two FA Cups, a League Cup and a European Cup Winners Cup in his 13 years with Arsenal before leaving for West Ham in 2000, told Sky Sports News.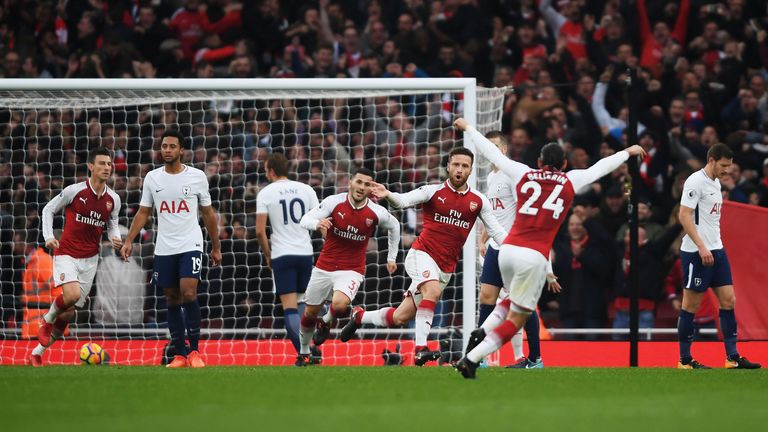 "I know I will upset a lot of Tottenham supporters... [but] the only time I'm really going to start worrying is when Tottenham start to win the trophies.
"If they can win the trophies and then keep finishing very high up in the league. If they win the Premier League, win the Champions League, FA Cups, and Arsenal are not doing that, then the real power shift has changed.
"For me, it [the potential] hasn't changed, the gap has closed, there's hardly any gap.
"I've said it for the last two seasons, Arsenal and Tottenham are very, very close at the moment and I'll put Liverpool in there with them as well."
Star forward Sanchez could have added more to his tally in an improved display while fellow contract rebel Mesut Ozil was influential throughout and his bending cross set up Mustafi's bullet-headed opener.
Arsenal visit in-form Burnley at the weekend and the question is whether they can now replicate the intensity shown against Tottenham on a more regular basis.
"The positive signs for me are that Ozil and Sanchez are coming back to their very, very best," Winterburn added. "They are real quality.
"I think the one thing that frustrates a lot of people about Ozil is when he's not at his very, very best.
"When he's at his best, going forward, creating things, he's exciting to watch, he's just got to work back that little bit more.
"Arsene Wenger will tell you he does that, [but] it's not natural for him so it's up to his team-mates as well to encourage him to come back."